Hydro Systems Ston Collection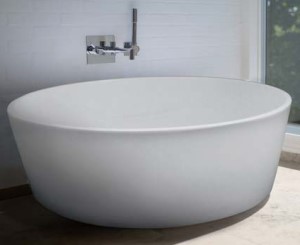 Ston Collection of Solid Surface Whirlpool, Air or Soaking Tub
The STON collection reinvents the bathing experience with exquisitely hand-crafted bathtubs made from the earth's rich natural elements. Hydro Systems has crafted this luxurious range of seamless ergonomic art with the latest in eco-friendly technology. Using their remarkable blend of fine natural minerals and the best in engineered composites, this hybrid material is liquefied and then molded into the ultimate natural bathtub. The unique process ensures a bathtub that is completely solid throughout, with the incredibly durable foundation of natural rock. In this collection, you will see the freestanding and drop-in systems inspired by the natural beauty of these stones, crafted in a range of styles to compliment any bathroom whether classic, contemporary or somewhere between. These earthy baths are infused with a UV rated, marine grade finish that allows us to create them in virtually any color imaginable. Additionally you can choose between a gloss and/or matte finish to coordinate any design palette.
Relaxing in a STON tub means coming back down to earth in a bathtub literally made from the earth; a gem of individual luxury and style.
Factory Direct Savings on all Ston Tubs
Free Shipping - 48 Contiguous States
Authorized Hydro Systems Dealer
Shop Ston Tubs by Name
Ston Bathtubs by Size

Sapphire
41" x 28" x 20"
Drop-in or Undermount

Pearl
55" x 55" x 17"
Freestanding Tub

Daniela
58" x 30" x 23"
Freestanding

Coal
60" x 32" x 21"
Drop-in or Undermount

Carrera
60" x 32" x 23"
Drop-in or Undermount

Slate
60" x 32" x 23"
Freestanding

Slate
60" x 34" x 24"
Freestanding

Pearl
61" x 61" x 23"
Freestanding Tub

Crystal
62" x 43" x 20"
Drop-in or Undermount

Opal
63" x 33" x 23"
Freestanding Tub

Quartz
63" x 33" x 23"
Drop-in

Jade
65" x 32" x 23"
Freestanding Tub

Annette
65" x 36" x 27"
Freestanding

Coal
66" x 32" x 21"
Drop-in or Undermount

Carrera
66" x 34" x 23"
Drop-in or Undermount

Amber
66" x 39" x 23"
Drop-in or Undermount

Corazon
66" x 45" x 19"
Drop-in


Crystal
70" x 46" x 21"
Drop-in or Undermount

Carrera
72" x 36" x 23"
Drop-in or Undermount

Slate
72" x 36" x 24"
Freestanding

Mitra
72" x 38" x 29"
Freestanding

Andrea
72" x 38" x 30"
Freestanding Tub

Emerald
72" x 42" x 24"
Drop-in or Undermount

Corazon
74" x 44" x 19"
Drop-in


Corazon
74" x 45" x 21"
Drop-in


Amber
74" x 45" x 24"
Drop-in or Undermount
Ston Tub Features
All STON Collection Whirlpool and Thermal Air bathtubs are delivered pre-plumbed and include these standard features:
• Six, eight, or ten fully adjustable PVC jets.
• Silent air induction.
• 2.25 H.P. 110 volt pump with plug-in cord.
• Rigid Schedule 40 thermally formed PVC pipe.
• Color matched trim standard on all PVC systems.
• Hydro "Soft Touch" electronic control panel.
• Sound damping motor pad.
• All bathtubs are packaged in wood crates or sturdy cardboard boxes for shipping.
• Thermal Air bathtubs are a Air Injector System, equipped with a 1 H.P. variable speed blower, 600
watt heater, a smart purge system and ozone purification.
• HydrOzone included on all STON Whirlpool, Thermal Air & Combo bathtubs.
• Color or metallic finish cable waste and overflow included on all drop-in STON bathtubs
* Gold Finish Extra Charge. PVC comes standard; please specify if ABS is required.
• Chrome finish half or fully exposed tip toe drains included on all freestanding STON bathtubs.
Hydro Systems Features and Options →
Hydro Systems Bathtubs
Hydro Systems Massage Bathtubs
Hydro Fusion
(Not offered on freestanding tubs)
Inline maintenance heater & re-circulating pump. Hydro Fusion maintains the ideal bathing temperature without constantly adding hot water. The unit is designed to circulate and heat the water with totally silent operation. Use with a soaking tub or air system.
Indulge
(Not offered on freestanding tubs)
Highly innovative bathing therapy that infuses water with millions of micro sized, oxygen rich molecules that helps cleanse, heal and restore skin, and help relax mind and body for the ultimate luxury bath experience! Using your Indulge micro bubble system 20 minutes a day will help to make your skin look and feel younger, improve collagen production, and help to reduce fine lines and wrinkles. This micro bubble system maintains your water temperature through the exothermic reaction of the millions of bubbles exploding all around you.
Thermal Air
(Offered on some freestanding tubs - Remote Blower)
Air Jets: thousands of tiny heated bubbles engulf your body in a therapeutic massage from the top of your neck to the soles of your feet. Numerous air outlets placed throughout the lower portion of the bathing well providing an entire body experience that will soothe the body and calm the soul. Heated backrest on all Designer Thermal Air bathtubs.
Whirlpool
(Not offered on freestanding tubs)
Water Jets: powerful, massaging jets provide you with a deep, invigorating massage to relax tight muscles, rejuvenate muscular tissue and release your body's natural pain killers.
Combination Hydrotherapy
(Not offered on freestanding tubs)
Create your own unique hydrotherapy environment that promotes maximum relaxation and allows your body to receive even deeper therapeutic benefits by combining any of Hydro Systems therapies.
Electrical Requirements:
A dedicated 120V, 20AMP GFCI Protected for each load item i.e. pump, blower, heater, etc.
Why Hydro Systems?

MADE IN AMERICA
Proudly made in the USA, Hydro Systems manufactures a full line of high-quality, custom bathtubs and accessories to suit the needs of every customer. Featuring four unique collections – Ston, Metro, Studio and Designer – Hydro Systems strives to introduce cutting edge products and designs proudly found in distinguished homes and hotels around the world.
Devoted to the highest standard of excellence, Hydro Systems also takes pride in being a GREEN company. The 100,000 square foot environmental facility in Valencia, CA features solar roof panels that collect enough energy to offset all the power used during manufacturing while also boasting a climate-controlled room that filters 100% of all hazardous gasses.
Why Hydro Systems?
MADE IN AMERICA
Proudly made in the USA, Hydro Systems manufactures a full line of high-quality, custom bathtubs and accessories to suit the needs of every customer. Featuring four unique collections – Ston, Metro, Studio and Designer – Hydro Systems strives to introduce cutting edge products and designs proudly found in distinguished homes and hotels around the world.

Devoted to the highest standard of excellence, Hydro Systems also takes pride in being a GREEN company. The 100,000 square foot environmental facility in Valencia, CA features solar roof panels that collect enough energy to offset all the power used during manufacturing while also boasting a climate-controlled room that filters 100% of all hazardous gasses.



Hydro Systems Links

www.hydrosystem.com

Hydro Systems Tub (Main Page)



Helpful Bathtub Links

• How to Choose a Freestanding Tub

• Freestanding Bath - List of all Freestanding Tubs

• Air Tub - Find out how Air Systems Vary

• Tubz.com - Contact us, we are here to help