Hydro Systems Garnet Freestanding Bathtub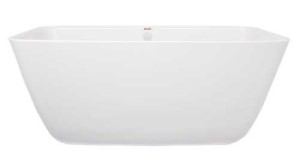 Garnet 5428, 5828 & 6530 | Solid Surface Soaking Bath
Freestanding Bath from Hydrosystems' Ston Collection
The Garnet's rimless, double-sloped shape lends it the feeling of openness. It is available in a range of sizes for compact or large spaces, making it easy to bring eye-catching ergonomics to any new or remodeled bathroom. With its angular form and slender edges, the Garnet embodies a new generation of timelessness. The Garnet bathtub series also offers deeper bathing that most freestanding baths. This bath is crafted using a remarkable blend of fine natural minerals and the best in engineered composites. Choose a velvety matte finish or have it polished at no extra charge. Create a sleek look for the bathroom of your dreams with a STON Freestanding Tub.
Factory Direct Savings on all Hydro System Tubs
Free Shipping - 48 Contiguous States
Authorized Hydro Systems Dealer
Choose Garnet Bath Size:
STON Solid Surface
The STON collection reinvents the bathing experience with exquisitely hand-crafted bathtubs made from the earth's rich natural elements. Hydro Systems has crafted this luxurious range of seamless ergonomic art with the latest in eco-friendly technology. Minerals and composites are combined to create a hybrid material that is liquefied and then molded into the ultimate natural bathtub. The prolite system Hydro Systems adds is uniquely packed with particles, making it a standout in the marketplace when it comes to efficiency and bonding strength. This hybrid material undergoes the transformation from liquid to solid, resulting in a bathtub that is 100% solid surface all the way through, with zero hollow or unfilled areas.
Why Hydro Systems?
Proudly made in the USA, Hydro Systems manufactures a full line of high-quality, custom bathtubs and accessories to suit the needs of in distinguished homes and hotels around the world.
Devoted to the highest standard of excellence, Hydro Systems also takes pride in being a GREEN company. The 100,000 square foot environmental facility in Valencia, CA features solar roof panels that collect enough energy to offset all the power used during manufacturing while also boasting a climate-controlled room that filters 100% of all hazardous gasses.
Hydro Systems Links
Hydro Systems Tub
(Main Page)
www.hydrosystem.com
Helpful Bathtub Links
•
Freestanding Tub Buying Guide
•
Freestanding Bathtub
- Shop all Freestanding Tubs
•
Tubz.com
- Contact us, we are here to help