Hydro Systems Andrea Freestanding
Andrea Oval 72 x 38 Clawfoot Slipper Soaking Bathtub
Andrea is an elegant, clawfoot double slipper tub. This bathtub brings classic style and elegance back to the bathroom. Modern and re-imagined, Andrea has been updated with sleek curves that speak to an earlier time. Featuring luxurious advancements in bathtub technology, this freestanding tub built for two is also made from Hydroluxe, a blend of organic materials and engineered composites.
Buy Your Hydro Systems on Sale from Bathtub Experts!
At Tubz.com we are not just order takers in a call center. We are a small team that takes pride in our customer service and the product knowledge we have accumulated in our 20+ years of experience. Give us a call, we are here to help! We will offer you a great sale price with free shipping (48 contiguous states).
Authorized Hydro Systems Dealer
.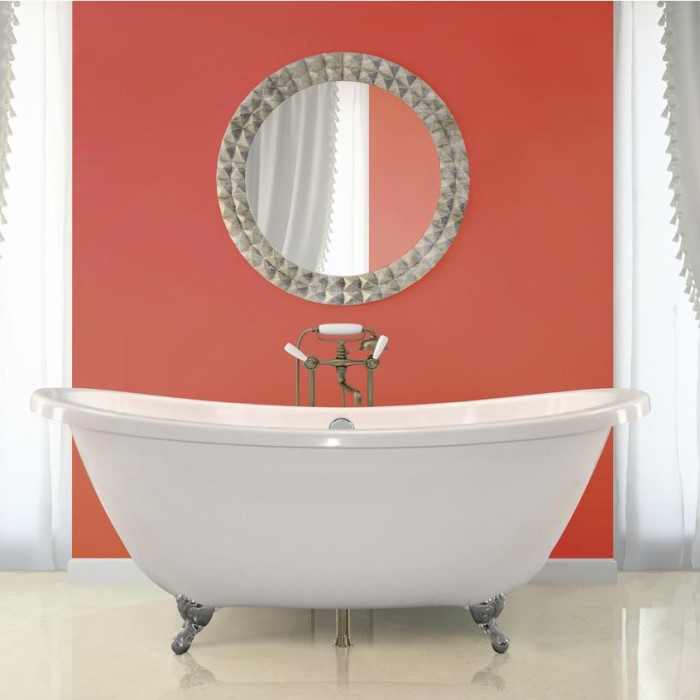 Bathtub Size: 72" x 38" x 24"
Bathing Area: 41" x 25"
Water Capacity: 90 Gallons
Back Slant: 34°
Tub Installation: Freestanding
Tub Material: Hydroluxe SS (Solid Surface)
Tub Filler: Floor or Wall Mount
10 Year Warranty Hydro Systems | Made in America
Sale Price Not Listed? Call
866-380-0303
or Click "Send Me a Quote"
Welcome to tubz.com virtual showroom
Prices listed are MSRP. Sale prices are much lower! Since we are don't have a cart, give us a call, or use quote button (email) for price quotes.
Learn more about Tubz.com →
Andrea Freestanding Soaking Tub
AND7238STO
Standard Color (White, Biscuit or Bone)
MSRP:
$6085.00
$4564.00
Andrea Options
Premium Colors: Black, Carbon, Grey, Olive, Espresso, Sky Blue, Blue, Royal Blue, Violet, Pink, Yellow, Lime Green & Red
Island Tub Drain
Claw Feet
- Polished Chrome or White | Included
- Brushed Nickel, Satin Nickel, Polished Nickel or Oil Rubbed Bronze Optional |
($1071.00
)
Fully Exposed Tip Toe Waste & Overflow Drain
- Chrome or Polished Brass | Included
- White, Biscuit, Polished Nickel, Satin Nickel, Brushed Nickel or Oil Rubbed Bronze Optional |
($63.00
)
See STON Features and Options →
STON Collection bathtubs are produced with Hydroluxe SS™
Hydro Systems' relentless pursuit of perfection has led them to hone and test their processes to proudly introduce Hydroluxe SS™, the evolution of Solid Surface bathtubs. Representing the latest in eco-friendly technology, this range of seamless, solid-surface bathtubs is constructed from a blend of ground natural minerals and the best in man-made composites. The prolite system they add is uniquely packed with particles, making it a standout in the marketplace when it comes to efficiency and bonding strength. This hybrid material undergoes the transformation from liquid to solid, resulting in a bathtub that is 100% solid surface all the way through, with zero hollow or unfilled areas. The perfectly developed Hydroluxe SS™ blend brings even more durability to the Hydro Systems standard.
Why Hydro Systems?
Proudly made in the USA, Hydro Systems manufactures a full line of high-quality, custom bathtubs and accessories to suit the needs of in distinguished homes and hotels around the world.
Devoted to the highest standard of excellence, Hydro Systems also takes pride in being a GREEN company. The 100,000 square foot environmental facility in Valencia, CA features solar roof panels that collect enough energy to offset all the power used during manufacturing while also boasting a climate-controlled room that filters 100% of all hazardous gasses.
Hydro Systems Links
Hydro Systems Tub
(Main Page)
www.hydrosystem.com
Helpful Bathtub Links
•
How to Choose a Free Standing Tub
•
Freestanding Bathtub
- Shop all Freestanding Tubs
•
What is an Air Tub?
•
Tubz.com
- Contact us, we are here to help