Hydro Systems Customized Tub
If you can dream it, Hydro Systems can build it. Over 30 Options Available on Most Hydro Systems Tubs. To make your bathing experience truly personal, Hydro Systems provides you the ability to create romance, relieve stress or provide soothing therapeutic relief. Shouldn't your bath be as unique as you are?
Explore the Options and Features to Customize Hydro Systems Tub:

Hydro System Tub Systems: General Options: Hydro System Bath Tub Standard Features Quality of Acrylic Sheet and Fiberglass Reinforcement

Hydro Systems uses only the highest quality acrylic. That quality combined with an extra thickness produces a superior product for our customers. Their exclusive resin and fiberglass structure combined with top quality acrylic make us leaders in heat reflectivity, structural integrity and dimensional stability.

Long-lasting, Beautiful Finishes

All Hydro Systems tubs are made of durable, easy to clean acrylic that will never fade, stain, or lose its luster. Their long lasting, high gloss finish requires a minimal amount of care while providing both sound and temperature insulation. Choose from wide spectrum of colors that will make your bathing experience beautiful and relaxing.

Hydro System Bath Tub Options

Colors & Finishes Standard Colors:

White, Biscuit & Bone

Premium Colors:

Black, Ice Gray or Sandbar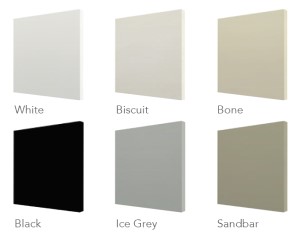 Matte Finish
Acrylic tubs are sanded with ultra fine sandpaper to remove the acrylic sheen.
Hydro Blanket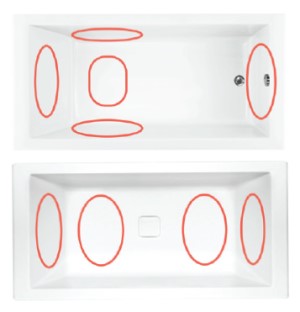 Close your eyes, lean back and feel the warmth of the Hydro Blanket that emanates through the acrylic tub surface. By integrating radiant heat panels into the structure of your bathtub the result is a seamless improvement in your overall bathing experience. Hydro Blanket wraps you in a world of warmth and relaxation. Multi-zone heat allows you to pick from 2 - 5 heat zones on the sides or bottom of the bath. Turn on the thermostat and set the dial to a maximum setting of 110°.
Hydro Coat
Hydro Coat is a water based, non-hazardous temporary protective coating designed for use on fiberglass, acrylic, stainless steel and most other non-porous surfaces. Hydro Coat is used to eliminate unnecessary repairs and clean up after shipping, storage, fabrication and installation. Hydro Coat protects surfaces – even in direct sunlight. Peels off easily leaving a clean, preserved surface. Simply peel off the Hydro Coat protectant when you are ready to use your Hydro Systems, Inc. tub to help prevent damages.
Micro Mount

The Micro Mount feature not only gives your bathtub a whole new look but it also provides you easier access upon exiting your tub as the deck sits more flush with your surroundings. When adding the Micro Mount feature, the lip height of your tub is reduced to approximately half an inch.
Available on all drop-in bathtubs without a decorative edge.
Drains
- White, Biscuit, Matte Black
- Polished Chrome, Satin Chrome, Polished Nickel, Satin Nickel, Pewter
- Polished Brass, Satin Brass, Brushed Brass
- Oil Rubbed Bronze
Standard Drain - Cable Drain

Turn the overflow to open or close the drain at the bottom of the tub
- Included with Designer Tubs
- 1-1/2" schedule 40 PVC cable driven bath waste (Specify if ABS is required)
- All glue type
- Straight pipes not included
* Gold Finish Extra Charge
Integral Drain
An integral overflow is an overflow where an opening is cut along the interior of the bathtub that is tied into the drain waste. In the event the water is left running, this system diverts excess water between the walls and sends it down the tub drain. Choosing integral waste & overflow makes the installation of an external overflow pipe and sanitary-t unnecessary, making for a quicker, easier install.
- Direct Drain
- Toe Tap Drain
- Available in all the standard and premium finishes.
• Linear Overflow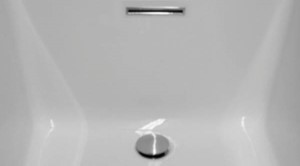 Linear overflow option that not only gives your bathtub a sleek and stylish look, but also adds an inch more to your tub's depth.
- Dimensions: 3 1/2" x 3/4" with a 1/4" opening.
• Round Overflow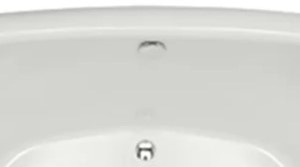 Pairs perfectly with classical aesthetics.
Island Drain for Freestanding Tubs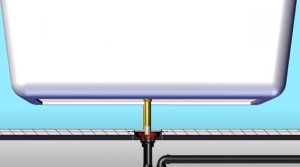 Install a freestanding bath tub in minutes. Now featuring a snap-off Test Cap and an Asymmetrical Deck Plate designed not to interfere with a freestanding faucet rough-in! No muss. No fuss. Easy to install.

- ABS, PVC or Cast Iron Drain Body
Skirts
With the availability of the seamed and seamless skirts, the opportunities and palette of ideas are endless.
Peninsula, corner, free standing, Zen, corner with access skirt: if you can think of the application Hydro Systems can build the tub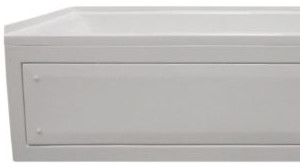 • Removable Access Panel Skirt
This beautiful two-piece design offers a cost effective factory installed alternative to tile or marble installation. Adds approximately 2" to framing height dimension. Available 60", 66" & 72" factory installed.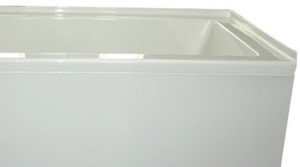 • Zen Skirt
Modern front skirt without access panel. Adds approximately 2" to framing height dimension. Available 60", 66" & 72" factory installed. No access.
• Corner Skirt
To complete the exterior finish of our corner models, this single-piece molded panel option offers access to the system's interior. Adds approximately 2" to framing height dimension.
• Custom Skirt
Seamed or seamless skirts for 1, 2, 3 or 4 sides.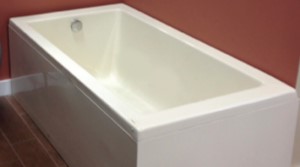 Seamed
- Line where the skirt meets the tub rim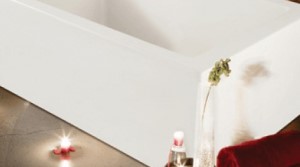 Seamless
- Looks of a 1 piece bath
Tile Flange
A flange is used when the walls surrounding the bath are going to be tiled down to the top of the bathtub rim. The flange will be integral to the tub or an add-on. Shower combo tubs have a lot of water splashing on the rim. The flange prevents this water from seeping down behind the bathtub.
Armrests
Molded arm rests are now available on virtually any tub in the entire product line.
This new option opens an entirely new chapter in the history of customizing a tub any way desired.
Lacey Bath Tub
with & without armrests


Galaxy Bath Tub
with & without armrests
Grab Bars
A set of our optional grab bars enhance the styling and add functionality to any Hydro Systems bathtub. Add them to assist with getting out of your bathtub. Available on most tubs and come in two distinct styles and your choice of finish.
- Polished Chrome, Brushed Chrome, Polished Nickel, Satin Nickel
- Polished Brass, Satin Brass, Brushed Brass, Antique Brass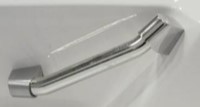 • Universal Grab Bars
Universal mount grab bar. Due to mounting design and angles, this bar affords a mounting solution in virtually any position on any tub. The classic Grab Bar often is limited in its mounting positions. An additional plus is that this Grab Bar has a button mount. Two small set screws are all that are needed to install these Bars. There are two different length Bars available - 5¾" and 7¾" - with the longer working nicely on the larger tubs.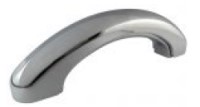 • Standard Grab Bars
Designed to be mounted on most flat or curved surfaces.
Chromatherapy LED Lighting

Chromatherapy is the usage of light and color to alter our mental and physical states. Scientific research reveals that color can greatly influence the condition of our emotions and health, as well as causing positive reactions in our minds and bodies. Whether you want a mood-enhancing atmosphere, a romantic setting or a special bathroom effect, Hydro Systems' high-intensity LED lighting environment creates a unique bathing ambiance. Built into your bathtub, this digitally controlled, multi-colored lighting feature puts the full-sensory experience in your hands. Two interior light lenses are located below the water line. Focus on one specific color for the desired effect, or traverse the spectrum of designer color modes.
Waterfall Fill Spouts
What a wonderfully relaxing way to further enhance your bathing experience and Whirlpool system. Sit back and relax while our integrally molded waterfall fill spout fills your tub with a beautiful sheet of cascading water – available on most of our acrylic models. The waterfall fill spout adds style to your bathroom, and fits with any style of hot and cold valves you select to compliment your bathroom decor.
RECIRCULATING WATERFALL - The optional recirculating waterfall can be turned on anytime the whirlpool pump is running. Press the waterfall key once to turn it on, press the key a second time to turn it off.
For more information see Waterfall Fill Spouts
HydrOzone
•
Optional feature on Hydro Fusion Heated Soaking Tub.
•
Included on all Designer Whirlpool, Thermal Air & Combination Bathtubs
Ozone is made naturally from the oxygen we breathe. Instead of having two atoms of oxygen, ozone has three, with the extra atom creating a powerful and natural sanitizer. In water, ozone lasts just long enough – less than one second – to do its purification job. Then it reverts back to regular oxygen, leaving no by-products in the water.
Ozone is 200 times stronger than household bleach as a purifier. It has been used for over 100 years to sanitize municipal water sources. Almost all bottled water is treated with ozone. And more than 90% of hot tubs and spas already use ozone sanitation systems – not to mention the White House swimming pool and most major water parks and large aquariums.
Ozone is automatically introduced to the bath water when the pump is turned on. The HydrOzone system will operate maintenance-free for 9,000 one-hour bathing sessions. That's a one-hour bath a day for approximately 25 years!
Hydro System Systems
Hydro Fusion | Maintenance Heater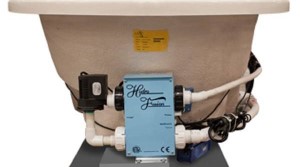 Soaking & Air Tubs
Hydro Fusion is a silent heating system designed to maintain the temperature of your water, allowing an endless supply of warm, soothing water. This feature can be added to any soaking or thermal air tub. Water is pulled from the bath through a suction cover, runs through the heater, then back into the tub. This low voltage circulation heater is designed to operate with virtually no water movement and is operated with one touch of the sensor. Totally silent operation means no disruption of the bathing environment, while the unit maintains the ideal temperature without constantly having to add hot water. Relax and rejuvenate in a warm pool of pleasure that beckons you to settle in for a prolonged stay.
Thermal Air - Air Bathtub
Wash away stress and fatigue with a Hydro Systems Thermal Air System. Thousands of tiny heated bubbles are propelled from strategically placed, barely visible jets. The heat works to relax the body, making it more receptive to the benefits of gentle massage, activating the immune system and increasing blood flow to the muscles. The combination of heat and air movement within the water promotes deep relaxation, while providing therapeutic effects to relieve sore muscles, joint pain and inflammation.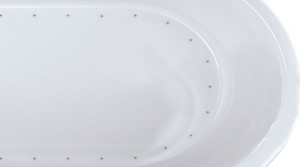 Air Tub Features
•
1 H.P. Variable Speed Blower
•
Smart Purge System
•
Heated Back Rest
•
HydrOzone Ozone Purification
•
Cable Drain (Gold Finish Extra Charge)
- The Thermal Air System can be added to any Hydro Systems tub or in conjunction with our whirlpool system for an unmatched therapeutic environment.
- Exclusive Soft Touch control panel puts you in control of your therapy. Whether you desire a high intensity massage to help you prepare for the day ahead, or want the soft soothing feel of bubbles to prepare you for a night's rest, Hydro Systems is your solution. With their "true" variable speed system, you manage the duration, intensity and type of massage you desire. This system also has a standard automatic purge cycle that ensures a sanitary environment after each use.
Hydro System Whirlpool Tubs
Powerful massaging jets sooth sore, aching muscles. Experience a deep therapeutic massage with our Whirlpool massage therapy. High-performance jets targeted to specific body areas promote increased blood flow, resulting in pain relief, improved flexibility and possibly even the reduction of the appearance of cellulite. Whirlpool therapy can greatly benefit those with specific problems such as backaches, neck pain, sprains or other injuries.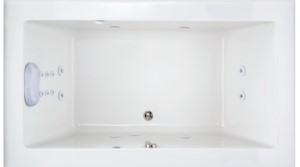 Whirlpool Features
•
Six, eight or ten fully adjustable PVC jets
•
Silent air induction
•
2.25 H.P. 110 volt pump with plug-in cord
•
Rigid Schedule 40 thermally formed PVC pipe
•
"Soft Touch" electronic control
•
Sound Dampening Motor Pad
•
Integral Tub EZ Level platform with pump installed
- Facilitates easy installation
- Standard pump and jet location only
•
Custom located jets
•
HydrOzone Ozone Purification
•
Cable Drain (Gold Finish Extra Charge)
Standard Jets | Direction & Flow Adjustable Jets


The adjustable flow directional designer jet is Hydro Systems standard whirlpool jet. The direction of each jet is easily adjusted by pointing the nozzle in the desired direction. The amount of water flowing through the jet can be adjusted from full flow to completely off by rotating the escutcheon. It is 2½" in diameter and is available in a wide variety of colors and plated finishes.
Standard Genius Pump

2.25 HP
Hydro Systems exclusive Genius Pump is the standard pump for all Hydro Systems whirlpool bathtubs. This self-draining, high performance, low noise pump and its rubber sound and vibration deadening pad is ideal for limited space installations. Available in 110V or 220 volt, 50 Hz or 60 Hz, this UL listed pump is backed by Hydro Systems limited warranty.
Whirlpool Options
• Low Water Protection
Protects the motor is the tub is accidentally turned on without water in the bath. Has a 30 minute timer.
• Whirlpool Jets:


- Swirling Adjustable
The adjustable flow swirling designer jet is a popular upgrade from the standard designer jet. Instead of pointing the nozzle in one direction, the nozzle spins to provide a swirling, massaging flow of water. The amount of flow can be adjusted by turning the escutcheon. The swirling designer jet is also 2½" in diameter and is available in all of the same colors and plated finishes as the standard designer jet.

- Jumbo Jet
This optional extra large therapeutic jet was adapted from the outdoor spa industry and adds new dimension to hydro massage bathing comfort and enjoyment. It has a higher flow rate than the standard jet, but with less velocity. This jet can be easily directed by pointing the nozzle towards the desired location for a soothing, gentle massage. The amount of flow can be adjusted, but not turned completely off, by turning the insert. This jet is just over 3" in diameter and is available in many popular colors or with plated metallic trim.


- Jumbo Rotating Jet
This extra large spinning therapeutic jet was also adapted from the outdoor spa industry. Similar to the swirling designer jet, the jumbo rotating jet provides a spinning, massaging action. Turning the insert adjusts the amount of flow, but unlike the standard and swirling designer jets, does not turn the flow completely off. This jet is just over 3" in diameter and is available in the same popular colors and plated finishes as the Jumbo Jet.
- Back Masseuse
Back pain is the second most common reason people in the U.S. visit the doctor each year.
Millions of people suffer needlessly from back pain. With Hydro Systems' Back Masseuse, you can end that nagging pain and enjoy increased flexibility. You'll enjoy a measurable reduction in pain through intensive hydrotherapy focused on your back and spinal column. Using six strategically located jets, our Back Masseuse is designed to heighten the therapeutic effects of hydrotherapy.


Back Masseuse System 1
These jets are available with the Back Masseuse System 1 and are installed in a series of 6 jets operated by a single volume control. A pulsation massage is creating by the swirling action of these jets, providing greater relief than a single jet.


Back Masseuse System 2
These jets are available with the Back Masseuse System 2 and are controlled by an electronic keypad. This 6 jet series offers direct flow onto your back. The electronic keypad directs the jets to operate in a Shiatsu pattern utilizing only two jets at a time, as well as the speed of transition from one pair of jets to another.

- Neck Masseuse
The neck is the body's most vital passageway. Circulation through this small region is key to relieving muscle tightening. Muscle tightening is the result of accumulated stress and poor circulation. Each negative aspect works on the other to create discomfort. The Neck Masseuse is designed to increase circulation and relax muscle tension. The Neck Masseuse sends hydro massaging water onto the neck.
You select the pulse level. Level one is subtle and sleepy. Level two is attention getting and soothing. Level three is intense for maximum stress relief.
Operation:
The optional neck masseuse pillow jets can be turned on any time the whirlpool pump is running. Press the pillow key once to turn on the pillow jets. Press the key again to turn them off. To adjust the speed of the pulsating jets, press the pillow key and hold it down until the red "mode" light comes on. With the light on, you can adjust the pulse to any of three speeds. Press the minus key to slow the pulsing, press the plus key to increase it. The red mode light will remain on while you are adjusting the speed, and will turn off automatically fifteen seconds after you've finished.
Indulge Micro Bubble System
Think of Hydro Indulge as a concentrated dose of oxygen to your bath water working overtime to cleanse, heal, and restore your skin with millions of micro-sized, oxygen-rich molecules.
• Indulge promotes relaxation by stimulating your skin via a "massage" effect, which has been known to improve restfulness and leave your body feeling warm long after exiting the bath.
• Supple, smooth, rejuvenated and radiant skin, these are the hallmarks of skin indulged with oxygen. The Indulge system cleanses, hydrates, revitalizes and tightens your skin.
• For those who suffer from dry skin, eczema, psoriasis or itchyosis, our Indulge system will, without any additives, clean and relieve parched, irritated skin by cleansing, exfoliating and rehydrating its surface.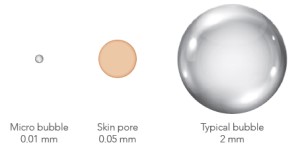 Minute in size and mighty in benefits, these molecules combine via the revolutionary single jet Indulge system. Using proprietary technology, air and water are combined to create a dense white cloud of micro bubbles within the bath water. Innovative bathing therapy that infuses water with millions of micro sized, oxygen rich molecules that helps cleanse, heal and restore skin, and help relax mind and body for the ultimate luxury bath experience!
Indulge Features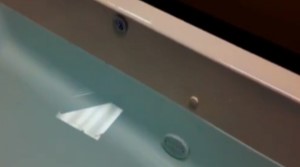 - Controls
- Suction Cover
- Anti-cavitation Button (helps with re-circulation)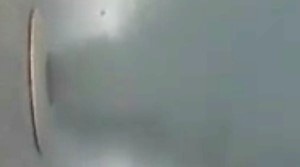 - Indulge Jet
Benefits of Indulge System:
• Oxygen-rich molecules which promote relaxation and healing
• Naturally cleanses, exfoliates and moisturizes through oxygenated bubbles
• Improved "Sauna" effect: opens and cleanses skin pores
• Super effective in removing dead skin
• Skin feels cleaner with little or no soap
• Noticeable softening of the skin
• Promote healing of sun damaged skin
• Promotes Relaxation
• Improves Sleep
• Body feels warmer
• Kills bacteria and removes unhealthy toxins
No need for an in-line heater
.
The Indulge micro bubble system maintains your water temperature through the exothermic reaction of the millions of bubbles exploding all around you.
Hydro System Combination Bathtubs

Promote maximum relaxation and allows your body to receive even deeper therapeutic benefits by combining Hydro Systems Whirlpool & Thermal Air therapies. For the most part a "Combo" system refers to the whirlpool & air duo, but it does not need to stop there:
Thermal Air and Whirlpool Systems…
Thermal Air and Hydro Fusion…
Back Massage and Neck Massage…
Whirlpool and Neck Jet Pillow…
Virtually any of Hydro System option can be added to virtually any tub. From arm rests to neck jet pillows, jumbo jets and back masseuse, the combination possibilities are many. Give us a call we will be glad to help you find the perfect Hydro Systems bath | 866-380-0303
Hydro Systems Links
www.hydrosystem.com
See all Hydro Systems Bathtubs →
Helpful Bathtub Links
•
How To Choose A Bathtub
- Features to Consider when Purchasing a Bathtub
•
Spa Tubs
- Bring the Spa Treatment Home | Which System is Best?
•
Air Tub
- Find out how Air Systems Vary
•
Whirlpool Tubs
- Explore Whirlpool Tub Features
•
Tubz.com
- Contact us, we are here to help