Barclay Columbus 61" Freestanding Bathtub
A classic pedestal double roll top tub in a compact size, the Columbus features a traditional pedestal base. This Barclay cast iron bath will give your traditional bathroom the centerpiece it deserves. Find a comfortable slopping backrest on both sides and choice of 7" faucet holes in the tub rim, or no faucet holes. Find easy to order tub kits for both styles. These kits come complete with everything needed: clawfoot bathtub, water supplies, faucet and drain. Find your Barclay Columbus cast iron bath on sale with free shipping at Tubz.com, the bathtub experts!
Authorized Barclay Dealer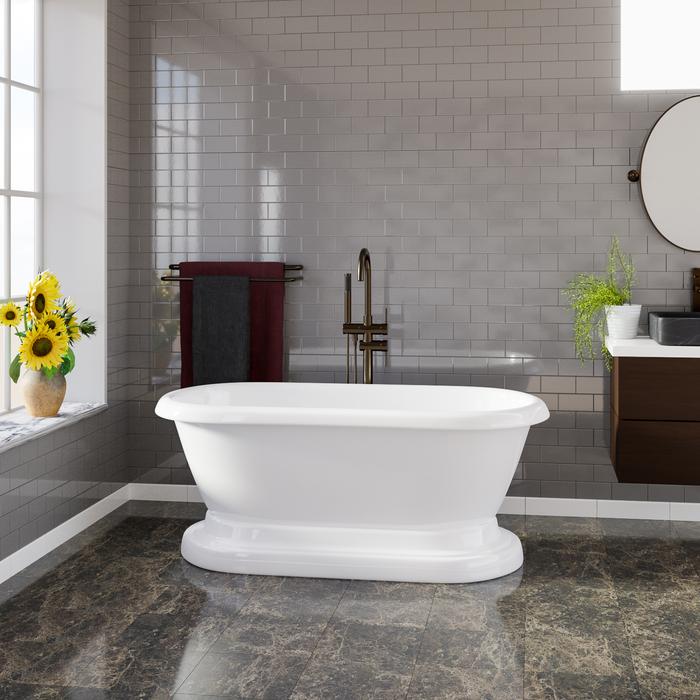 Columbus Cast Iron Pedestal Soaking Tub
Barclay CTDR7H61B-WH
Faucet Holes | Faucet Deck

Barclay CTDRN61B-WH
No Faucet Holes | Rolled Rim

61" x 31" x 24"
Water depth: 13 1/2" to overflow
18" from bottom of tub to top of tub
Gallon Capacity: 60
Shipping Weight: 480#
Filled Weight: 801# | Empty Weight: 300#
Cast Iron Bathtub & Pedestal Base
Inside Finish: White Enamel
Tub Exterior: White Epoxy
Center-Side Drain Bathtub
Recommended Tub Drain #5599


Buy Your Barclay Columbus Tub on Sale from the Bathtub Experts!
At Tubz.com we are not just order takers in a call center. We are a small team that takes pride in our customer service and the product knowledge we have accumulated in our 20+ years of experience. Give us a call, we are here to help & offer great sale prices!
The Barclay Guarantee
"We are proud of the brand and products we sell, and we stand behind them 100%. We are committed to offering the right design elements, required performance specs, competitive pricing and unsurpassed customer service."
Barclay Columbus Pedestal CTDRN61B | No Faucet Holes | Tub Only

Continuously Rolled Rim
Barclay Price Increase January 5 Order Now to Save More
Call Now to Place Your Order! | 866-380-0303
CTDRN61B
List Price:
$3507.00
Sale Price: $2104.00
Recommended Faucets for CTDRN61B:
See Columbus Tub Kits ↓
Barclay Columbus Pedestal CTDR7H61B | 7" Holes in Tub Deck | Tub Only

Holes in Tub Deck
Barclay Price Increase January 5 Order Now to Save More
Call Now to Place Your Order! | 866-380-0303
CTDR7H61B
List Price:
$3507.00
Sale Price: $2104.00
Recommended Faucets for CTDR7H61B:
See Columbus Tub Kits ↓
Barclay Columbus Pedestal Cast Iron Tub Kits
Bathtub, Drain & Faucets
Barclay Columbus Pedestal Tub Kit | TKCTDRN61B | Freestanding Tub Faucet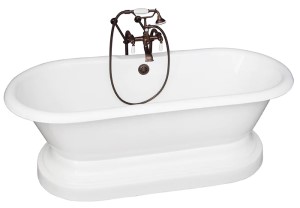 Tub Kit Includes:
• CTDRN61B-WH White Tub
• 4502-PL Water Supplies
• Faucet (See Below For Color and Style Options)
• 5599 Drain

Technical Sheet
More Information
- Water supplies, drain and feet will match faucet finish
***Oil Rubbed Bronze Feet will not match with Fillers, Supplies and Drain
- Pictured Kit: TKCTDRN61B-CP2
Barclay Price Increase January 5 Order Now to Save More
Call Now to Place Your Order! | 866-380-0303
Porcelain Lever Handles


Polished Chrome
TKCTDRN61B-CP1
List Price: $4550.00


Sale Price: $2730.00



Satin Nickel
TKCTDRN61B-SN1
List Price: $5003.00


Sale Price: $3002.00



Oil Rubbed Bronze
TKCTDRN61B-ORB1
List Price: $5203.00


Sale Price: $3522.00
Barclay Columbus Pedestal Tub Kit | TKCTDRH61B | Deck Mount Faucet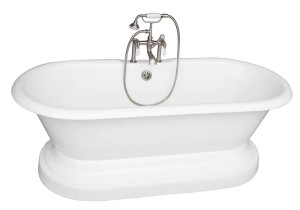 Tub Kit Includes:
• CTDRH61B-WH White Tub
• 5577 Water Supplies
• Faucet (See Below For Color and Style Options)
• 5599 Drain

Technical Sheet
More Information
- Water supplies, drain and feet will match faucet finish
***Oil Rubbed Bronze Feet will not match with Fillers, Supplies and Drain
- Pictured Kit: TKCTDRH61B-CP1
Barclay Price Increase January 5 Order Now to Save More
Call Now to Place Your Order! | 866-380-0303
Porcelain Lever Handles


Polished Chrome
TKCTDRH61B-CP1
List Price: $4215.00


Sale Price: $2529.00



Satin Nickel
TKCTDRH61B-SN1
List Price: $4655.00


Sale Price: $2793.00



Oil Rubbed Bronze
TKCTDRH61B-ORB1
List Price: $4825.00


Sale Price: $2895.00
Barclay Links
•
barclayproducts.com
•
Barclay Freestanding Tub
(Main Page)
Helpful Bathtub Links
•
Choosing a Bathtub
- Features to Consider when Purchasing a Bathtub
•
Freestanding Tub:
Our Entire Selection of Freestanding Bathtubs
•
Tubz.com
- Contact us, we are here to help