Barclay Columbus Freestanding Bathtub
Columbus 61" Cast Iron Pedestal Soaking Tub
Pedestal Double Roll Top Bath
A classic beauty in a compact size. Columbus pedestal cast iron double roll top tub that features a traditional pedestal base. Give your traditional bathroom the centerpiece it deserves. Find a comfortable slopping backrest on both sides and choice of 7" faucet holes in the tub rim, or no faucet holes. You can even further customize your tub with a custom exterior paint finish. Find easy to order tub kits for both styles. These kits come complete with everything needed: Clawfoot bathtub, water supplies, faucet and drain.
Buy Your Barclay Columbus Tub on Sale from Bathtub Experts!
At Tubz.com we are not just order takers in a call center. We are a small team that takes pride in our customer service and the product knowledge we have accumulated in our 20+ years of experience. Give us a call, we are here to help!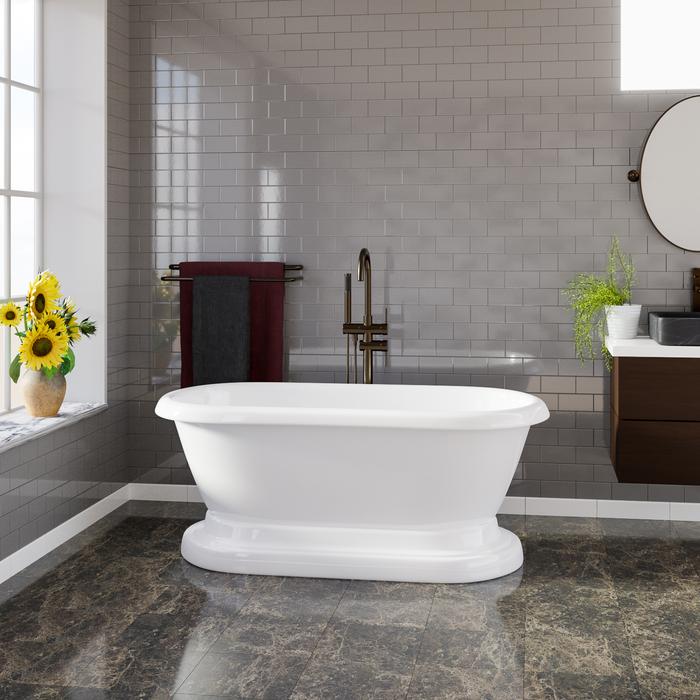 Columbus | 61" Pedestal
Barclay CTDR7H61B
Faucet Holes | Faucet Deck
Barclay CTDRN61B
No Faucet Holes | Rolled Rim
61" x 31" x 24"
Water depth: 13 1/2" to overflow
18" from bottom of tub to top of tub
Gallon Capacity: 60
Shipping Weight: 480#
Filled Weight: 801# | Empty Weight: 300#
Cast Iron Bathtub & Pedestal Base
Inside Finish: White Enamel
Tub Exterior: White Epoxy
Center-Side Drain Bathtub
Recommended Tub Drain #5599
Barclay Columbus Pedestal | CTDRN61B | No Faucet Holes

Continuously Rolled Rim
Call Now to Place Your Order! | 866-380-0303
CTDRN61B
List Price:
$3188.00
Sale Price: $2313.00
Recommended Faucets for CTDRN61B:
Also See Columbus Tub Kits ↓
Barclay Columbus Pedestal | CTDR7H61B | 7" Holes in Tub Deck

Holes in Tub Deck
Call Now to Place Your Order! | 866-380-0303
CTDR7H61B
List Price:
$3188.00
Sale Price: $2313.00
Recommended Faucets for CTDR7H61B:
Also See Columbus Tub Kits ↓
Barclay Columbus Pedestal Cast Iron Tub Kits
Bathtub, Drain & Faucets
Barclay Columbus Pedestal Tub Kit | TKCTDRN61B | Freestanding Tub Faucet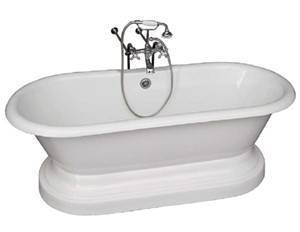 Tub Kit Includes:
• CTDRN61B-WH White Tub
• 4502-PL Water Supplies
• Faucet (See Below For Color and Style Options)
• 5599 Drain

Technical Sheet
More Information
- Water supplies, drain and feet will match faucet finish
***Oil Rubbed Bronze Feet will not match with Fillers, Supplies and Drain
- Pictured Kit: TKCTDRN61B-CP2
Call Now to Place Your Order! | 866-380-0303
Porcelain Lever Handles


Polished Chrome
TKCTDRN61B-CP1
List Price: $4136.00


Sale Price: $2882.00



Satin Nickel
TKCTDRN61B-SN1
List Price: $4548.00


Sale Price: $3129.00



Oil Rubbed Bronze
TKCTDRN61B-ORB1
List Price: $4730.00


Sale Price: $3238.00
Barclay Columbus Pedestal Tub Kit | TKCTDRH61B | Deck Mount Faucet
Tub Kit Includes:
• CTDRH61B-WH White Tub
• 5577 Water Supplies
• Faucet (See Below For Color and Style Options)
• 5599 Drain

Technical Sheet
More Information
- Water supplies, drain and feet will match faucet finish
***Oil Rubbed Bronze Feet will not match with Fillers, Supplies and Drain
- Pictured Kit: TKCTDRH61B-CP1
Call Now to Place Your Order! | 866-380-0303
Porcelain Lever Handles


Polished Chrome
TKCTDRH61B-CP1
List Price: $3831.00


Sale Price: $2699.00



Satin Nickel
TKCTDRH61B-SN1
List Price: $4231.00


Sale Price: $2939.00



Oil Rubbed Bronze
TKCTDRH61B-ORB1
List Price: $4386.00


Sale Price: $3032.00
Barclay Links
•
barclayproducts.com
•
Barclay Freestanding Tub
(Main Page)
•
Barclay
(All Products)
Helpful Bathtub Links
•
Choosing a Bathtub
- Features to Consider when Purchasing a Bathtub
•
Freestanding Tub:
Our Entire Selection of Freestanding Bathtubs
•
Tubz.com
- Contact us, we are here to help