Aquatica PureScape 171 Mini
PureScape 171 Mini | 63" x 39" Cast Stone Freestanding Tub
The PureScape 171 Mini Bathtub boasts all of the perks of the full size PureScape 171, but in a more petite, space-conscious design. Crafted, designed and manufactured in Italy using our ground-breaking EcoMarmor™ composite, this bathtub is the perfect blend of clean lines, light weightiness, and contemporary styling. Featuring a sculptured built-in headrest this comfortable freestanding bathtub will allow bathers to have a relaxing full body soak. The center drain and two backrest allow the option of two bathers. Choose from high gloss or matte white.

Bathing well: 41.5" x 23.75"
Water Depth: 18.25"
Water Capacity: 89 Gallons
Product Weight: 183 Pounds
Shipping Weight: 441 Pounds
High Gloss or Matte White

Drain Not Included (see options)
Country of Origin: Italy
Faucets pictured not included with tub
25 Year Limited Warranty
PureScape 171 Mini Sale | Save on all Freestanding Tubs
Free Shipping - 48 Contiguous States
Authorized Aquatica Dealer
PureScape Options →
Sale Price Not Listed? Call
866-380-0303
or Click "Send Me a Quote" for Sale Prices
PS171-Mini-Wht
Gloss White Soaking Tub



MSRP: $3950.00


*Sales Tax Charged for: CA, FL, WA & WI



PS171M-Mini-Wht
Matte White Soaking Tub



MSRP: $3950.00


*Sales Tax Charged for: CA, FL, WA & WI


Aquatica PureScape 171 Mini Offers:
• Striking upscale modern design
• Freestanding construction
• Solid, one-piece construction for safety and durability
• Extra deep, full-body soak
• Ergonomic design forms to the body's shape for ultimate comfort
• Quick and easy installation
• Designed for one or two person-bathing
• Adjustable height legs
AquateX™ | Matte White
AquateX™ is a technologically advanced solid surface composite material, developed by Aquatica®. 60% of AquateX™ is composed of the aluminum mineral that is derived from bauxite, a deeply weathered volcanic rock. By combining a high percentage of all the best properties of natural materials; and a low percentage of state-of-the-art acrylic resins; we were able to create a desirable, high performance cast stone material that is specifically, suitable for high-end bathroom applications.
AquateX™ Video →

EcoMarmor™ Lite | High Gloss White
EcoMarmor bathtubs combine the beautiful high-gloss white look of ceramics, with the technological superiority and light weightiness of composite materials.
- Provides for unparalleled heat retention and durability
- Hypoallergenic surface
- Non-porous glossy surface for easy cleaning and sanitizing
- Color will not fade or lose its brilliance over time
- 100% recyclable and fire-resistant
This crafted material blends natural stone with highly durable resins creating a solid substrate which can be formed and shaped to truly reflect the human body (faux stone tubs). Seamless curves, soft, flowing lines and thoughtful detailing reflect Aquatica's understanding of the art of bathing.
More Information →
Integrated Slot Overflow
Integrated slot overflow brings sleek minimalistic design appeal, increased water depth, improved ergonomics, simpler and lower cost maintenance.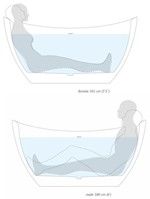 With its class-leading 20-inch water depth, and roomy interiors, the PureScape 171 is the deepest and roomiest 6ft+ size soaking bathtubs in the market. It allows even the tallest of bathers to have a relaxing full body soak, as well as providing couples the luxury of an intimate bathing experience together.
PureScape 171 Mini Options
Save More! 10% off the following accessories when ordered with your bathtub
Aquatica Links
www.aquaticausa.com
Aquatica Bath
(main page)
Helpful Bathtub Links
•
How to Choose a Freestanding Tub
•
Freestanding Bath
- List of all Freestanding Tubs
•
Air Tub
- Find out how Air Systems Vary
•
Tubz.com
- Contact us, we are here to help