Aquatica PureScape 171 Bathtub
PureScape 171 | 72" x 39" Solid Surface Freestanding Tub
Beautiful double slipper with contemporary appeal. PureScape 171 features roomy interior with a sculptured built-in headrest made of silky-smooth and warm AquateX solid surface. This freestanding solid surface bathtub is one of the largest and deepest soaking models. A comfortable freestanding tub, it allows even the tallest of bathers to have a relaxing full body soak. The center drain and two backrest allow the option of two bathers. Choose a white, white & black or all black bathtub.
Aquatica PureScape 171 Offers:
• Color Choices: White or Black
• Striking upscale modern design
• Freestanding construction
• Solid, one-piece construction for safety and durability
• Extra deep, full-body soak
• Ergonomic design forms to the body's shape for ultimate comfort
• Quick and easy installation
• Designed for one or two person-bathing
• Adjustable height legs
Constructed of AquateX™
AquateX™ is a technologically advanced solid surface composite material, developed by Aquatica®. 60% of AquateX™ is composed of the aluminum mineral that is derived from bauxite, a deeply weathered volcanic rock. By combining a high percentage of all the best properties of natural materials; and a low percentage of state-of-the-art acrylic resins; we were able to create a desirable, high performance cast stone material that is specifically, suitable for high-end bathroom applications.
- Velvety, warm, smooth and pleasant to the touch hypoallergenic surface
- Galvanized steel frame with adjustable feet
- Quick and easy installation
- 25 Year Limited Warranty
- cUPC certified

Installation Instructions
Integrated Slot Overflow
Integrated slot overflow brings sleek minimalistic design appeal, increased water depth, improved ergonomics, simpler and lower cost maintenance.
The deepest and roomiest conventional soaker bathtub in the market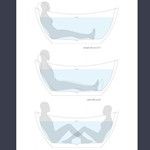 With its class-leading 20-inch water depth, and roomy interiors, the PureScape 171 is the deepest and roomiest 6ft+ size soaking bathtubs in the market. It allows even the tallest of bathers to have a relaxing full body soak, as well as providing couples the luxury of an intimate bathing experience together.
Aquatica Links
www.aquaticausa.com
Aquatica Bath
(main page)
Helpful Bathtub Links
•
How to Choose a Freestanding Tub
•
Air Tub
- Find out how Air Systems Vary
•
Tubz.com
- Contact us, we are here to help