WaterTech Air Bathtub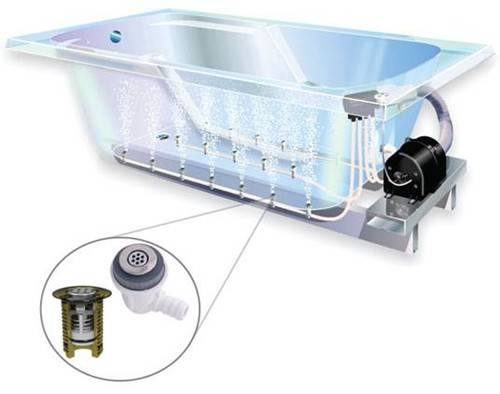 WaterTech Quality Air Tub Features
• Air injectors with integral watertight check valves which insures a clean, sanitary system.
• Heated 1 h.p. variable speed blower has a lifetime warranty.
• Acrylic bath tub shell has a lifetime warranty
• Steel reinforced tub floor and a steel blower mounting platform. (will not bend or warp like plastic and wood bases)
• All models compliant with UL and National Plumbing and Electrical Codes
WaterTech Air Jets
Air baths provide a different type of massage than a whirlpool bath; it's a non-aggressive soft tissue massage. The soft massage of an air bath is provided by millions of heated air bubbles that contact the skin after they are released from air injectors, air that is provided by a heated air blower. An air message soothes the body, boosts cardiac output, opens pores and improves circulation.
Whirlpool or Air? See this
WaterTech Video
to see the difference.
WaterTech Air System Features
• Air Injectors
WaterTech uses only air injectors with built-in brass check valve protection. The check valve opens and closes when the blower is switched on or off preventing water from ever entering into the air system (pipes, blower, manifold, etc). Injectors can be serviced from inside the tub.
See Video Air Channel vs Injector Air Jets→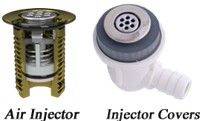 The slim-line Injector covers provide 7 air ports per injector.
• Air Blower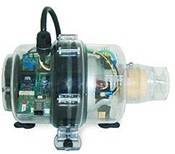 Each WaterTech air bath is equipped with a 1 HP, 800 watt variable speed heated blower and electronic keypad. Blower and keypad carry Lifetime Warranties.
- One minute purge cycle that activates 20 minutes after blower is turned off.
- Variable speed
- Air heater
- Integrated muffler for quiet operation
- Blower requires a dedicated 20 amp GFCI circuit
- Electronic Controls
• Air Piping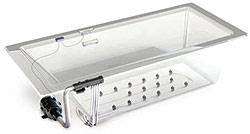 To insure the highest level of hygiene, only high quality FDA approved food grade piping is used to supply air to WaterTech air injectors. Water never enters the air lines because WaterTech uses only air injectors with integrated check valve protection. Service on WaterTech air lines, if ever needed, is as simple as removing the air lines from the injector. Injectors are also easily serviced by removing the injector cap.
• Air Manifold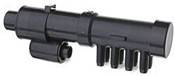 An air manifold is installed on each WaterTech air bath to distribute air to the injectors. The manifold has 2 additional check valves incorporated into its design to insure water never reaches the blower should an injector fail. The manifold provides equal air pressure and volume to all injectors.
WaterTech Air Tub Options
• Custom Blower Location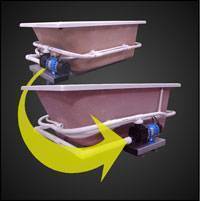 Place the blower where you want it. All building codes require access to the blower for electrical hook up and servicing. May require additional space.
• Injector Finishes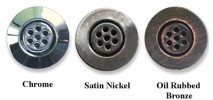 Standard Injector Finishes: White, Biscuit & Bone
Optional Finishes: Chrome, Brushed Nickel & Oil Rubbed Bronze
WaterTech Bathtub Options
Colors
Standard
(No Charge Colors): White, Biscuit & Bone
Color Upgrades
Designer Colors: Linen, Almond, Mexican Sand, Cashmere, Sandbar, Ice Gray, Sterling Silver, Red & Black
Marble & Granite Colors
More Information →
Skirt & Flange
• Tile Flange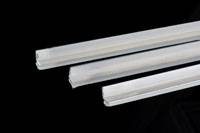 Field Installed
An aluminum extrusion that is installed on the job. Used when tub is also to serve as a shower, can't be used on oval or irregular shaped tubs.
• Front Skirt Acrylic

Removable, available in 5' & 6' lengths

Magnets are factory installed on the skirt.
• Front Skirt Oak or Maple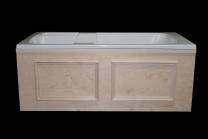 Removable oak or maple skirts are slightly over-sized and trim-able to fit your job requirements. Skirts are unfinished and can be stained or painted to match bathroom cabinet or trim. Skirts are not factory installed.
More Information →
Drain
• Deep Soak Overflow Drain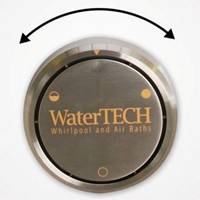 The difference between a standard drain and the Deep Soak Drain is that the Deep Soak overflow cover can be rotated to close the overflow if desired. Closing overflow increases the bath water depth from 2" to 5" depending on bath selected.
Caution
- The Deep Soak Drain should not be closed until the bather is in the tub and the pump operating to insure that the water level will not overflow the tub. When draining the bath after use it is important to open the Pressflow drain so that the next time the bath is filled it can't overflow accidentally.
• Lift & Turn Drain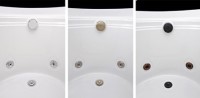 Available in chrome, nickel, polished brass and oil-rubbed bronze. Note: PVC drain is 1 1/2" and fits all tubs.
• Cable Drain
The cable drain allows the bather to open and close the drain with a twist of the overflow cover. Eliminates having to reach into the water to drain the tub. Available in chrome, nickel, polished brass and oil-rubbed bronze. Note: PVC drain is 1 1/2" and fits all tubs.
• Linear Drain
This drain features a modern linear overflow. Drain at the bottom of the tub is a toe-tap. Step on it to open or close.
Accessories
• Micro Mount
The micro mount feature not only gives your bathtub a whole new look, but it also provides you easier access upon existing your tub as the deck sits more flush with your surroundings. The Micro Lip option will reduce the height of the tub lip to roughly 3/4" tall. Not available on all tubs.
• LED Light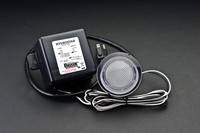 By simply pressing a button the bather may transition through 8 colors while the last selection will automatically transition through all 8 colors.
• Pillows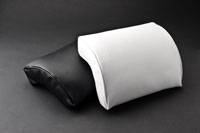 Come standard on several models, but are available for all models. Easily removed for cleaning and are available in black & white.
• Acrylic Grab Bars
Field Installed
Acrylic white, biscuit, or bone. Grab handles are not factory installed but are easily installed on the job site by contractor or plumber.
• Ozonator
The ultimate water purification system that automatically neutralizes any bacteria, virus or odor in the water. All Watertech baths are U.L. certified for 100% drainage. This certifies that the water lines on Watertech baths drain 100% insuring that no used bath water remains or is trapped in any of the waterlines. The additional advantage of having an ozonator installed is that the ozone pumped through the system also effectively sanitizes the internal components of pipes, pump, jets, injectors, etc.
More Information →
WaterTech Links
www.watertechtn.com
WaterTech (Main Page)
Helpful Bathtub Links
•
How To Choose A Bathtub
- Features to Consider when Purchasing a Bathtub
•
Spa Tubs
- Bring the Spa Treatment Home | Which System is Best?
•
Air Tub
- Find out how Air Systems Vary
•
Whirlpool Tubs
- Explore Whirlpool Tub Features
•
Bathtubs
- Shop all Bathtubs by Size & Style
•
Tubz.com
- Contact us, we are here to help