WaterTech 7242 SW Tub
A WaterTech 72" x 42" tub, the 7242 SW is a rectangle tub with an oval bathing well, armrests & seat. Wide tapered arm rests and a sculptured seating area cradles your body. Several large deck areas are a perfect place to mount a faucet. Choose a water jet whirlpool for a deep tissue massage or an air jet bath for a bubbly skin caress. For the ultimate spa bath, combine both systems with the combination tub C7242 SW. Find your WaterTech 7242 SW bath on sale with free shipping at Tubz.com, the bathtub experts!
WaterTech | Made in America
Authorized WaterTech Dealer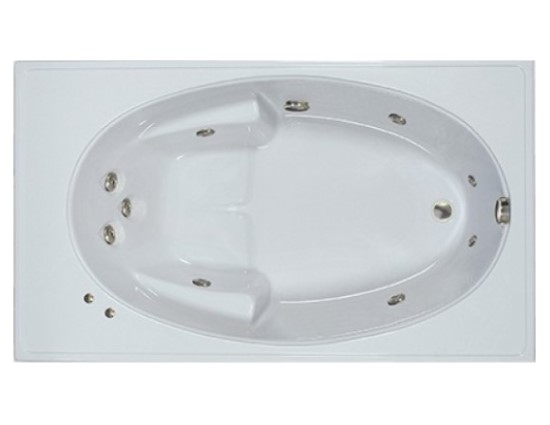 WaterTech 7242 SW, A7242 SW & C7242 SW
Whirlpool, Air Bath or Combination Tub
Tub Size: 71 1/2" x 41 7/8" x 22"
Bathtub Material: Acrylic
Standard WaterTech Colors: White, Biscuit & Bone
Bathing Area: 49" x 20"
Shipping Weight: 150 - 170 lbs
Tubs are pictured with Optional Metallic Trim to showcase the jets
Limited Lifetime Warranty
Buy Your WaterTech7242 SW on Sale from Bathtub Experts!
At Tubz.com we are not just order takers in a call center. We are a small team that takes pride in our customer service and the product knowledge we have accumulated in our 20+ years of experience. Give us a call, we are here to help! *Free Shipping | Some Restrictions Apply.
WaterTech 7242 SW Massage Bath
Whirlpool
7242 SW
Water Jets


Sale Price: $1776.00

Air Bath
A7242 SW
Air Jets


Sale Price: $2129.00

Combination Tub
C7242 SW
Water and Air Jets


Sale Price: $2649.00
WaterTech 7242 SW Features
Bathtub
• Scratch resistant, non-porous .125 in. thick Acrylic.
• Galvanized steel reinforced tub base
• Molded in Texture, slip resistant tub floor for added safety
• Reversible Drain
Whirlpool Jets
• 9 hydrotherapy jets, fully adjustable for pressure and direction
• Fully adjustable 7.5 amp whirlpool pump
• Optional 9 Amp Pump Upgrade Available
• Equipped with rubber cushioned motor mounts to minimize sound
• Whirlpool plumbed with rigid schedule 40 PVC
• Variable speed control
• Optional In-line Heater Available
Air Jets
• 27 air injectors with built-in check valves
(7 air-ports per injector)
• 8 amp, 3 speed controller with pulsation feature
• Automatic purge cycle
• Optional In-line Heater Available
Combination Whirlpool & Air Jets
• 7 hydrotherapy jets
• 16 air injectors
• Other features same as listed above
Customize your tub with a large selection of options →
Explore WaterTech's Hydrotherapy Systems:
WaterTech promotes the use of bath oils, bubble bath, and other bath products!
Watertech is known for their massage system tubs. Their whirlpool's rigid PVC waterlines are U.L. certified for 100% drainage, insuring a clean and sanitary massage experience with every bath. They take their air system tubs seriously too, using an injector system to make sure your bath stays clean.
WaterTech Links
www.watertechtn.com
WaterTech (Main Page)
Helpful Bathtub Links
•
How To Choose A Bathtub
- Features to Consider when Purchasing a Bathtub
•
Spa Tubs
- Bring the Spa Treatment Home | Which System is Best?
•
Tubz.com
- Contact us, we are here to help