WaterTech 6042 SW Bathtub
6042 SW Whirlpool | A6042 SW Air | C6042 SW Combination
Rectangle Tub with Oval Bathing Well, Armrests & Seat
Wide tapered arm rests and a sculptured seating area, in the floor of the tub, cradle your body. A 5' tub with a large deck area where a faucet can be installed. For those wanting even a deeper water depth, the bathtub can be ordered with an optional press-flow drain/overflow assembly that increase water depth an additional 3".
Buy Your WaterTech 6042 SW on Sale from Bathtub Experts!
At Tubz.com we are not just order takers in a call center. We are a small team that takes pride in our customer service and the product knowledge we have accumulated in our 20+ years of experience. Give us a call, we are here to help! *Free Shipping | Some Restrictions Apply.
Authorized WaterTech Dealer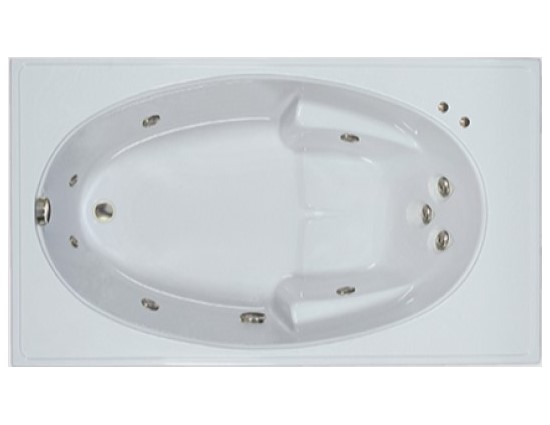 Tub Size: 59 3/4" x 41 1/2" x 19"
Bathtub Material: Acrylic
Standard WaterTech Colors: White, Biscuit & Bone
Bathing Area: 43" x 19 1/2"
Water Depth: 16.5"
Shipping Weight: 134 - 150 lbs
Air & Combination Tubs - add 1" to bathtub height
Tubs are pictured with Optional Metallic Trim to showcase the jets
Limited Lifetime Warranty
WaterTech | Made in America
WaterTech 6042 SW, A6042 SW & C6042 SW
Whirlpool, Air & Combination Bathtub
Watertech is know for their system tubs. With this bath, 3 back jets provide relief. Side and foot jets massage the rest of your body. Rigid PVC waterlines are U.L. certified for 100% drainage, insuring a clean and sanitary massage experience with every bath. They take their air system tubs seriously too, using an injector system to make sure your bath stays clean. For the ultimate tub combine water and air jets. You can also customize your tub with an large selection of options.
Whirlpool
6042 SW
Water Jets


List Price: $2044.00


Sale Price: $1831.00



9 Water Jets
3 Speed Jet Control
7 amp Pump
Air Bath
A6042 SW
Air Jets


List Price: $3044.00


Sale Price: $2379.00



189 air ports from 27 injectors
1 HP Variable Speed Pump
800 Watt Heated Blower
Purge Cycle
Watertight check valves
Air Bath with Heater
A6042 SW + Heater
Air Jets & Heater


List Price: $3662.00


Sale Price: $2781.00



Same Air Features Plus:
Recirculating Pump & In-line Heater (Maintains Water Temperature of the Air Bath)
2 20amp GFCI dedicated circuits
Combination Tub
C6042 SW
Water and Air Jets


List Price: $4644.00


Sale Price: $3419.00



9 Hydrotherapy Spa Jets
7 amp Pump | 3 Speed
119 air ports from 17 injectors
1 HP Variable Speed Pump
800 Watt Heated Blower
WaterTech Features & Options:
WaterTech Bathtubs
WaterTech manufactures the highest quality bathtubs in the USA. They use supreme components and unmatched craftsmanship from start to finish. WaterTech bathtubs are constructed with a galvanized steel base to insure the floor of the bath will never flex or warp. There is a Lifetime warranty on the pump, blower and the acrylic bathtub shell.
Watertech introduced its first whirlpool baths over two decades ago with the mission of providing the ultimate hydrotherapy experience through innovation and ingenuity. They are dedicated to serving you with reliability and integrity. If you are remodeling a bathroom, adding a bath to your existing home, or building a new residence, a Watertech bath will add a touch of luxury and elegance to your home.
WaterTech Links
www.watertechtn.com
WaterTech (Main Page)
Helpful Bathtub Links
•
How To Choose A Bathtub
- Features to Consider when Purchasing a Bathtub
•
Spa Tubs
- Bring the Spa Treatment Home | Which System is Best?
•
Tubz.com
- Contact us, we are here to help