Hydro Systems Studio Collection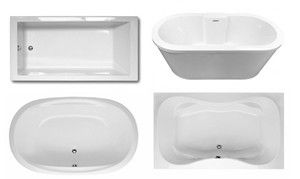 Studio Soaking, Air & Whirlpool Tubs
The Studio Series offers 16 styles of bathtubs. Find drop-in, alcove and freestanding bathtubs. Some styles are offered in multiple sizes. The end result is 33 beautifully crafted tubs. All are available as soaking tubs or air baths. The drop-in and alcove tubs also offer whirlpool massage.
Carefully handcrafted one at a time, the Studio collection offers 21st Century tub technology. The soaking, air and whirlpool tubs include standard features and are backed by Hydro Systems' exclusive 5-year limited warranty.
Factory Direct Savings on all Studio Tubs
Free Shipping - 48 Contiguous States
Authorized Hydro Systems Dealer
Shop Studio Tubs by Name
Studio Bathtubs by Size
Studio Tub Features
Extra thick reinforced fiberglass
Pre-wired pump on pump platform (standard pump location only)
Integral E-Z level platform facilitates installation
Tub must be set in mortar base
Air switch controls
Studio Options
• Tub Colors
White, Biscuit & Bone
• Extra High Density
By adding a supplemental 1/4-inch of fiberglass insulation to your acrylic or gelcoat bathtub, this extra insulation will help keep your water warm longer, in addition to providing a stronger bathtub structure. This means less instances of having to refill your bath with fresh hot water during those long soaks, and also saves you on energy costs in the long run.
HI.DEN
(MSRP $704.00)
• Tile Flange
1, 2, 3 or 4 sides
STU-FLA.MO(1, 2, 3 or 4)
(MSRP $212.00)
• Skirts
Not attached, No access on tub only, Removable Access on System
BSK.60
(MSRP $464.00)
BSK.72
(MSRP $598.00)
• Drains

Cable Waste & Overflow
Operate the drain by turning the overflow cover
STU-WOB.PC | Polished Chrome
(MSRP $279.00)
STU-WOB.PB | Polished Brass
(MSRP $341.00)
Integral Waste & Overflow
Overflow that is tied into the drain waste and is part of the bathtub
P-trap is located directly below waste | Direct drain
Round Overflow
Tip-toe Drain
STU-IOW.PC | Polished Chrome
(MSRP $363.00)
STU-IOW.PB | Polished Brass
(MSRP $363.00)
Whirlpool System Options
• Inline Heater
Whirlpool Option Only
- 6 Amp | Shares Pump Circuit |
STU.27.103
(MSRP $620.00)
- 12.5 Amp | Dedicated 20 Amp GFCI |
STU.27.103
(MSRP $693.00)
• Custom Pump Locations
STU-69.116-CUS.PMP
(MSRP $212.00)
• Jet Plating
Jet escutcheons, suction and Control
STU-PLA.BUI-PC | Polished Chrome
(MSRP $380.00)
STU-PLA.BUI-PB | Polished Brass
(MSRP $380.00)
• HydrOzone
HydrOzone introduces natural ozone to immediately begin sanitizing your water while running your hydrotherapy system.
STU-31.100
(MSRP $452.00)
Air System Options
• HydrOzone
HydrOzone introduces natural ozone to immediately begin sanitizing your water while running your hydrotherapy system.
STU-31.100
(MSRP $452.00)
Hydro Systems Bathtubs
Soaking Tub
Soaking in warm water will sooth the body, boosts cardiac output, lower blood pressure and improve circulation. Water also hydrates the skin and helps your pores eliminate toxins. These tubs are not jetted, so therefore, offer the quietest relaxation option. A perfect cure for busy, hectic life styles.
Thermal Air
Wash away stress and fatigue with our Thermal Air System. Thousands of tiny heated bubbles engulf your body in a therapeutic massage from the top of your neck to the soles of your feet. Thermal Air will exceed your expectations by producing a full sensory experience that soothes the body to make it more receptive to the massage. The air movement – from strategically placed, barely visible air jets – activates the immune system and increases blood circulation. Air switch control, hold button to increase or decrease speed.
Whirlpool
Experience a deep therapeutic massage with whirlpool massage therapy. High-performance jets targeted to specific body areas promote increased blood flow, resulting in pain relief and improved flexibility. Whirlpool therapy can greatly benefit those with specific problems such as backaches, neck pain, sprains or other injuries. Inline heaters are an option to keep your bath warm.
Why Hydro Systems?
MADE IN AMERICA
Proudly made in the USA, Hydro Systems manufactures a full line of high-quality, custom bathtubs and accessories to suit the needs of in distinguished homes and hotels around the world.
Devoted to the highest standard of excellence, Hydro Systems also takes pride in being a GREEN company. The 100,000 square foot environmental facility in Valencia, CA features solar roof panels that collect enough energy to offset all the power used during manufacturing while also boasting a climate-controlled room that filters 100% of all hazardous gasses.
Hydro Systems Links
www.hydrosystem.com
Hydro Systems Tub
(Main Page)
Helpful Bathtub Links
•
How to Choose a Free Standing Tub
•
Freestanding Bathtub
- Shop all Freestanding Tubs
•
What is an Air Tub?
•
Tubz.com
- Contact us, we are here to help