Hydro Systems Studio 6036 Tub
Hydro System Studio 6036 is a 60" x 36" rectangle bathtub with comfy armrests & modern design. End drain tub for drop-in installations. A tile flange and front skirt is optional for alcove installation - perfect for tub & shower applications. Choose a soaking tub, or add massage features with an air or whirlpool system. Find your Hydro Systems Studio 6036 on sale with free shipping at Tubz.com, the bathtub experts!
Hydro Systems | Made in America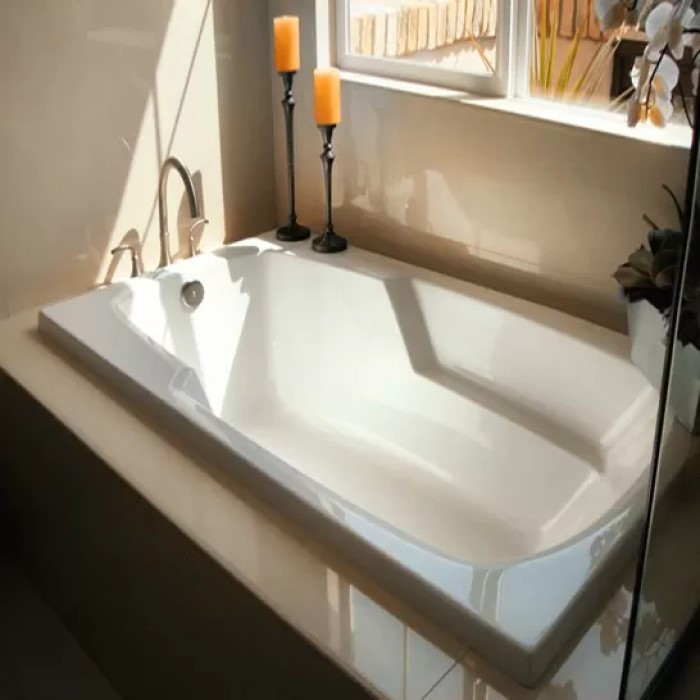 6036 Whirlpool, Air or Soaking Bathtub
Bathtub Size: 60" x 36" x 19"
Water Capacity: 50 Gallons

Bathtub Material: Acrylic
Hydro Systems Standard Colors: Bone, White & Biscuit
Tub Installation: Drop-in
Integral Wood Base
5-Year Warranty

Buy Your Hydro Systems Bath on Sale from the Bathtub Experts!
At Tubz.com we are not just order takers in a call center. We are a small team that takes pride in our personal customer service and the expert knowledge we have accumulated in our 20+ years of experience. Give us a call, we are here to help & offer great sale prices!
6036 Soaking, Whirlpool & Air Bathtubs
Soaking Bath
STU6036ATO

MSRP: $1095.00


Sale Price: $831.00


Call Now to Place Your Order: 866-380-0303 | Free Shipping*
Whirlpool
STU6036AWP

MSRP: $2790.00
$2093.00


6 Jets Adjustable/Directional
Air Switch
Silent Air Induction
Anti-Vortex Safety Suction
1.25 HP 1 Speed Pump, 120V
1 Dedicated 20 Amp GFCI
Thermal Air
STU6036ATA

MSRP: $3940.00
$2955.00


Variable Speed Blower
Air Switch Activated
Pulse and Wave Mode
1 HP Blower
600 Watt Heater
1 Dedicated 20 Amp GFCI
Studio 6036 Options:
Drain Options: (Polished Chrome or Polished Brass)
- Cable Waste & Overflow
- Integral Waste & Overflow | Round Overflow
HydrOzone System
Skirt (Not Attached & No Access on Tub Only)
Tile Flange
Jet Plating (Polished Chrome or Polished Brass)
Custom Pump Location
Inline Heater (whirlpool only)
See All Hydro Systems Studio Features and Options →
Hydro Systems Studio Collection
Soaking Tub
All Hydro Systems Studio tubs are created with extra thick reinforced fiberglass. This sturdy construction creates the perfect tub for soaking or even showering. For a massage bath, choose one of the systems below.
Thermal Air Bath
Thousands of tiny heated bubbles engulf your body in a therapeutic massage from the top of your neck to the soles of your feet. Produces a full sensory experience that soothes the body to make it more receptive to the massage. The air movement – from strategically placed, barely visible air jets – activates the immune system and increases blood circulation. Relieves sore muscles, join pain and inflammation.
Whirlpool Bathtub
Experience a deep therapeutic massage with whirlpool massage therapy. High-performance jets targeted to specific body areas promote increased blood flow, resulting in pain relief and improved flexibility. Whirlpool therapy can greatly benefit those with specific problems such as backaches, neck pain, sprains or other injuries. Inline heaters are an option to keep your bath warm.
Hydro Systems Links
Hydro Systems Tub
(Main Page)
Studio Collection
www.hydrosystem.com
Helpful Bathtub Links
•
How To Choose A Bathtub
- Features to Consider when Purchasing a Bathtub
•
Spa Tubs
- Bring the Spa Treatment Home | Which System is Best?
•
What is an Air Tub?
•
Whirlpool Tubs
- Explore Whirlpool Tub Features
•
Bathtubs
- Shop all Bathtubs by Size & Style
•
Tubz.com
- Contact us, we are here to help