Hydro Systems Galaxie 6644
Hydro Systems Galaxie 6644 bath offers a mid-length tub but, extra width at 66" x 44". It offers a striking tub that provides a welcome respite for one or two bathers. The center-side drain and two comfortably sloping backrest allow for the option of two bathers face-to-face. Designed with an elongated bathing well and deck with its graceful curved lip, this bath is an ideal choice for a deck installation. Hydro Systems offers in multiple tub systems. For those that just want to soak: Soaking Tub, Heated Soaker or Indulge. Galaxie with the Thermal Air releases heated bubbles for a soft tissue massage. For the deep tissue massage the Galaxie comes in an 8 jet whirlpool. For the ultimate bathing experience, choose a combination of systems. Find your Hydro Systems Galaxie 6644 on sale with free shipping at Tubz.com, the bathtub experts!
Hydro Systems | Made in America
Authorized Hydro Systems Dealer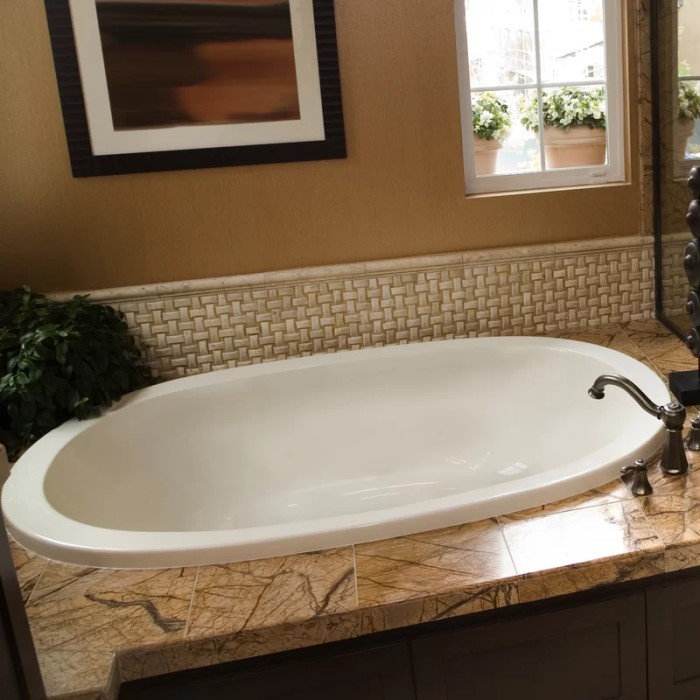 Galaxie 6644 Whirlpool, Air, Micro or Soaking Tub
Bathtub Size: 66" x 44" x 19"
Water Capacity: 65 Gallons
Back Slant: 28°

Bathtub Material: Acrylic
Hydro Systems Standard Colors: Bone, White & Biscuit
Tub Installation: Drop-in
Cable Drain Included (Gold Finish Extra Charge)
99/9 Limited Warranty
Buy Your Hydro Systems Bath on Sale from the Bathtub Experts!
At Tubz.com we are not just order takers in a call center. We are a small team that takes pride in our personal customer service and the expert knowledge we have accumulated in our 20+ years of experience. Give us a call, we are here to help & offer great sale prices!
Galaxie 6644 Soaking Bathtub
Tub only (no jets), heated soaker bathtub that maintains water temperature or micro bubble bath.
Galaxie 6644 Air & Whirlpool Bathtubs
Water or air jet massage.
Thermal Air
GAL6644ATA

MSRP: $7245.00
$5434.00

1 H.P. Variable Speed Blower
600 Watt Heater
Smart Purge System
Heated Back Rest
HydrOzone Ozone Purification

Add Hydro Fusion
(List Price $1510.00)
Add Hydro Indulge
(List Price $3535.00)
Add Back Masseuse 3
(List Price $2890.00)
Whirlpool
GAL6644AWP

MSRP: $7295.00
$5471.00

8 adjustable whirlpool jets
Silent air induction
2.25 H.P. Pump
Thermally formed PVC pipe
Color matched trim (std. color)
"Soft Touch" electronic control
Sound Dampening Motor Pad
Integral Tub EZ Level Platform
(std. pump & jet location only)
Custom located jets
HydrOzone Ozone Purification


Add Hydro Indulge
(MSRP $3535.00)
Whirlpool & Air
GAL6644ACO

MSRP: $9525.00
$7144.00

Galaxie Options
These options are not available on all Hydro System tubs but, they are available on the Galaxie:
• Micro Mount
• Molded Armrests
-
ARM.MOL-2 (MSRP $145.00 | pair)
- 2" - 3" Wide (each)

• Integral Waste & Overflow
• Linear Drain
• Matte Finish
See All Hydro Systems Features and Options →
Hydro Systems Massage Bathtubs
Cold Plunge
Whether you're looking to recover from a tough workout or you simply want to de-stress, there are many benefits of cold water therapy. Your bathtub comes pre-plumbed and ready for easy connection to the pump, chiller, and HydrOzone UV system.
Hydro Fusion
Inline maintenance heater & re-circulating pump. Hydro Fusion maintains the ideal bathing temperature without constantly adding hot water. The unit is designed to circulate and heat the water with totally silent operation. Use with a soaking tub or air system.
Hydro Indulge
Highly innovative bathing therapy that infuses water with millions of micro sized, oxygen rich molecules that helps cleanse, heal and restore skin, and help relax mind and body for the ultimate luxury bath experience! Using your Indulge micro bubble system 20 minutes a day will help to make your skin look and feel younger, improve collagen production, and help to reduce fine lines and wrinkles. This micro bubble system maintains your water temperature through the exothermic reaction of the millions of bubbles exploding all around you.
Thermal Air
Air Jets: thousands of tiny heated bubbles engulf your body in a therapeutic massage from the top of your neck to the soles of your feet. Numerous air outlets placed throughout the lower portion of the bathing well providing an entire body experience that will soothe the body and calm the soul. Heated backrest on all Designer Thermal Air bathtubs.
Whirlpool
Water Jets: powerful, massaging jets provide you with a deep, invigorating massage to relax tight muscles, rejuvenate muscular tissue and release your body's natural painkillers.
Combination Hydrotherapy
Create your own unique hydrotherapy environment that promotes maximum relaxation and allows your body to receive even deeper therapeutic benefits by combining any of Hydro Systems therapies.
Learn more | Hydro Systems' Systems →
Why Hydro Systems?

Family owned and operated since 1978. "At Hydro Systems, we take pride in using only components made in North America that meet our exacting standards in material and craftsmanship. We work hard at shopping for value so that you can be guaranteed a top-quality product at the best possible price. We pay close attention to detail, because detail makes the difference in producing a product that you'll be satisfied with for years to come. Not only are we committed to our customers, but we are also committed to the world we live in. "Green" may be a new catchphrase to some, but it is business as usual to us."
Hydro Systems Links
Hydro Systems Tub
(Main Page)
www.hydrosystem.com
Helpful Bathtub Links
•
How To Choose A Bathtub
- Features to Consider when Purchasing a Bathtub
•
Spa Tubs
- Bring the Spa Treatment Home | Which System is Best?
•
Tubz.com
- Contact us, we are here to help