California Faucets Craftsman StyleDrain

Craftsman Decorative Shower Drain
The Craftsman style has an appeal that many people find irresistible. Both simple and elegant, the Craftsman Style drain will bring the Arts & Craft movement to your shower. Made of solid, forged brass, this patented design features 28 custom finishes to match any fitting. With no visible screws, it's easy on the eyes and feet. Because StyleDrain can accommodate high-volume water flow, it's also ideal for multiple-head showers, patios, atriums or any other wet floor application. It's the ideal finishing touch to any design.
Authorized California Faucets Dealer
Craftsman StyleDrain Shower Drain
- All brass decorative grid drain with no visible surface screws
- Surface is foot friendly - will not dish or bend
- Square design for easy floor design and installation
- 5-1/4" x 5-1/4" Forged Brass Trim Grid
Save with California Faucets Everyday Low Sale Prices
Tubz.com has been a team with California Faucets for many years, and we have the product knowledge to help you. We are dedicated to helping you create a beautiful bathroom with luxurious sink, tub & shower faucets. Your faucets come to you directly from California Faucets with a full manufacturer warranty. Suggested list prices are shown, give us a call, and we will offer our everyday low sale prices, check lead time and help with any questions -
866-380-0303
or
email
.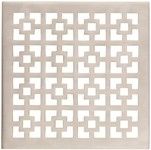 9170-A
Craftsman Trim Only
List Price:
$249.00
Polished Chrome
$305.00
Standard Finish
$342.00
Special Finish
$405.00
Premium Finish
Best Price: Contact Us

Technical Sheet
For use with on of the following Style Drain Bodies
Cast Iron StyleDrain Body
• Latex Coated Cast Iron Body & Collar
PVC & ABS StyleDrain Body
9177-PVC & 9177-ABS
- Dual outlet connection: 2" slip & 3" spigot
- Drain body with reversible membrane collar
- Brass drain throat
9177-BFP & 9177-BFA
- Dual outlet connection: 2" slip & 3" spigot
- Drain body with polyethylene fleece lined flange
- For use with liquid applied or fabric waterproof membranes
StyleDrain Upgrades, Extenders and Adapters

9178-UG-2
Plastic Throat Upgrade
- Allows for upgrade of common shower
drains with 2" IPS collar
(e.g. Oatey, Jones-Stephens, AB&A, etc.)
- Use with all StyleDrain trim grids

List Price: $59.00

9177-HMA
Hot Mop Adapter Kit
- Fits Frank Pattern Instant-Set, EZ Test, Sioux Chief, Oatey 151 and other cast iron drains for hot mop installations
- Requires 9178-UG-2

List Price: $67.00

9178
Brass Drain Throat
- For use with 9179, 9179-3, 9179-ABS or 9179-PVC
- Compatible with Zurn Z415 series drain bodies
- Included in StyleDrain Kits

List Price: $162.00

9177-EXT
Extension
- Extends from min. 1-7/8" to max. 3"
- Fits between drain body and drain throat
- Cast iron construction

List Price: $195.00
California Faucets Bathroom Faucets
Finest Quality
Superior Customer Service
Great Selection
California Faucets Links
www.calfaucets.com
California Faucets
(Main Page)
Custom Shower