Aquatica Spoon 2 Bathtub
Spoon 2 | 66" x 35" Solid Surface Freestanding Soaking Tub
Taking its inspiration from a perfect natural form of all, the egg, the Spoon 2 is almost chameleon-like in its ability to nest happily in any bathroom style and color palette. Its smooth lines, organic form, simple elegance, and pared-back perfection make it at once contemporary, classic, formal or relaxed – at home in so many different design scenarios. Not only is the Spoon 2 stunning to look at it is superbly spacious and comfortable. It is also finished with a number of thoughtful details that add to your bathing experience. A variable-width rim has been widened at the foot end of the bath to become a very useful place for those bathing essentials - soap, shampoo, a candle or drinks for two. It's hard to resist Aquatica's deep understanding of finer points of bathing.

Technical Sheet
Bathtub Size: 66.25" x 35.25" x 22.5"
Bathing well: 45.5" x 22.5"
Water Depth: 15.75"
Water Capacity: 68 Gallons
Product Weight: 223 Pounds
Shipping Weight: 423 Pounds
Matte White, Matte Black or Matte Black & White
Built-in overflow with Pop-up drain
25 Year Limited Warranty
Country of Origin: Italy
Faucets pictured not included with tub

Installation Instructions
Aquatica Spoon 2 Offers:
• Color Choices
• Made of AquateX™ award-winning composite
• Velvety, warm, smooth and pleasant to the touch hypoallergenic surface
• Elegant, timeless design with roomy interiors
• Comfortably fits two bathers that are 6ft or taller.
• Low step-in design for physically challenged people
• Useful wider foot side rim for handy accessories like soap, shampoo, candles and even drinks
• Preinstalled pop-up waste fitting
• 25 Year Limited Warranty
• cUPC certified
Constructed of AquateX™
AquateX™ is a technologically advanced solid surface composite material, developed by Aquatica®. 60% of AquateX™ is composed of the aluminum mineral that is derived from bauxite, a deeply weathered volcanic rock. By combining a high percentage of all the best properties of natural materials; and a low percentage of state-of-the-art acrylic resins; we were able to create a desirable, high performance cast stone material that is specifically, suitable for high-end bathroom applications.

Installation Instructions
For those who love to bath together, the aptly named Spoon 2 bathtub is made to measure. With interior dimensions of 45.5" long at the bottom, flaring out to 62.75 inches at the top, this bath is easily suited to even two 6 ft plus bathers. The generous depth adds to the overall luxurious spaciousness of this very "companionable" freestanding bath tub.
Integrated Slot Overflow
Integrated slot overflow brings sleek minimalistic design appeal, increased water depth, improved ergonomics, simpler and lower cost maintenance.
Spoon 2 Options
Drain Trim
Oil Rubbed Bronze, Venetian Bronze or Brushed Nickel
(Chrome No Charge Standard)
List Price: $250.00
Sale Price: $173.00
Vanilla Headrest
Black or White Gel Pillow
Sale Price: $149.00
Relax in your bathtub! These headrests have been specially designed and hand-made in Italy, with an ultramodern polyurethane gel, giving the headrest its 'shape memory'. Compatible in any square bathtub, and perfect if you're looking for head support lower than on the edge of the bath. Highly durable, resistant, and elastic, these non-toxic headrests won't require an adhesive to stick and adhere perfectly to all stone and acrylic bathtubs.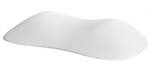 Freestanding Bath Installer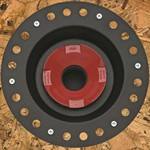 List Price: $288.00
Sale Price: $199.00

This well-rounded kit includes all the equipment required to install an Aquatica freestanding bathtub within minutes and has been specifically designed to be installed with an 8" joist space. Including 2 Brass Tailpieces (Fine Thread and Flanged), a Freestanding Bath Installer™ assembly with 1-1/2" DWV ABS tailpiece as well as a cutting template. This 18 Gauge Epoxy Coated Metal Deck Flange can also be installed with a Waterproofing Membrane.

Technical Sheet
Aquatica Links
www.aquaticausa.com
Aquatica Bath
(main page)
Helpful Bathtub Links
•
How to Choose a Freestanding Tub
•
Air Tub
- Find out how Air Systems Vary
•
Tubz.com
- Contact us, we are here to help