Aquatica Gloria 2 Bathtub
PureScape 014E | 75" x 38" Freestanding Soaking Tub
The minimalistic, oval form and ergonomic, elegant walls of the Gloria 2 bathtub blend seamlessly with its smooth, high-quality acrylic material surface. As the name suggests, this bath comes with glorious dimensions. In fact, at 74.75" long it is one of Aquatica's largest baths, so it is ideal for two people. Even more importantly, the interior end walls have been sculpted in consultation with chiropractors to follow the line of the spine and support the bather in utmost comfort. This curved wall also acts as a footrest for the single bather. Center drain with 2 slanted backrests with a modern, wide, flat rim.
Buy Your Aquatica Gloria 2 on Sale from Bathtub Experts!
At Tubz.com we are not just order takers in a call center. We are a small team that takes pride in our personal customer service and the expert knowledge we have accumulated in our 20+ years of experience. Give us a call, we are here to help & offer great sale prices!
Authorized Americh Dealer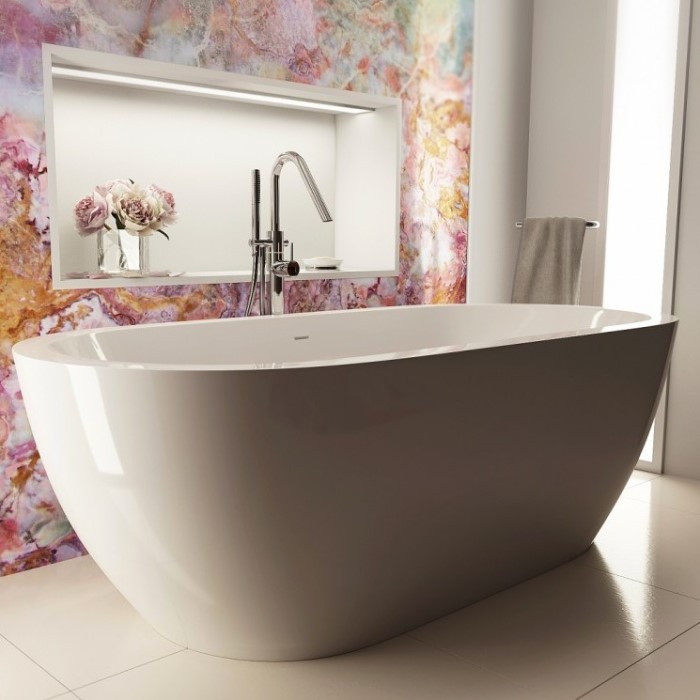 Bathtub Size: 74.75" x 37.5" x 26"
Bathing well: 50.75" x 23.5"
Water Depth: 17"
Water Capacity: 68 Gallons
Product Weight: 165 Pounds
Shipping Weight: 397 Pounds
White Acrylic

Adjustable height legs
Country of Origin: European Union
Drain Not Included (see options)
Faucets pictured not included with tub
5 Year Limited Warranty
Sale Price Not Listed? Call
866-380-0303
or Click "Send Me a Quote"
Welcome to tubz.com virtual showroom
Prices listed are MSRP. Sale prices are lower! Since we are don't have a cart, give us a call, or use quote button (email) for price quotes.
Learn more about Tubz.com →
Gloria 2 Freestanding Tub
PureScape Options →
Gloria 2 (PureScape 014E
)
Soaking Tub
Sale Price $3190.00
*Sales Tax Charged for: CA, CO, FL, OK, WA & WI
Aquatica Gloria 2 Offers:
• Striking upscale modern design
• Freestanding construction
• Solid, one-piece construction for safety and durability
• Extra deep, full-body soak
• Ergonomic design forms to the body's shape for ultimate comfort
• Quick and easy installation
• Designed for one or two person-bathing
• Built-in metal base frame and adjustable height metal legs
Constructed of Acrylic
- Solid, one-piece construction for safety and durability
- Constructed of 8mm thick 100% heavy gauge sanitary grade precision acrylic
- Premium acrylic and tub thickness provides for excellent heat retention
- High gloss white surface
- Color is consistent throughout in thickness – not painted on
- Color will not fade or lose its brilliance over time
- Non-porous surface for easy cleaning and sanitizing
Integrated Slot Overflow
Integrated slot overflow brings sleek minimalistic design appeal, increased water depth, improved ergonomics, simpler and lower cost maintenance.
Lumbar Support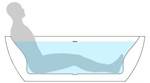 Gloria 2 freestanding bathtub features unique and best in the class ergonomics with integrated backrest and footrest design that that was made in consultation with chiropractors and solves 2 unique problems: 1. It allows for a very relaxing backrest. 2. Provides for a very comfortable footrest space, especially for smaller people.
Gloria 2 Options
Save More! 10% off the following accessories when ordered with your bathtub
Tub Drains
•
Euroclicker 2
(tap drain to open or close)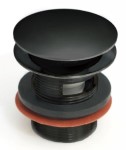 Polished Chrome
List Price: $199.00
Matte Black, Polar White, Brushed Nickel
List Price: $240.00
Freestanding Bath Installer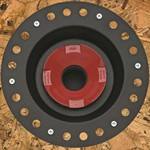 This well-rounded kit includes all the equipment required to install an Aquatica freestanding bathtub within minutes and has been specifically designed to be installed with an 8" joist space or in a concrete floor. Including 2 Brass Tailpieces (Fine Thread and Flanged), a Freestanding Bath Installer™ assembly with 1-1/2" DWV ABS tailpiece as well as a cutting template. This 18 Gauge Epoxy Coated Metal Deck Flange can also be installed with a Waterproofing Membrane.

Technical Sheet
List Price: $199.00
Nordic Insulation
The Aquatica Bathtub Nordic Insulation System is a complete bathtub insulation system. Designed to insulate and air seal all the bathtub inner surfaces, including the bathtub bottom. This premiere insulation system creates an air chamber that prevents heat loss. It creates a perfectly insulated, sound-proof, monolithic solid stone interior while benefiting from some substantial weight savings.
List Price: $399.00
Bluetooth Stereo
Enhances the experience of relaxation by adding audio playback
All components are concealed under the bath
The Bluetooth receiver plays back audio files wirelessly any Bluetooth-enabled device.
More Information →
List Price: $875.00
Vanilla Headrest
Black or White Gel Pillow
Relax in your bathtub! These headrests have been specially designed and hand-made in Italy, with an ultramodern polyurethane gel, giving the headrest its 'shape memory'. Compatible in any square bathtub, and perfect if you're looking for head support lower than on the edge of the bath. Highly durable, resistant, and elastic, these non-toxic headrests won't require an adhesive to stick and adhere perfectly to all stone and acrylic bathtubs.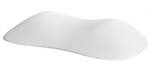 List Price: $149.00
Aquatica Links
www.aquaticausa.com
Aquatica Bath
(main page)
Helpful Bathtub Links
•
How to Choose a Free Standing Tub
•
Freestanding Bathtub
- Shop all Freestanding Tubs
•
Tubz.com
- Contact us, we are here to help