Aquatica Allegra Round Acrylic Bathtub
Large 75" Round Freestanding or Drop-in Soaking Tub
Allegra offers an organic, circular and modern shaped bathtub. This tub is suited for both one or two person bathing and its ergonomic structure forms to fit the human body for ideal comfort. Comfortable built-in seating, four armrests and an ergonomic interior. Its premium acrylic material and the thickness of its walls provide excellent heat retention and durability. This is one of Aquatica's largest designs with a water capacity of 143 full gallons, and it is extra deep, ideally suited for a luxurious, full-body soak.


Allegra Sale | Save on all Aquatica Soaking Tubs
Free Shipping - 48 Contiguous States
Authorized Aquatica Dealer


Allegra Soaking Tub

Technical Sheet
Bathtub Size: 74.75" x 74.75" x 26.75"
Bathing well: 47.25" x 47.25"
Water Depth: 16.50"
Water Capacity: 143 Gallons
White Acrylic
Preinstalled chrome pop-up waste fitting
Country of Origin: European Union (EU)
10 Year Limited Warranty

Installation Instructions
Allegra Options →
Allegra Bathtub Features
• Striking upscale modern design
• Extra deep, full-body soak
• Ergonomic design forms to the body's shape for ultimate comfort
• Quick and easy installation
• Preinstalled cable drive pop up, and waste-overflow fitting included
• Designed for one or two-person bathing
• Built-in metal base frame and adjustable height metal legs
• Chrome-plated drain
• 10 Year Limited Warranty
• Code compliant with American standard 1.5" waste outlets
Constructed of Acrylic
- Solid, one-piece construction for safety and durability
- 2 Removable side panels for easy installation and servicing (freestanding versions)
- Premium acrylic and tub thickness provides for excellent heat retention
- High gloss white surface
- Color is consistent throughout in thickness – not painted on
- Color will not fade or lose its brilliance over time
- Non-porous surface for easy cleaning and sanitizing
Allegra offers a Roomy Round Bathtub
A very generous circular tub, the gently sloping sides of which flare out to 67.75" at the top and 16.5" depth. Plenty of room for one person to really stretch out and relax, or for two people to enjoy intimate bathing without compromising their space in any way. The convenient built-in arm rests complete the luxury of Allegra for every bather.
Allegra Options:
Bath Headrest Comfort
Black or White Comfort Pillow
Sale Price: $179.00
Aquatica bath headrests are hand-made in Italy of state-of-the-art polyurethane gel with "shape memory", which lets the material to respond to any deformation, returning to the initial shape. The headrests could be attached and detached to the baths repeatedly. Moreover, any dirt can be be simply washed away with soap and water.


Drain Trim
Brushed Nickel or Oil Rubbed Bronze
(Chrome No Charge Standard)
List Price: $200.00
Sale Price: $138.00
Freestanding Bath Installer
(Freestanding Option)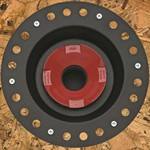 List Price: $288.00
Sale Price: $199.00
This well-rounded kit includes all the equipment required to install an Aquatica freestanding bathtub within minutes and has been specifically designed to be installed with an 8" joist space.
Including 2 Brass Tailpieces (Fine Thread and Flanged), a Freestanding Bath Installer™ assembly with 1-1/2" DWV ABS tailpiece as well as a cutting template. This 18 Gauge Epoxy Coated Metal Deck Flange can also be installed with a Waterproofing Membrane.

Technical Sheet
Aquatica Links
www.aquaticausa.com

Aquatica Bath (main page)

Helpful Bathtub Links

• How to Choose a Freestanding Tub

• Air Tub - Find out how Air Systems Vary

• Tubz.com - Contact us, we are here to help