Aquatic South Padre Bathtub
South Padre Whirlpool or Air-Whirlpool
The South Padre offers a rectangle 66" x 36" bath comfortable armrests, lumbar back support and convenient grab bars. Estate series baths feature a neck-and-shoulder therapy system, these jets target tension points with powerful circular massage. The South Padre has an extra deep contoured bathing well. The seven jets are strategically placed to target massage action to the neck, shoulders, back, legs, knees and feet; providing relief to the sore, aching muscles that collect the tensions of the day. Air jets offer a bubbly massage.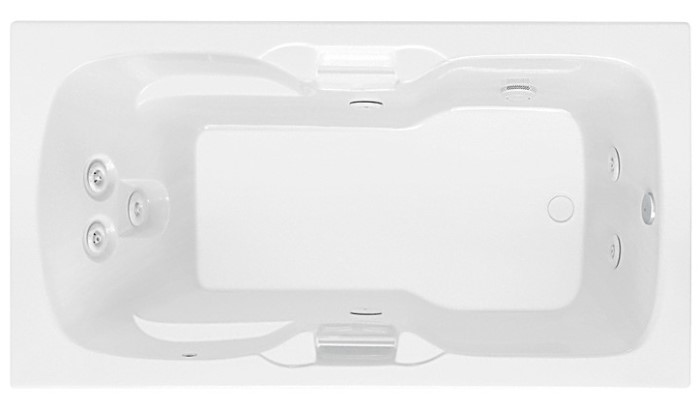 Tub Size: 66 1/4" x 36" x 23"
Bottom Interior: 43 3/4" x 20 1/2"
Gallons to Overflow: 85
Gallons to Operate: 66 (Whirlpool)
Depth to Overflow: 17 3/4"
Package Weight: 203# Whirlpool | 248# Air-Whirlpool

Installation: Drop-in Bath
End Drain - 1 Person Bath
Aquatic Standard Colors: White
Limited Lifetime Warranty

Buy Your Aquatic Bath on Sale from Bathtub Experts!
At Tubz.com we are not just order takers in a call center. We are a small team that takes pride in our personal customer service and the expert knowledge we have accumulated in our 20+ years of experience. Give us a call, we are here to help & offer great sale prices!
Authorized Aquatic Dealer
South Padre Jetted Tub
South Padre Options →
South Padre Features:
Deep, ergonomic bathing well
Sculpted armrests
Integral clear acrylic grab bars
Pre-leveled ABS support base
Slip resistant floor
Premium cast acrylic surface
Limited lifetime warranty
Whirlpool
7 hydrotherapy jets
Direction & flow adjustable jets
3-jet back, shoulder and neck massage system
Leg and foot jets
Electronic on/off control
1.75hp whirlpool pump
This whirlpool must be hard-wired to the breaker box
16 x 16 minimum access required at pump location
Whirlpool & Air
Whirlpool system plus:
Perimeter air system
Variable speed heated-air blower
Purge and dry cycle
Electronic wave and pulse modes
1.5kW inline maintenance heater
This whirlpool must be hard-wired to the breaker box
Three outlets will be supplied
16 x 16 minimum access required at pump/blower location(s)
South Padre Options:
Premium Color | Black or Sterling Silver
Pump Locations | 2 options (whirlpool)
Acrylic skirt: Color Matched
Factory installed 3 sided rigid ABS tile flange (keypad is located opposite of the flange)
Magnetic pillow | Black or White
Cable drive waste & overflow | Chrome, Oil Rubbed Bronze, Polished Brass, Brushed Nickel, Biscuit or White
Metallic Finish (Jets & Suction Fitting)
Chromotherapy LED lighting
1.5kW inline maintenance heater (whirlpool option)
All Aquatic Estate Options and Features →
Aquatic luxury extends into the waters of design and craftsmanship
An Aquatic bath product is not only a sight to behold—it's also a pleasure to experience. Whirlpools target aching muscles with pulsating jets of water, while air baths provide an all-encompassing massage. All Aquatic products are made by American workers in U.S. factories, using an unparalleled process that melds precision engineering with expert craftsmanship. They finely tune details inside and out, making sure every curved edge and water line is perfectly clean, so you can enjoy many years of luxury and beauty.
Aquatic Bath Links
www.aquaticbath.com
Estate Series Whirlpools
Aquatic Bath
(Main Page)
Helpful Bathtub Links
•
How To Choose A Bathtub
- Features to Consider when Purchasing a Bathtub
•
Spa Tubs
- Bring the Spa Treatment Home | Which System is Best?
•
Tubz.com
- Contact us, we are here to help