Aquatic Millennium 7
WMIL7257 Air & Whirlpool Spa Tub
Large, 2 Person Whirlpool & Air Tub with 24 Jets, Lighting and Heater
The Millennium 7 offers side by side seating with 24 strategically placed Hydrotherapy Jets. Two bathers can enjoy a complete body massage simultaneously in Deeply Contoured Loungers. Built-In Lumbar Support, Raised Seats, Arm Rests all contribute to the ultimate relaxation experience. It also features separate water pumps for each bather, a thermostatically controlled heater, shiatsu-pro back jetting system, Chromotherapy lighting and full-body air bath system.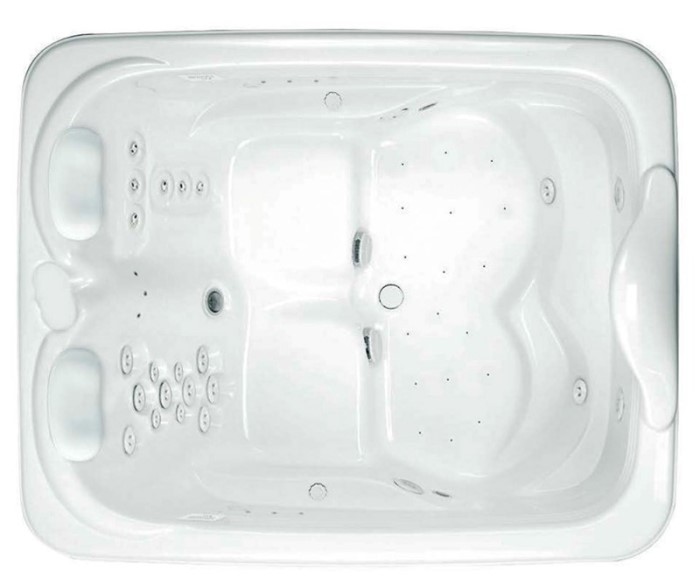 Tub Size: 71 3/4" x 58 1/4" x 29"
Gallons to Overflow: 184
Gallons to Operate: 147 (Whirlpool)
Depth to Overflow: 21"
Package Weight: 685#
2 Raised Seats

Installation: Drop-in Bath
Center Drain - 2 Person Bath
Aquatic Standard Colors: White
Pictured with optional fast-fill spout
Limited Lifetime Warranty

Buy Your Aquatic Bath on Sale from Bathtub Experts!
At Tubz.com we are not just order takers in a call center. We are a small team that takes pride in our personal customer service and the expert knowledge we have accumulated in our 20+ years of experience. Give us a call, we are here to help & offer great sale prices!
Authorized Aquatic Dealer
Millennium 7 Combination Air & Whirlpool
Large whirlpool - does not fit on a lift gate - customer must have crew or equipment to unload the bath from the truck.
Millennium Options →
WMIL7257
List Price:
$23872.00
MSRP:
$17904.00
Millennium 7 Standard Features:
- Dual hydrotherapy bath with independent bathing zones
- Raised seating
- Sculpted armrests
- Molded footrests
- Two extra-soft magnetic comfort pillows
- Ajusta-level metal base
- Slip resistant floor
- Premium cast acrylic surface
- Lifetime limited warranty
Air-Whirlpool Combination Features
- Dual bathing zones with independent electronic controls
- 24 hydrotherapy jets:
- 12-jet heated-air shiatsu back massage system
- Elbow and wrist jets
- Knee and foot jets
- Back massage jets
- Independent pumps for each bathing zone (2)
- 1.5kW inline maintenance heater
- High intensity LED chromatherapy lights (3)
- In-floor illusion air injectors
- Variable speed heated-air blower with wave and pulse modes
- Air system purge and dry cycle
- Floating remote control
Millennium 7 Options
Premium Color | Black or Sterling Silver
Magnetic Pillow in White or Black
Cable drive waste & overflow | Chrome, Oil Rubbed Bronze, Polished Brass, Brushed Nickel, Biscuit or White
Metallic Finish (Jets & Suction Fitting): Chrome, Polished Brass or Satin Nickel
Fast-fill Waterfall Spout: Built in spout - only handles and valves needed
Millennium Features, Colors & Options →
Aquatic luxury extends into the waters of design and craftsmanship
An Aquatic bath product is not only a sight to behold—it's also a pleasure to experience. Whirlpools target aching muscles with pulsating jets of water, while air baths provide an all-encompassing massage. All Aquatic products are made by American workers in U.S. factories, using an unparalleled process that melds precision engineering with expert craftsmanship. They finely tune details inside and out, making sure every curved edge and water line is perfectly clean, so you can enjoy many years of luxury and beauty.
Aquatic Bath Links
www.aquaticbath.com
Millennium Series
Aquatic Bath
(Main Page)
Helpful Bathtub Links
•
How To Choose A Bathtub
- Features to Consider when Purchasing a Bathtub
•
Spa Tubs
- Bring the Spa Treatment Home | Which System is Best?
•
Tubz.com
- Contact us, we are here to help