Amba Quadro Q2842 Heated Towel Rack
The Quadro is perfect for drying towels and warming living spaces. The chic, Italian-made Quadro collection has a modern design featuring square bars. It features 16 horizontal bars. The 8-8 bar configuration is ideally spaced for 2-3 full-size towels (folded). Made of high quality 304 stainless steel, the Quadro collection is offered in brushed and polished stainless steel and matte black. Using Dry Element Technology, it heats up quickly in 10 to 20 minutes.
Quadro 2842 | 16 Bar Heated Towel Rack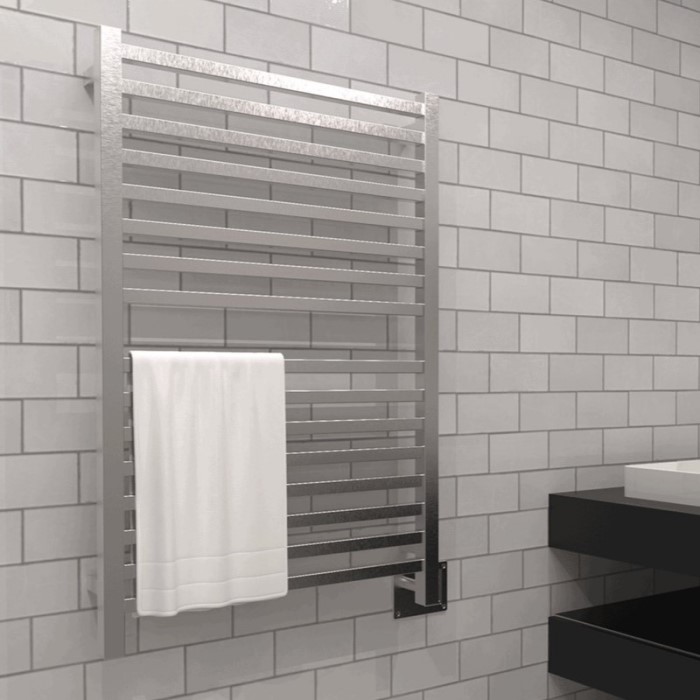 32 1/4" W x 44 3/4" H
Depth: 4 1/8"
Cross Bars: 16
Watts: 296
Amps: 2.6
BTUs: 1009
Temperature: 110 - 180° F
UL-certified for use in the USA
3-Year Warranty
All Amba Quadro Now On Sale!
Free Shipping - 48 Contiguous States
Authorized Amba Dealer

Q2842P | Polished
Q2842B | Brushed
Q2842MB | Matte Black

List Price: $1830.00
Q2842 Features:
• Digital Heat Controller
• Heats with internal cable
• 304- Grade Stainless Steel
• Warm-up Time 10 – 20 minutes
• Suitable for 2-3 full-size towel (folded)
• Designed to be on continuously
• Energy efficient design
• Hardwired (installation requires an electrician)
Amba Quadro Towel Warmer Options
Quadro Series as a Room Warmer - Space Heater
BTU:
The British Thermal Unit, or BTU, is an energy unit. It is approximately the energy needed to heat one pound of water by 1 degree Fahrenheit. BTU can also be used pragmatically as a point of reference for the amount of heat that an appliance generates; the higher the BTU rating of an appliance, the greater the heating capacity.
Quadro Features
Dry-Element System: also known as "cable-heated" system, these heated towel racks have resistance wires inside each towel bar that heat up. They transfer warmth into the bars and across the whole unit. They heat up quickly and evenly.
Made from the finest 304-grade stainless steel. This high quality metal is more resistant to corrosion. Perfect for the moisture-filled conditions in bathrooms. If cleaned and maintained properly, Amba towel warmers can remain pristine for many years.
UL-certified for use in the USA and Canada, the Quadro units are approved for installation around water sources and above bathtubs.
Quadro Series Embossed Label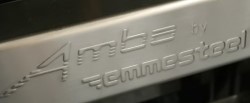 Bathroom Heated Towel Racks
Towel Warmers not only warm and dry damp bath towels but, add a sense of comfort and luxury to your bathroom experience. It can provide an alternative source of heat in the bathroom and helps prevent mold. It can even reduce laundry loads by keeping your towels mold and mildew free.
Best way to place your towels on a towel warmer:
Amba recommends folding your towel in half or thirds, depending on how large your towel is, and drape it over the top bar, so that the towel hangs down evenly on either side. This allows you to maximize the surface area contact between the towel and bars. They do not recommend weaving the towel through the bars because this only utilizes half of the surface area of the bars.
Heated towel racks are also great for drying damp clothes. The digital heat controller allows you to safely dry more delicate items. Dry, wrinkled clothes can be refreshed by being hung on a towel warmer.
Amba Links
ambaproducts.com
Amba Towel Warmers
(Main Page)