72 Inch (6 Foot) Oval Whirlpool, Air & Soaking Tubs

This tub listing features 6' oval & round drop-in or undermount tubs
Choose an oval bath for the soft curves and classic symmetry. You will find oval baths with an end drain or with a side-center drain designed with 2 slanting backrests.
What is the difference between drop-in & undermount bathtubs? →
6' Oval Bathtub by Tub Length:
Find Great Tubs with Factory Direct Sale Prices
We carry quality bathtubs with thick acrylic and strong warranties. Our tubs come to you factory direct and we pass those savings on to you, giving you high quality at reasonable prices.

Whirlpool, Air or Soaking Bathtub?
Most tubs listed come with the possibility of a variety of systems from tub only to whirlpool & air combination. The description will list all the possibilities.

Tubs are listed by size: first by length, then by width, then by height - smallest to largest
Choose Bathtub Width:
Undermount Bathtub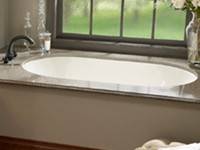 An undermount tub requires a flat rim. It can be any bath shape. The bath edge is under the deck material making the rim of the bath invisible. Make sure to order as an undermount so the electronic controls will either not be installed or installed in a location that won't interfere with the under mounting.

Drop-in Tub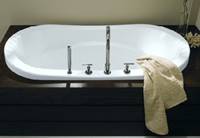 A drop-in bath can be any shape. A deck is created (with an opening in the center) and the bathtub is dropped into the surround. The tub sits on the bathroom floor (not hanging from the rim). The size of the deck is a matter of preference. A lot of pictures will show a wide deck, which can look beautiful, but others don't have the room for a wide tile area.
Helpful Bathtub Links
• Choosing a Bathtub - Features to Consider when Purchasing a Bathtub

• Spa Tubs - Bring the Spa Treatment Home | Which System is Best?

• Whirlpool Tubs - Learn about whirlpool features and options

• Air Tub - Find out how Air Systems Vary

• Tubz.com - Contact us, we are here to help