Stream Bath & Driftbath
Relax to the soft sound of flowing water as a gentle current caresses your body. Ports move water from the head to the foot of the tub.
Stream Tub Spa Experience
Two of our manufacturers offer a system that flows water from one end of the tub to the other. Aquatic with up to 70 ports and MTI with 8 adjustable vents. A step-up from a soaking tub, the water movement relaxes you with its sound and gentle caress. This system creates soft currents of water directed toward the bather. No air in the lines. Nothing like an air bath or whirlpool.
MTI Stream Bath

Stream Bath creates a directional, gentle current of water, just as if you were sitting in a stream. No turbulence. No bubbles. Only the touch and sound of a steady stream of slowly moving water to soothe the senses and relax the body. End vents create streams of water that flow toward you, over your body. Side vents are asymmetrically positioned and can be rotated to direct the water toward you in unique flow patterns that you create. You can even point the side vents toward the surface to create your private "babbling brook". An optional inline heater is available to maintain the water temperature at a most comfortable 104⁰ F.
Aquatic Driftbath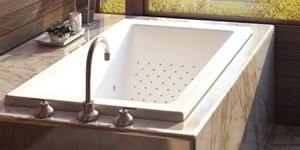 Soothing, water-only hydrotherapy experience uses a soft current to create a relaxing blanket effect, without any jet action or vigorous swirl of bubbles. Delicate ribbons of water allow you to drift away to a place of pure tranquility. This hydrotherapy experience gently soothes your entire body. Up to 70 ports in the back and foot areas release individual streams of water that converge into a single flowing motion, creating a soft blanket effect. Heat generated by the motor is captured and used to keep water warm, eliminating the need for a separate inline heater.
Motor Access
Access is needed for any repairs to the bathtub's system. Repairs with the companies we carry are very rare. But, Murphy's Law suggests build access, and it won't be needed, don't and there will be trouble. Both MTI and Hydro Systems suggest an access of 16" x 14".
Options
The list of options can be lengthy. Installation options like skirts, tile flanges and drain are covered in the article
Choosing a Bathroom Tub →
Shop Stream Tubs
Currently we have two companies that offer the Stream Tub experience for their alcove, drop-in and undermount tubs. (Not offered on freestanding tubs). You can go directly to their pages and shop by tub size:
Helpful Tub Links
•
Bathtubs
- Features to Consider when Purchasing a Tub
•
Spa Tubs
- Bring the Spa Treatment Home | Which System is Best?
•
Tubz.com
- Contact us, we are here to help