MTI Acrylic Shower Base | Center Drain
MTI creates a large selection of center drain shower pans with tile flanges on 3 sides. Cross-linked cast acrylic construction, strengthened by a substantial multi-layered backing to prevent flexing of the shower floor pan. Quality and value come together in these shower pans that are attractive, easy to clean and integrate with a wide variety of materials and decors.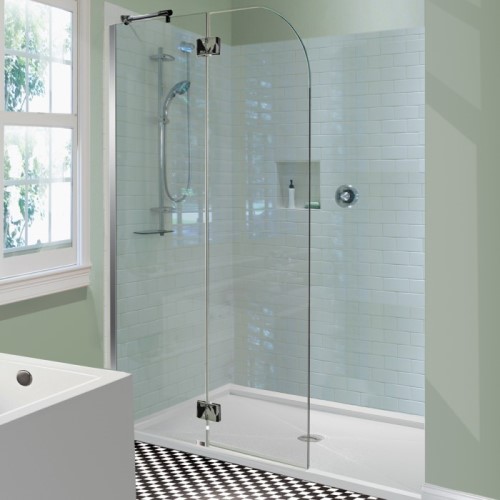 Single Threshold Shower Bases
Center Drain

Acrylic Shower Pan Features:
• 3-sided integral tile flange to facilitate installation
• Single threshold design
• 3.51" drain opening pre-drilled
• Thick layer of fiberglass/resin/titanium backing
• Extremely scratch- and stain-resistant
• Textured Floor
• 41" - 61" threshold height
MTI Center Drain Shower Pans By Size
Center Drain Shower Pans
Single Threshold | 3 Sided Flange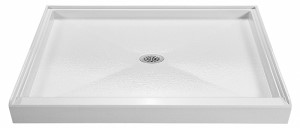 Shower Base Features:
• Glossy Acrylic CXL™
• Standard Colors: White or Biscuit
• Textured Floor
• Chrome PVC Drain Kit Included
• Integral Tile Flange

Shower Base Options:
• Radiance Floor Heating
• Pre-Leveled Foam Base
• Drain Color
Base Features & Options →
MTI Crescent Bow-Front Shower Pan
MTSB-6027-36 | 60" x 27 / 36" x 6"
Center Drain, Curved Front Shower Pan
• Single, curved front threshold; 3.5" drain opening pre-drilled. Mimics the shape of the Crescent Rod™ curved shower rods found in upscale hotels.
• Textured bottom
• Glossy Acrylic CXL™
• Standard Colors: White or Biscuit
• Chrome PVC Drain Kit Included
• Integral Tile Flange

SB6027-36
MSRP:
$1735.00

Technical Sheet
Shipping Weight 125#
MTI Links
www.mtibaths.com
Warranty
Shower Pan Installation Manual
MTI Shower
(Main Page)