Mr. Steam Steam @ Home
Affordable Steam Luxury for Small Spaces
Think you need a lot of space for a home steam bath? Think again.
Steam@Home generators from Mr. Steam are ideal for starter homes, urban living and guest baths.
Designed for smaller spaces and tighter budgets, it lets you bring the luxury of steam into your life affordably and in a space as small as 3' x 3 ' x 7'.
• The Steam@Home package comes complete with generator, steam head and On/Off switch.
• Built from rugged recyclable stainless steel, Steam@Home runs off an advanced electronic printed circuit board
• Generators use less than one gallon of water for a 20-minute session.
• Suitable for ceramic, porcelain, glass tiles and acrylic enclosures, generators are available in both 208V or 240V 1 Phase options
• The compact Steam@Home generator has a built-in drain valve and integral safety time-out feature for worry-free performance
• US and Canada UL listed
• Generators are made in the USA
Steam@Home
Ideal for Starter Homes and Guest Baths
• Ideal for ceramic, porcelain, glass tiles and acrylic enclosures
• Rugged stainless steel generator with printed circuit board - available in 208V or 240V 1 Phase
• Uses less than one gallon of water for a 20-minute session
• 23% more compact than standard MS steam generators
• Integral safety time-out feature
• Built-in drain valve
• Designed, Engineered and Assembled in the USA
• Acrylic/Fiberglass showers use SAH3000 for 60-150 cu.ft. enclosures
• cULus listed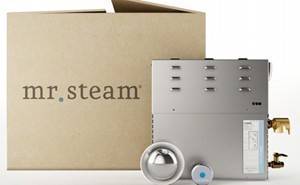 Package Includes:
• Steam@Home Generator
• SteamStart® 20-minute In-Shower Control in Polished Chrome
• 30-Foot Cable
• Cooler-to-the-Touch Steamhead with Acrylic Shield

Technical Sheet

Installation Manual
Sale Price Not Listed? Call
866-380-0303
or Click "Send Me a Quote" for Sale Prices
SAH3000C1
Total Room Volume (cu.ft):
60-75
Room Size: 3' x 3'

List Price:

$1395.00



*Acrylic/Fiberglass showers use SAH 3000 for 60-150 cu.ft. enclosures
SAH4500C1
Total Room Volume (cu.ft):
76 -110
Room Size: 3' x 4'

List Price:

$1495.00

SAH6000
Total Room Volume (cu.ft):
111 - 150
Room Size: 3' x 5'

List Price:

$1595.00
mr. Steam Links
www.mrsteam.com
Mr Steam Steam Shower
(main page)
Warranty