Serie 145 - Isenberg Bathroom Faucets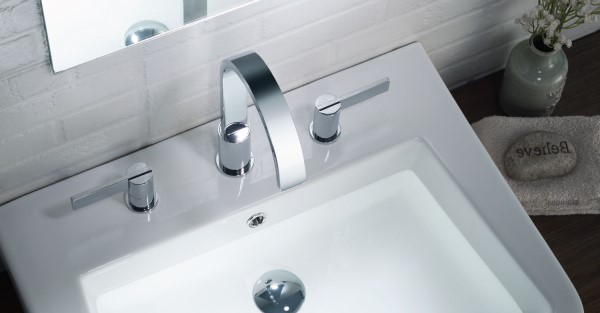 Sleek Faucet Design | Serie 145
Inspired by modern classicism, the Serie 145 collection has simple geometric shapes and pairs well in any bath space. The long, thin lever handles balance perfectly with the round bases. The ensemble of sink, shower, and bathtub mixers transforms your bathroom into a statement that is clean and minimalistic. The spout on the widespread sink faucet and roman tub filler swivel for convenience. Isenberg faucets contain only the best ceramic disc cartridges which have been tested to meet the highest water delivery standards in the US. These ceramic disc cartridges enable a smooth and easy lever movement.
Isenberg Faucet Sale | Great Service at Tubz.com
Tubz.com & Isenberg are dedicated to helping you create a beautiful bathroom with luxurious sink, tub & shower faucets. Your faucets come to you directly from Isenberg with a full manufacturer warranty. Suggested list prices are shown, give us a call, and we will offer our low sale prices, check lead time and help with any questions -
866-380-0303
or
email.
Isenberg Serie 145 Faucet Styles
Isenberg Serie 145 Sink Faucets
Serie 145 Shower
Choose a shower set that has everything you need, or create your custom shower by choosing the shower controls and adding the shower heads, tub spouts or body sprays of your choice.

Serie 145 Shower Controls

Create a custom shower set using an Isenberg pressure balance or thermostatic control and add the shower heads, spout or hand showers you need. We are here to help, just give us a call 866-380-0303.

Pressure Balance Shower Controls

Learn more: Isenberg Shower Systems →

Serie 145 | 145.2200
1/2" Pressure Balance

List Prices:
$503.00 Polished Chrome
$533.00 Matte Black
$523.00 Satin Brass


Best Price: Contact Us



Technical Sheet
- Valve & Trim
- Includes Pressure Balance Valve
- Solid Brass Trim & Handle
- Lift Handle for Volume
- Turn for Temperature
- 5.5 GPM

Serie 145 | 145.2100
1/2" Pressure Balance with Diverter

List Prices:
$657.00 Polished Chrome
$679.00 Matte Black
$679.00 Satin Brass


Best Price: Contact Us



Technical Sheet
- Valve & Trim
- Includes Pressure Balance Valve
- Lift Handle for Volume
- Turn for Temperature
- Small Knob 2-way Diverter
- Solid Brass Trim & Handle
- 5.5 GPM

Isenberg Custom Shower Options →
Hand Showers, Shower Heads & Body Sprays
Thermostatic Shower Controls
Learn more:
Isenberg Shower Systems →
Isenberg Serie 145 Accessories
- Solid Brass Construction
- Easy Installation

Serie 145 | 145.1001
Towel / Robe Hook

List Prices:
$61.00 Polished Chrome

Serie 145 | 145.1007
Paper Holder

List Prices:
$99.00 Polished Chrome

Serie 145 | 145.1008
Towel Ring

List Prices:
$115.00 Polished Chrome

Serie 145 | 145.1009
24" Towel Bar

List Prices:
$178.00 Polished Chrome
Isenberg Links
www.isenbergfaucets.com
Warranty
Isenberg Faucets
(Main Page)