Cascade | Isenberg Bathroom Faucets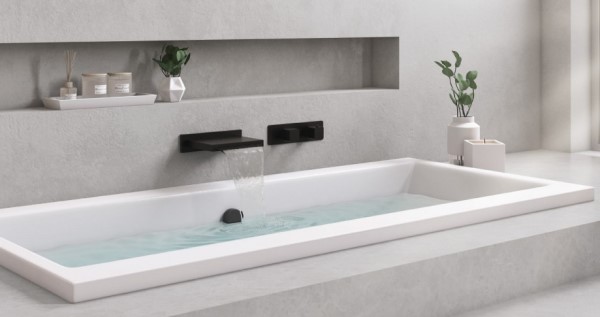 Cascade Waterfall Faucet Series
Inspired by water, the Cascade series features waterfalls. A cascading water fall as a wall or deck mounted tub fillers. Or choose a ceiling mount shower head with a waterfall and rain head. Pair the Cascade series with any of Isenberg's collection of pressure balance & thermostatic controls.
Isenberg Faucet Sale | Great Service at Tubz.com
Tubz.com & Isenberg are dedicated to helping you create a beautiful bathroom with luxurious sink, tub & shower faucets. Your faucets come to you directly from Isenberg with a full manufacturer warranty. Suggested list prices are shown, give us a call, and we will offer our low sale prices, check lead time and help with any questions -
866-380-0303
or
email
.
Authorized Isenberg Faucets Dealer
Isenberg Cascade Faucet Styles
Cascade Waterfall Tub Spouts | Wall Mounted
Pair with Thermostatic or Pressure Balance Shower Control
Shop Controls
What style of controls to pair with a waterfall spout?
See Isenberg Cascade Guide
See below for samples of each series shower controls:
Thermostatic
Pressure Balance
Cascade Waterfall Tub Spouts | Deck Mounted
Cascade Waterfall Shower Heads

Cascade | MSS.20S
20" Rain, Mist & Waterfall

List Prices:
$2500.00 Polished Chrome
$3300.00 Brushed Nickel
$3300.00 Matte Black


Best Price: Contact Us



Technical Sheet
- Stainless steel construction
- Triple function
- Flush mount ceiling installation
- Use with any 3-or-more output valve
- 2.5 GPM


Cascade | CSS.20S
20" Waterfall Cascade & Rain

List Prices:
$2100.00 Polished Chrome
$2300.00 Brushed Nickel
$2300.00 Matte Black
$2500.00 Satin Brass


Best Price: Contact Us



Technical Sheet
- Stainless Steel Construction
- Dual Function
- Flush mount ceiling installation
- Use with any 2-or-more output valve
- 2.5 GPM


Cascade | CSS.15S
15" Waterfall Cascade & Rain

List Prices:
$1500.00 Polished Chrome
$1634.00 Brushed Nickel
$1634.00 Matte Black
$1634.00 Satin Brass


Best Price: Contact Us



Technical Sheet
- Stainless Steel Construction
- Dual Function
- Flush mount ceiling installation
- Use with any 2-or-more output valve
- 2.5 GPM
- 1.8 GPM for California

Isenberg Links
www.isenbergfaucets.com
Warranty
Isenberg Faucets
(Main Page)