Americh Crillon Tub
Americh Offers a Series of Rectangle Baths with Sculpted Arm & Head Rests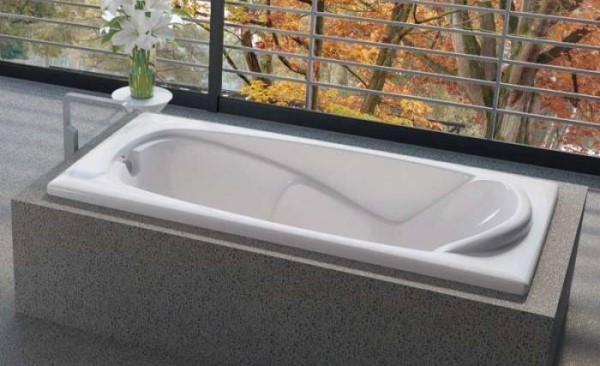 Crillon Whirlpool, Air & Soaking Bathtub
Comfort arm rests, deeply sloped backrest and raised headrest make for a luxurious soak in a pretty bath. Crillon baths are for drop-in or (with the addition of a skirt and flange option) alcove installation. Choose from 2 sizes. The 66" Crillon tub is perfect for smaller bathrooms where space is at a premium. The 72" tub allows for more leg room and with a 36" width it stays on the slim side.
Authorized Americh Dealer
Factory Direct Savings on all Crillon Tubs & Free Shipping
Click on bathtub name for more information
Americh Systems
Soaking & Heated Soaker Tubs
Soaking for those who are looking for a calm soak. Add the Serenity feature for a soaking bath that will maintain water temperature for as long as you would like.
Air Bath
Two air systems are offered for those that are looking for a soft bubbly massage. Surprise your senses with gentle bursts of warm air bubbles. Airbath II offers perimeter placed air jets and a heated backrest. Airbath III has air injectors in the floor of the tub. These injectors have check valves providing for the cleanest air system design. Invigorate your body and spirit with restorative energies.
Whirlpool Tub
: For those looking for a deep tissue massage, Americh offers three levels of whirlpools: Builder, Luxury and Platinum. Each offering 6 water jets. Americh highly advanced hydro-massage system penetrates hidden tensions, stimulates circulation, and restores vital energy sources. Various pressure and direction levels give you personal control of your massage. Custom whirlpool options are also offered by Americh. For example add jets, upgrade to rotary jets or add an in-line heater.
VSM Vibro Sonic Massage Tub
Deep Massage - with or without water. Motorized massage nodes pulsate, vibrate or run through sequences of Shiatsu type massage. Choose 6 or 8 VSM massage nodes.
Americh Customization
Customize your bath with your choice of tub color: Biscuit or White. Additional options include 12" pillows, 3 sizes of grab bars, cable drain, iBath Sound System and heated backrest (TCS Thermal Comfort System). You can also combine two or more systems to create the spa tub of your dreams.
Americh Quality & Design
For over 25 years Americh has combined a comprehensive palette of designs, selective materials, and stringent quality standard to create products that are unmatched in the industry. Only the best materials, such as Lucite® Acrylic, will measure up to Americh standards. Every product is carefully crafted by their skilled artisans and built right here in the United States. Their employees are dedicated to providing customers with the highest quality service and products. At its very heart, Americh is about facilitating the transformation of an ordinary household bathroom into a personal refuge of serenity and rejuvenation.


Let us help you find the bathtub size, system and features that best fit your needs - 866-380-0303
Americh Links
www.americh.com
Americh Tubs
(Main Page)
Helpful Bathtub Links
•
How To Choose A Bathtub
- Features to Consider when Purchasing a Bathtub
•
Spa Tubs
- Bring the Spa Treatment Home | Which System is Best?
•
Tubz.com
- Contact us, we are here to help