Amba Jeeves E Heated Towel Rack
Jeeves E is offered with straight or curved towel bars. Both both styles feature 12 horizontal bars. The 5-7 bar configuration. The bars are ideally spaced to hold 2 towels (folded). This classic towel bar design has liquid-filled round bars. These models self-regulate to maintain the ideal internal temperature while reducing power consumption. They are hardwired units and have a replaceable heating element.
Jeeves E Straight & E Curved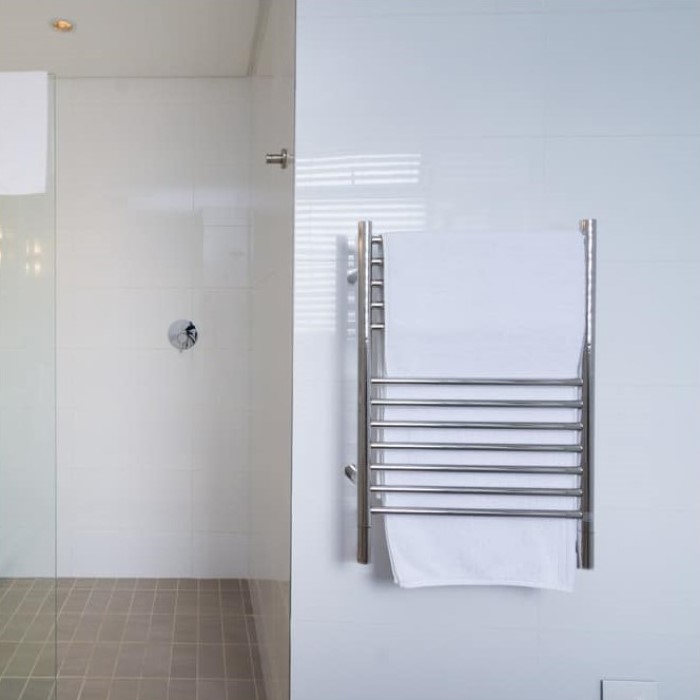 Cross Bars: 12
Watts: 150 - 175
Amps: 1.6
BTUs: 597
Temperature: 120 - 150° F
Safety Cutout: 158F
UL-certified for use in the USA
10-Year Warranty
All Amba Jeeves Now On Sale!
Free Shipping - 48 Contiguous States
Authorized Amba Dealer
E Straight (ES)

21.25" W x 31.75" H
Depth 4.5"

ESP | Polished Stainless
ESB | Brushed Stainless
ESO | Oil-Rubbed Bronze
ESW | Gloss White
ESMB | Matte Black

List Price: $1050.00
E Curved (EC)

21.25" W x 31.75" H
Depth 6.5"

ECP | Polished Stainless
ECB | Brushed Stainless
ECO | Oil-Rubbed Bronze
ECW | Gloss White
ECMB | Matte Black

List Price: $1160.00

Amba E Features:
• Heats with internal liquid
• 304- Grade Stainless Steel
• Warm-up Time 15 – 45 minutes
• Suitable for 1-2 folded full-size towels
• Designed to be on continuously
• Energy efficient design
• Must be wired to a switch (Not Included)
• Hardwired (installation requires an electrician)
Amba Jeeves Towel Warmer Options
Jeeves Towel Rack Features
Liquid-filled System: these heated towel racks contain a water/glycol mixture that is heated by a rod-like heating element running along one of the vertical bars. The warmed liquid rises as it heats up until the entire rack reaches its maximum temperature. This technology will take longer to heat than a dry-element, but is a more energy efficient system.
Made from the finest 304-grade stainless steel. This high quality metal is more resistant to corrosion. Perfect for the moisture-filled conditions in bathrooms. If cleaned and maintained properly, Amba towel warmers can remain pristine for many years.
UL-certified for use in the USA and Canada, the Jeeves units are approved for installation around water sources and above bathtubs.
Easily replaceable heating elements means you can get years of use out of this towel warmer – far beyond its warranty.
Bathroom Heated Towel Racks
Towel Warmers not only warm and dry damp bath towels but, add a sense of comfort and luxury to your bathroom experience. It can reduce laundry loads by keeping your towels mold and mildew free.
Best way to place your towels on a towel warmer:
Amba recommends folding your towel in half or thirds, depending on how large your towel is, and drape it over the top bar, so that the towel hangs down evenly on either side. This allows you to maximize the surface area contact between the towel and bars. They do not recommend weaving the towel through the bars because this only utilizes half of the surface area of the bars.
Amba Links
ambaproducts.com
Amba Towel Warmers
(Main Page)