MTI Baths | MTI Whirlpools, Air & Soaking Bathtubs
Large Selection of MTI Bathtubs Designed to Fit your Style & Budget
Whether you prefer the simple luxury of a soaking tub, the invigorating deep-tissue massage of a whirlpool, the light full-body thermo-air massage, or a combination of the two, MTI offers multiple configurations to meet your specific needs.

Made in the USA
MTI Whirlpools is an American-owned company. Their Hydrotherapy Systems, including whirlpool systems, air baths and all combination systems are manufactured in the USA. 70% of the cost of these products is USA labor and USA-made materials.

Handcrafted Quality Products
In MTI's production facilities, you will find no robots; only real people.

Customization
MTI alone enables you to have maximum control in creating your personalized bathing experience for your bathroom

Employee-Owned Culture
Entrepreneurial spirit and a culture of creativity and discipline resulting in innovations, solutions to customer needs and a steady stream of great new products.
Save with MTI Factory Direct Sale & Free Shipping
Once your tub is ordered, it is created especially for you at MTI's plant in Sugar Hill, GA. After passing their highest standard of excellence, it is shipped directly to you. No refurbished, reconditioned tubs are allowed. Fully warrantied by MTI. And your tub only makes one trip - from the manufacturer to you.
Tubz.com is an Authorized MTI Dealer
Shop MTI Baths by Size / Style
MTI Bathtubs by Name

Designer Collection
Premium style and quality tubs, highly customizable with many options and handmade in cast acrylic.
Boutique Collection →
High-end, design-savvy tubs handcrafted in SculptureStone™
Basic Collection →
Value-priced selection of tubs in popular sizes and shapes, easy to install and manufactured with handmade quality in cast acrylic.
MTI bathtubs offer proven advanced therapies to help you achieve a healthier lifestyle.
Soaking Baths
All MTI soaking bathtubs are ergonomically designed for maximum comfort with a thick cast acrylic shell that keeps bath water warm longer. Add a re-circulating pump/heater to create a heated soaking tub.

Whirlpool
Benefit from the power of a MTI whirlpool - deep, penetrating massage. This type of hydrotherapy comes from strategically placed jets that may be targeted to specific areas of the body. Operated by a whisper-quiet pump, MTI whirlpool baths use a mixture of air and water that adjusts from a gentle swirl to a more vigorous pulse.

Air Bathtub
The blissful combination of water, heat and air movement creates an incomparable effect that is as therapeutic as it is relaxing. The movement of millions of tiny air bubbles activates the lymphatic systems, increases blood flow, stimulates endorphins and relieves sore muscles and other painful ailments. MTI air systems provide a full-body massage experience via air jets located in the bottom of the bathing well.

Stream Bath
Stream Bath creates a directional, gentle current of water, just as if you were sitting in a stream. No turbulence. No bubbles. Only the touch and sound of a steady stream of slowly moving water to soothe the senses and relax the body. Stream Bath is an entirely new form of hydrotherapy, exclusively with MTI.

MTI Baths - Where you can expect to find only the best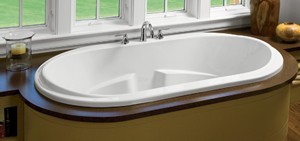 Affordable quality. Fast delivery. Made in the USA.
All MTI acrylic products are hand-built using the highest-quality materials. Tubs are high-gloss, cross-linked cast acrylic, which provides a renewable, non-porous and stain-resistant surface that is both practical and attractive. The acrylic is backed by a thick layer of fiberglass / titanium mixture for added strength and increased insulation. On baths with corners, metal reinforcement is incorporated at the stress points. Multiple quality control checks are employed, and all products are individually water-tested before shipping to assure product quality and customer satisfaction. As testimony to their quality, all MTI Designer and Classic Series baths are accompanied by a Lifetime Warranty

World-Class Customer Service
Expert assistance, excellent customer service

Award-Winning Designs
Countless awards for the design excellence and innovation of its products

Environmental Responsibility
On an ongoing basis, MTI searches out new materials and ways that will enable the company to be even more proactive and aggressive in preserving the environment

Innovation & Advanced Technology
MTI stays on the cutting edge of technology and goes beyond the confines of the conventional


MTI Links
www.mtibaths.com

MTI Tub Options

MTI Shower Base

Warranty

Helpful Bathtub Links

• Choosing a Bathtub - Features to Consider when Purchasing a Bathtub

• Spa Tubs - Whirlpool, Air, Heated Soaking or Tub Only?

• Air Tub - Find out how Air Systems Vary

• Whirlpool Tubs - Explore Whirlpool Tub Features

• Bathtubs - Shop all Bathtubs by Size & Style

• Tubz.com - Contact us, we are here to help