Alcove Bathtub - Skirted for Shower Bathtub Combo
Integral Skirt & Tile Flange - Perfect for Tub & Shower Combinations
An alcove requires a rectangular bathtub placed between three walls. A front skirt hides the underneath of the bathtub. The three surrounding walls can be tiled to create a shower nook.
Shop by Alcove Bathtub Size
Integral Front Skirt
The tubs we have listed in the alcove section have an integral front skirt. Some have a smooth flat panel skirt that doesn't allow for access. Others offer system access through the skirt with a removable panel.
Custom Front Skirt
There are two more styles of front skirts:
1) Removable front skirt & tile flange can be ordered as an option with some manufacturers. (1st picture below)
2) Create a custom skirt with tile or wood. For this a drop-in tub is ordered with tile flange option. (2nd & 3rd picture below)
For these two styles: Shop Rectangle Tubs by Size → (Add Skirt & Flange Options)
Tile Flange
A tile flange is used when the walls surrounding the bath are going to be tiled down to the rim of the bath. It will be integral to the tub or an add-on. Shower combo tubs have a lot of water splashing on the rim. The flange prevents this water from seeping down behind the bathtub.
(click on pictures below for more information)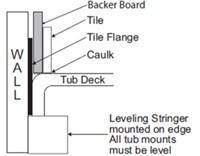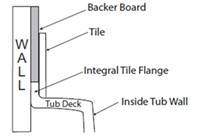 Access - What is the big deal?
Access is needed for any repairs to the motor or blower. Repairs with the companies we carry are very rare. But, Murphy's Law suggests build access and it won't be needed, don't - and the results may be very scary! Most motors are located behind the backrest, but position does depend on the manufacturer. See more about tub access: Whirlpool Access | Air Bath Access.
Bathtub Shower Combo
• Look for a bath that is straight up and down by the drain. This will allow the most room for showering. Some of our customers have used a center drain tub as a shower. Take note where the shower head and tub spout are located. You don't want the spout behind a bather's head or the shower head over a back slant.
• Avoid seats or uneven bottoms to avoid trip hazards
• Look for lower rim height: over 22" is difficult to step over over on a daily basis to take a shower.
Helpful Bathtub Links
• Bathtub - Features to Consider when Purchasing a Bathtub

• Spa Bathtub - Choose Tub System - Whirlpool, Air or Soaking Tub?

• Whirlpool Tubs - Learn about whirlpool features and options

• Air Tub - Find out how Air Systems Vary

• Tubz.com - Contact us, we are here to help