Soaking Tub | Deep Soaker Tubs

Hydrotherapy can be found in a soaking tub (non-jetted)
Soaking in warm water will sooth the body, boosts cardiac output, lower blood pressure and improve circulation. Water also hydrates the skin and helps your pores eliminate toxins. These tubs are not jetted, so therefore, offer the quietest relaxation option. A perfect cure for busy, hectic life styles.
Shop for a Deep Soaker Tub – Find Over 1200 Bathtubs on Sale at Tubz.com
Deep Soaker Tub
What is considered a deep soaking tub? It depends on your body and how you recline in your tub and how long the bathing well is. Some lean against the backrest, some slouch. To see what depth is best for you, take a look at the technical sheet for the length of the tub at the bottom. Mark the tub length on the floor, sit or slouch against a wall. Measure to see how much water is needed to cover your shoulders. Some consider anything over 17" of water depth is a deep soaking bathtub. More on Deep Soaking Bathtubs →
Soakers with High Water Level for a Luxurious Soak
We have gone through our soaking tubs by size and pulled some of the deepest ones we carry & have listed them below.
They are listed by size from the smallest to the largest.
Below the tub size you will see the water depth: from the bottom of the tub to the bottom of the overflow.

Sometimes a little more than a soaking tub is needed, so we have listed all the systems these deep tubs have to offer.
Click on tub picture for more information
5' ( 60") Deep Soaker Tubs
5 ½' ( 66") Deep Soaking Bath Tubs
6' ( 72") Deep Soaking Bathtubs
How Deep is a Bathtub?
Every tub has an overflow; a 2 1/2" hole drilled below the tub rim. When the water level reaches the bottom of the overflow it flows into the drain to keep the tub from overfilling. Where the overflow is drilled depends on the tub. Most technical sheets will show the measurement from the bottom to the center of the overflow. Subtracting about 1 ½ from the measurement will give you an idea of how many inches of water the tub will hold. Other technical sheets will give the water depth.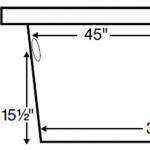 On the above drawing there is 15 1/2" from the bottom of the tub to the center of the overflow. Since water will flow out from the bottom of the overflow hole, this bath will hold just over 14". I have heard that installers have put the overflow cover on upside down so the slot is at the top. Since the water fills to the top of the overflow hole, water depth would be just under 17".  There is also the option of using a product like Deep Water Bath Overflow Cover (amazon.com). This is a clear plastic cup with suction cups around the opening and a hole in the side. Place it over the overflow with the hole at the top. Now the water has to go to the top of the overflow before draining out. Works the same as installing the overflow cover upside down.

Can a Tub be Too Deep?
Yes. The technical sheet will also give you gallons of water the bath will hold. A general rule of thumb: 2/3 or 3/4 of the water will be hot water, the rest is cold. Let's take a look at one of our deepest tubs – Hydro Systems Monterey. This is a two person, 72" x 42", tub with a center (side) drain and two sloping backrests. The floor length is 50" and depth to overflow is over 20" – lots of soaking room. This bath will take 90 gallons of water (60 – 68 gallons of hot water). This will be a problem with a 40 gallon water heater, even pushing it with a 60 gallon one.

If the tub is also going to be used as a shower, think about rim height. Usually over 20" - 21" is difficult to climb over on a daily basis to take a shower.
Tub System?
There are a lot of bath systems offered. With a soaking tub there isn't a system or jets. You can add a recirculating pump and heater to a soaking tub for a tub that will not lose water temperature for as long as it is on. You can have air jets for a light skin caress or water jets that provide a deep tissue massage. Or have a combination tub that uses both. We have included in the descriptions above if the tub is offered in any of these systems: Soaking Tub, Heated Soaking, Air Bathtub & Whirlpool Combination. But there are more possibilities. There are massage systems that can be used with or without water. And micro bubble tubs that provide skin conditioning. Find out more about all the possibilities see: Spa Tubs →

Large Tub Selection Backed with Customer Service
We have a large selection of quality tubs listed on our site which can feel overwhelming as you shop through them. Just call us: we have been doing this for so long we have become tub experts. We work closely with our manufactures and pride ourselves on our product knowledge. Our experts are here to answer all questions and guide you through your tub selection.

Helpful Bathtub Links

• Choosing a Bathtub - Features to Consider when Purchasing a Bathtub

• Tubz.com - Contact us, we are here to help