Whirlpool Tub | Jacuzzi® Tub | Jetted Whirlpool
Explore Jacuzzi® Jetted Tubs from Aquatic, Hydro Systems, Hydro Massage, Jacuzzi®, MTI, Neptune & Watertech


Whirlpool Tub Manufacturers
Americh | Aquatic | Atlantis | Ella's Bubbles | Hydro Massage | Hydro Systems | Jacuzzi® | Maestro | MTI | Neptune | WaterTech
What is a Whirlpool Tub?
A whirlpool bathtub (also referred to as a jacuzzi or jetted tub) provides a deep tissue massage.
Water is pulled from the bath, passes through the pipes, and back into the tub through a jet. The water moves quickly - like white water rapids. Whirlpool tubs provide the most vigorous form of massage due to the water speed and whirlpool jet location. The jets target specific muscle groups. Some whirlpools allow you to control the jet power, direction or both. To customize your whirlpool you can add an in-line heater that will maintain the temperature of water within a few degrees of what it was poured at for as long as the whirlpool is running. There are other fun features or options that can be added to the tub like chromatherapy lighting. Each tub line we carry will have a list of options offered. Whirlpools differ from Air tubs in many ways. See Spa Tub for more information.

Clean Whirlpool Tubs
All the manufacturers carried by Tubz.com do not use a pipe system that can hold water.
In the past few years whirlpools have received a bad reputation. Originally the pipes were made from flexible hosing that could bow down due to heat and time. The water would never fully drain from the pipes. When the tub was used again black crud would come out of the jets. The tubs we carry have piping that will not bow down. We have a blog article that explains more: Are Whirlpool Tubs Clean?
Choosing the Perfect Whirlpool Tub
Why do we carry so many brands? Each company provides a different mix of sizes, jet locations and motor power. Providing multiple choices allows you to find the perfect bathtub for your needs. How do you choose from so many? The simplest way is to give us a call - 866-380-0303. Tubz.com is here to help you sort through all the tubs to pick the best whirlpool to fit your needs and budget.
Once you have determined the size that will fit in your bathroom. We will help you choose the style - round, rectangle, oval or corner. Look at jet location, bathing well size and motor location. And add the options that will add to your bath experience.
More Information
- Our article Bathroom Tub gives thoughts on the different things to consider like installation styles, tub size and options.
Jacuzzi® Jets
Whirlpool Jet Placement
The term Jacuzzi® is often used as a generic term for whirlpool jets. Jacuzzi® does offer great jet locations, but general jet location is the topic of this section.
Some bathers just want the water to move in a whirlpool fashion - spinning the water around the tub. This is the job of the side jets so a bath with 6 jets - 3 on each long side is perfect.
Other bathers are looking for a massage for a specific muscle set whether it be foot, hips or back. Hips and leg massage need the side jets pictured above. For a foot massage, jets can be added to the drain end or with a center drain tub - the second set of back jets can be used for the feet of a single bather.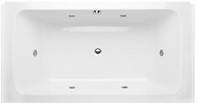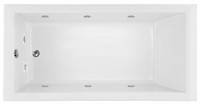 For those that suffer from back pain - back jets become the most important.


The Jacuzzi® Fuzion pictured above is a center drain tub with two back rests. Since the back jets are different on each back rest, you can decide which side - which massage by how you sit in the tub.
Number of Whirlpool Jets
The number of jets and size of motor(s) are also important factors to consider.
When it comes to jet number, it is not necessarily the more the merrier. The whirlpool motor's power is divided between the jets. A smaller motor can handle 6 jets nicely with decent power to each jet. Now double the jets to 12 but keep the same motor, the jets now have 1/2 the strength they did before. Increase the motor power and the 12 jets are back to strong. Our whirlpool companies are the best in the industry. They provide the perfect balance between jet number and motor strength to provide the best whirlpool massage.
DriftBath - A Different Kind of Whirlpool
Aquatic DriftBath uses water jets but in a different way. Up to 70 ports in the back and foot areas of the bathtub release individual streams of water. Streams converge to create a single flowing motion that gently soothes your entire body. A soft current creates a blanket effect, rather than a vigorous swirl of air bubbles
Aquatic DriftBath→


Leading Whirlpool Tub Companies
We are very proud of the companies we carry. They create whirlpools from the highest quality of acrylic, heavy duty fiberglass backing, excellent motors and powerful jets. Below find a summary of the whirlpool features listed by manufacture: Americh | Aquatic | Hydro Massage | Hydro Systems | Jacuzzi® | MTI | Neptune
Imagine the healing benefits of a deep tissue massage combined with warm circulating water. Americh highly advanced hydro-massage system penetrates hidden tensions, stimulates circulation, and restores vital energy sources. Various pressure and direction levels give you personal control of your massage. Americh's hydro-massage jets have the lowest profile in the industry. Americh offers 3 types of whirlpool systems: Builder, Luxury, Platinum so you can choose the perfect combination of features to fit your budget and massage needs.


Shop All Americh Tubs by Size
5' | 5 ½' | 6'


Aquatic tubs are comfortable to bath in, most offer plenty of leg room. Many of the Aquatic tubs are deep - allowing you to submerge deeply into the water. Installation for most models is simple. A Pre-Leveled ABS Support Base allows you to simply set the tub in place and plug in the motor. Aquatic has some of the strongest jets in the industry, the large opening in the jets allows for more water to pass through for a more vigorous massage. The jet configuration depends on the series chosen. See Aquatic Tub Series below.


Shop All Aquatic Tubs by Size
5' | 5 ½' | 6'
Aquatic Whirlpool Series
Millennium
Infinity
Both of these Aquatic Series offers a combined whirlpool and air massage, topped with shiatsu back massage. Twelve sequencing shiatsu back jets are strategically placed for effective pinpoint massage action that rotates up and down the entire back area with adjustable direction and volume control. With the simple touch of a button, the jet speed can be adjusted or jet action paused to prolong the soothing effects of a particular jet combination. Select from seven pre-programmed jet sequences.




Most Estate Series tubs have two upper shoulder jets and one lower back jet. The recessed StressEaz Neck and Shoulder Therapy System directs hydrotherapy action to strategic points of stress retained in the muscles of the neck, shoulders and upper back. The two upper StressEaz Jets are independently pressure adjustable and can be turned off for shallow bathing. A Rotary Massage Jet is deeply recessed below the StressEaz Jets to massage the mid to lower back and torso.



Atlantis Whirlpools offers every customer a uniquely high level of customization, giving the most control in creating a personalized bathing experience.


Shop All Atlantis Tubs by Size
5' | 5½' | 6'

Hydromassage offers multiple jet configurations. Choose your series (Silver, Gold or Platinum) to get up to nine jets at your neck and back. The mix of air and water gives you a strong back massage. If the jet pressure is too strong, you have the ability to turn down the jets using the 3 speed motor.


Shop Hydro Massage Tubs by Size
5' | 5 ½' | 6' | 6 1/2 - 7'
Hydro Massage Whirlpool Systems
Gold

Gold Series whirlpool. Invigorating massage provided by 6 pulsating back jets and 6 body jets. Customize your experience with the 3.25 Hydropower 3 speed pump for a soft, medium or deep tissue massage.
12 Jets, 3.25 3 Speed Whirlpool Motor, Back Masseur System, Pillow and heater.
Whirlpools can be combined with an Air System: Gold Series Combination




Platinum
The Neck massage pillow and back massage system will work away the tension while the sole soother foot jet(s) will help create a whole new mood. Operate 15-22 jets and the 3 speed Hydropower pumps individually or simultaneously for a soft, medium or deep tissue massage.

Platinum Series:18-24 Turbo Air Jets, 2 Whirlpool motors, Back Masseur System, Neck Masseur pillow, heater and mood lights.
Whirlpools can be combined with an Air System: Platinum Series Combination
Hydro Systems offers over 30 options. Shouldn't your whirlpool be as unique as you are? Their standard 2.25 HP pump is quiet due to the sound damping motor pad used. Customized jet & motor locations offered. They also include HydrOzone and drain on all their designer whirlpools.


Shop Hydro Systems Whirlpools by Size
5' | 5 ½' | 6' | 7'
Hydro Systems Whirlpool Back Massage
Back pain is the second most common reason people in the U.S. visit the doctor each year. Millions of people suffer needlessly from back pain. With Hydro Systems' optional back masseuse, you can end that nagging pain and enjoy increased flexibility. You'll enjoy a measurable reduction in pain through intensive hydrotherapy focused on your back and spinal column. Using six strategically located jets, our Back Masseuse is designed to heighten the therapeutic effects of hydrotherapy.

Any Whirlpool Can be Combined with an Air System for a Combination Tub
Jacuzzi® offers a large selection of whirlpools in their Luxury and Comfort series. Number of jets and location depends on the series and models. What you see is what you get, no customization in motor or jet locations. Depth and floor length also depend on the selected model. Jet strength is great with Jacuzzi®'s patented PowerPro® bathtub jets that use the 50/50 water to air ratio to massage thoroughly, yet gently. They offer jets that deliver a large volume of water, and others that target specific pressure points. All arranged in ergonomically specific combinations. All fully adjustable so that the spa experience can be completely unique. See Jacuzzi® jets in action.


Shop Jacuzzi® Whirlpool Tubs by Size:
5' | 5 ½' | 6'
Jacuzzi® Tub
Jacuzzi® Whirlpool Systems
Jacuzzi® Luxury Features:
• Electronic control panels
• Total jets in baths from 8-23
• Rapid Heat™ in-line heater
• Chromatherapy Lighting system
• High-gloss, durable, non-porous acrylic finish
• Exclusive Tru-Level™ self-leveling base systems
• Limited lifetime warranty




Comfort Features:

• Adjustable jets
• Fixed Silent Air Injunction system
• Electronic on/off control
• Exclusive Tru-Level™ self-leveling base system.
• Slip-resistant bottom
• Energy-efficient, self-draining pump




Salon Spa
Luxury Whirlpools can be combined with an air system in the Jacuzzi® Salon Spa Series
Every MTI product is individually handcrafted to the unique specifications of the customer. The amount of standard jets and locations vary with models but with MTI the possibilities for customization are endless. For instance, you can substitute a rotary-therapy jet for a standard point-massage jet for a softer, pulsating massage. Or add extra jets to target special areas of the body that need deeper massage. You can even specify the exact location of jets.


Shop All MTI Whirlpools by Size:
5' | 5 ½' | 6'
MTI Whirlpool Systems
Whirlpool Therapy

The high-flow point-massage jet is the standard jet included in MTI Classic or Designer Series whirlpool packages. These high performance jets provide a straight and comfortable flow of water and are strategically placed to provide a targeted flow of water to the stress points on the body.

Any Whirlpool can be combined with an Air Bath




Ultra Whirlpool Therapy
Micro-jets provide pinpointed hydrotherapy, typically to the back or neck. To adjust or shut off the micro-jets' water flow, turn the volume control diverter valve. Micro-jets are included in many Designer Series Ultra-Therapy Packages. Some Designer models with the Ultra-Therapy package include tsubo-hydromassage that works with micro-jets to create the rhythmic pressure of a pulsating shiatsu-like massage.
Any Whirlpool can be combined with an Air Bath
Neptune creates very fashionable baths. Beauty in form and function. The number and location of jets vary by model, limited customization available. The whirlpool system combines water and air in a beautifully invigorating synergy. Water is enriched with air and propelled through adjustable directional nozzles located strategically along the contour of the bathtub, providing a deep muscular massage.


Shop All Neptune Tubs by Size:
Neptune Whirlpool
| | |
| --- | --- |
| | Neptune Back Jets: Micro-rotating back jets energetically propel the water on critical parts or your back and shoulders. You can adjust the pressure with the diverter valve from relaxing to energetic. Standard on many Neptune Tubs. Whirlpools can be combined with an Air Bath System. |
• Bathroom Tub: Features to Consider when Purchasing a Bathroom Bathtub
• Spa Tub: Choose Tub System - Whirlpool, Air or Soaking Tub?
• Whirlpool Tub: Learn about whirlpool features and options
• Air Tub: Find out how Air Systems Vary
• Tubz.com: Contact us - we are here to help - Email or 866-380-0303