Drop-in & Undermount Tub
Soaking, Whirlpool & Air Bathtub
Many tubs are dropped-in to a tub surround. Modern design adds the possibility of undermount installation, keeping the tub appearance as minimal as possible. We carry over 600 drop-in & undermount tubs. These tubs are divided by shape then by size below. Once the size has been chosen, tubs will be listed by size (smallest to largest) & each bathtub will list whether it is a whirlpool, air, soaking, heated soaker or combination bath tub. It will also state if the tub is a drop-in, undermount or if both are listed, the tub can be used either way. For more information see Drop-in & Undermount Tub Styles→
Shop Drop In & Undermounted Tubs by Size:
Shop Drop-In & Undermounted Bathtubs by Shape:
Bathtub Style
Undermount Bathtub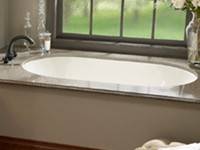 An undermount tub requires a flat rim. It can be any bath shape. The bath edge is under the deck material making the rim of the bath invisible. Make sure to order as an undermount so the electronic controls will either not be installed or installed in a location that won't interfere with the under mounting.

Drop-in Tub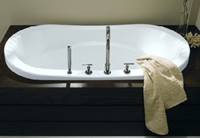 A drop-in bath can be any shape. A deck is created (with an opening in the center) and the bathtub is dropped into the surround. The tub sits on the bathroom floor (not hanging from the rim). The size of the deck is a matter of preference. A lot of pictures will show a wide deck, which can look beautiful, but others don't have the room for a wide tile area.

Tub System?
There are a lot of bath systems offered. With a soaking tub there isn't a system or jets. You can add a recirculating pump and heater to a soaking tub for a tub that will not lose water temperature for as long as it is on. You can have air jets for a light skin caress or water jets that provide a deep tissue massage. Or have a combination tub that uses both. We have included in the descriptions above if the tub is offered in any of these systems: Soaking Tub, Heated Soaking, Air Bathtub & Whirlpool Combination. But there are more possibilities. There are massage systems that can be used with or without water. And micro bubble tubs that provide skin conditioning. Find out more about all the possibilities see: Spa Tubs →
Large Tub Selection Backed with Customer Service
We have a large selection of quality tubs listed on our site which can feel overwhelming as you shop through them. Just call us: we have been doing this for so long we have become tub experts. We work closely with our manufactures and pride ourselves on our product knowledge. Our experts are here to answer all questions and guide you through your tub selection.

We also know that buying such a large item on line can be scary. Rest assured we only carry tubs that we would feel comfortable putting in our own mother's house. And we have done just that! Our bathtubs are the best in the industry and we have years of experience with the manufacturers. Issues are very rare, and if they do arise, they are quickly resolved. We are here to answer questions and keep you informed on the creation and delivery of your bathtub. We will still be here for questions even after your new bathroom is finished.
Helpful Bathtub Links
• Choosing a Bathtub - Features to Consider when Purchasing a Bathtub

• Tubz.com - Contact us, we are here to help