Drop-in & Undermount Tub
Soaking, Whirlpool & Air Bathtub
Many tubs are dropped-in to a tub surround. Modern design adds the possibility of undermount installation, keeping the tub appearance as minimal as possible. We carry over 600 drop-in & undermount tubs. These tubs are divided by shape then by size below. Once the size has been chosen, tubs will be listed by size (smallest to largest) & each bathtub will list whether it is a whirlpool, air, soaking, heated soaker or combination bath tub. It will also state if the tub is a drop-in, undermount or if both are listed, the tub can be used either way. Drop-in & Undermount Tub Features→
Shop Drop In & Undermounted Tubs by Size:
Shop Drop In & Undermounted Bathtubs by Shape:
Drop-in & Undermount Bathtub Features:
Undermount Tub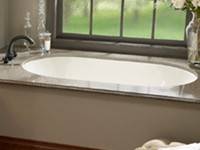 An undermount tub requires a flat rim. It can be any bath shape. The bath edge is under the deck material making the rim of the bath invisible. Make sure to order as an undermount so the electronic controls will either not be installed or installed in a location that won't interfere with the under mounting.

Drop-in Tub (aka. Deck Mount)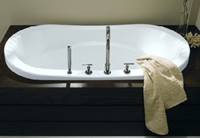 A drop-in bath can be any shape. A deck is created (with an opening in the center) and the bathtub is dropped into the surround. The tub sits on the bathroom floor (not hanging from the rim). The size of the deck is a matter of preference. A lot of pictures will show a wide deck, which can look beautiful, but others don't have the room for a wide tile area. Tile flanges and skirts are often an option on the rectangle drop in tubs so that they can be installed within 3 walls. See Alcove Tubs for More Information

Comfortable Tub
There are many factors to consider when selecting a bath: bathing room, back slant and water depth. We have more information on tub size here: Bathtub →

Soaking, Whirlpool or Air?
A whirlpool bathtub with provide deep tissue massage while an air tub is a vigorous skin caress. Heated soaking tubs will keep the water warm. You can find out more about the tub systems here: Spa Bathtubs →
Helpful Bathtub Links
• Tubz.com - Contact us, we are here to help!