MTI Boutique Tubs | Freestanding Air & Soaking Bathtubs
SculptureStone™ Solid Surface Baths
Tubs in the Boutique Collection are striking vessels that epitomize the extraordinary. Inspired, award-winning designs formed and handcrafted by artisans using SculptureStone™ (also referred to as Engineered Solid Stone® / ESS®). This creates bathtubs that are 100% solid, mostly organic, beautiful and easy to maintain. Award-winning, inspired designs formed and handcrafted by artisans, one at a time in the USA.

MTI Boutique Collection tubs are individually manufactured and handcrafted using the highest-quality materials. Each product is built according to the specifications of the customer when it is ordered. Multiple quality control checks are employed, including individual water-testing and component operation. MTI's goal is to provide customers with handcrafted, quality products that meet their needs and desires.

MTI Boutique Bathtubs by Size
Boutique Collection Tub Features:
Boutique Collection tubs are available as soakers or with air bath, in white or biscuit with a matte or high-gloss finish. Their seamless elegance bespeaks the master craftsmanship and care that goes into each unique piece.

• MTI solid stone tubs are constructed using MTI's proprietary SculptureStone™ material, also known as Engineered Solid Stone® or ESS® material.
• SculptureStone is a mixture of ground natural minerals and high-performance resins that are liquefied, poured and then hardened.
• Approximately 65% of the material is organic, including materials mined from the earth, making it quite "Green".
• The result is molded stone. 100% solid.
• In contrast to some composite material products on the market, MTI Boutique Collection products are solid through-and-through, with no layers, hollow or void areas, and no surface coating.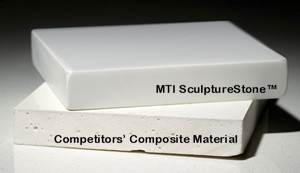 • This material is non-porous, stain-, mold- and mildew-resistant, making cleaning and maintenance easy.
• All Boutique Collection tubs are tubs are handcrafted with pride in the USA.

There are a number of products on the market that may appear to be the same, but in reality they are quite different. Products referred to as "solid-surface" or "composite" may be constructed using cultured marble, limestone or something similar. There may also be hollow areas in the product, and frequently a surface coating is applied. Some of these products may even be less expensive, but they are not the same as the ESS products in the Boutique Collection.

Boutique Air Bath Tub Features:
• Multiple air jets are strategically placed for comfort and maximum therapeutic benefit.
• Air jets include built-in, anti-return check valves for hygienic operation.
• Whisper-quiet heated blower fosters comfort.
• Ceramic heating element provides efficient operation.
Boutique Collection Options:
Faucet Stand
Tub Trays & Tables
Ideal surface for holding a book or beverage or bath accessories

Freestanding Tub Faucet
Ideal for freestanding tubs. Features high-flow design (15 gallons per minute at 45 psi). Faucet body and hand-held shower constructed of solid brass, plated in chrome or brushed nickel. Swivel filler spout has a 10" reach.
MTI Links
www.mtibaths.com

Boutique Warranty

MTI Baths (Main Page)

Helpful Bathtub Links

• How to Choose a Freestanding Tub

• Air Tub - Find out how Air Systems Vary

• Tubz.com - Contact us, we are here to help