MTI Andrea Tub
Andrea Series Whirlpool, Air & Soaking Bathtub
Andrea's modern rim allows for drop-in or undermount installation and with the the Andrea 10, Andrea 24 or any Andrea Sculpted Finish - a freestanding tub.


The Andrea Series offers a large selection of tubs with a simplistic, straightforward design
Authorized MTI Dealer
Factory Direct Savings & Free Shipping on all MTI Soaking, Whirlpool & Air Bathtubs
Shop Andrea Tubs by Number
Explore Andrea Tubs by Size:
The tubs are listed by size: first by length, then by width, then by height - smallest to largest.
Andrea Sculpted Finish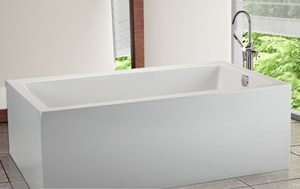 Turn any Andrea Tub into a Freestanding Bath (or a with 1, 2 or 3 sided skirt) with Sculpted Finish
MTI has developed a process for actually transforming any Andrea drop-in / undermount tub into a freestanding tub! It is an amazing process that is painstakingly detailed and all done by hand by the craftsmen at MTI. The result is a Sculpted Finish. The tub is seamless and looks as if it were hand-molded out of a single piece of material. Andrea tubs in MTI's Sculpted Finish make great soaking tubs, but they are also available as air baths.
Available only in white, Andrea tubs with MTI's Sculpted Finish can also be ordered finished on one, two or three sides to accommodate various applications. And if necessary, an access panel can be provided. Like all products in MTI's Designer Series, Andrea tubs with Sculpted Finish are made in the USA and handcrafted in durable high-gloss Lucite cast acrylic.

MTI Andrea Options


Love the contemporary design but long for armrests?
Armrests option is offered on most of the Andrea tubs. Along with the armrest option, a Removable Teak Seat provides a resting place when bathing or hand showering.



Low Profile Rim
Currently only available for drop-in Andrea tubs, the optional ultra-slim tub rim (9/16" high) contributes to a minimalist,
contemporary appearance. (Not Available with Skirt or Framing)

Slim-line Drain
Sleek, low-profile integrated overflow. Measures only 6.5" wide by 1" tall.
Allows for overflow to be positioned higher than conventional types for a deeper soak.
Overflow is factory-installed and available for specific Designer & Classic Series tubs only.
Available in chrome, brushed nickel or special finishes.

All MTI Options & Features→
MTI Links
www.mtibaths.com

MTI Shower Base

Warranty

MTI Baths (Main Page)

Helpful Bathtub Links

• Choosing a Bathtub - Features to Consider when Purchasing a Bathtub

• Spa Tubs - Bring the Spa Treatment Home | Which System is Best?

• Air Tub - Find out how Air Systems Vary

• Whirlpool Tubs - Explore Whirlpool Tub Features

• Bathtubs - Shop all Bathtubs by Size & Style

• Tubz.com - Contact us, we are here to help