MTI Bath Tub General Options
Explore the luxury options that MTI offers on their tubs. Use the Quick Links listed below to go directly to an option or scroll down the see all MTI general options.
MTI Tub Options Quick Links:
Also See MTI System Features & Options:
• Bathtub Colors
Colors shown are for reference purposes only. Exact matches are not possible
MTI Standard Colors



MTI Color Upgrades



• Tile Flange


For rectangular and corner baths. Tile flange is chemically bonded to the tub, which ensures a water-tight installation between the top tub surface and surrounding wall area. When adding a tile flange to a tub, please specify the side or sides on which the tile flange is to be installed.
More Information on MTI Tile Flange →

• Tub Skirts
Skirts enclose the underside of the tub and provide a cost-effective, finished appearance.
IMPORTANT: When ordering an acrylic skirt, MTI also includes the Pre-Leveled Frame System. MTI will attach the skirt to the frame at the factory, thereby ensuring a proper fit.
More Information on the Frame System →

Acrylic Skirts
More Information - Acrylic Skirts →

• Low Profile Rim


Low Profile Rim
Currently only available for drop-in Andrea tubs, the optional ultra-slim tub rim (9/16" high) contributes to a minimalist, contemporary appearance.

• Textured Bottom


Textured bottom meets ASTM F-462-1994 for slip resistance.

• Pre-Leveled Frame & Foam Base Systems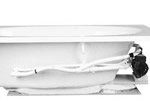 Pre-Leveled Foam Base
This facilitates installation by eliminating the need for using a wet-bed compound to level the tub. Adds approximately 2"- 3" to the overall height of the tub. This foam also acts as a sound dampener and barrier. All MTI Whirlpools tubs are available with a factory-installed pre-leveled foam base.
More Information →

Factory-installed Pre-leveled Frame System
The pre-leveled frame system eliminates the need to frame along the walls and use wet-bed compound to level the tub. All MTI Whirlpools rectangular and corner tubs are available with a factory-installed pre-leveled frame system. More Information →

• Inline Heater
NOTE: Inline Heaters are not sold separately.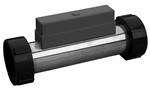 Inline water heating systems are available for soaking tubs, whirlpools and air baths manufactured by MTI Whirlpools. These systems use electricity to maintain bath water heat, not to heat cold water. The thermostat for these systems is pre-set by the manufacturer to maintain bath water temperature at 102° Fahrenheit, so the bather can enjoy his / her bath longer.
More Information →

• Drains and Overflows

Toe-Tap Rectangle
Push down on drain to open
or close
PVC or Solid Brass
(Offered on Select Baths)

Slim-Line Overflow
& Toe Tap
Toe-tap Drain with Linear
Overflow
PVC or Solid Brass
(Offered on Select Baths)

Soft Rectangle Pillow
11" x 7" x 1.5"
Suction Cup
Neck or Lumbar
White or Black
• Grab Bars
Enhance accessibility and safety within and around the bath with straight or curved grab bars. Grab bars are available for most models of tubs and may be added to the flat side surfaces of the tub. MTI will install the grab bars in the best possible location unless otherwise specified by the customer.
• Stereo H2O


Stereo H2O® is an invisible audio system that delivers full-bodied sound through the tub. Harnessing the healing power of music, Stereo H2O uses audio therapy to provide the ultimate escape, enhancing your customized bathing experience. More Information →

• LED Lighting


Underwater lighting is provided by 2 digitally controlled LEDs (unless otherwise specified). A control button allows selection of constant color or preset programs to achieve the desired lighting effects
• Electrical requirements: 1 amp, 110 VAC.

• Microbubbles


Option on Air & Soaking Tubs (Not Available on Whirlpool Tubs)
For health and beauty. Microbubbles innovative technology super-saturates the water with up to 50% more dissolved oxygen than regular water alone. Billions of tiny oxygen-rich microbubbles gently remove impurities from skin and pores, leaving the body cleansed and gently exfoliated. The result is skin that is hydrated, moisturized and restored, feeling soft, smooth and supple. As billions of microbubbles quietly pop around you, the energy they release also keeps bath water warm.

• Radiance Bath Surface Heating System
Option on Air & Soaking Tubs (Not Available on Whirlpool Tubs)
Radiance is a bathing innovation from MTI that applies radiant heat technology to tubs. It warms the interior surface of the bath for neck, shoulders, back and bottom. It provides an even distribution of warmth to eliminate the shock of a cold tub and increases relaxation during the bath. Radiance will also help keep the bath water from losing its warmth as quickly. You can experience warmth above the waterline, as well as below. Or, even without the water. Note Spa Mode is not available on tubs equipped tubs Radiance.
More Information →

• Virtual Spout


Clean, unobtrusive filler spout that is factory-installed on the inside wall of the tub. The High-Flow Virtual Spout offers a very discreet alternative to the traditional filler spout. It is factory-installed on an inside wall of the tub and is "stubbed-out" under the tub with copper pipe so a plumber can tie the incoming water to the port. Hot & Cold mixing valves are need to control the water flow.
More Information →

• Removable Teak Seat


Removable teak seat for Andrea Series tubs with optional armrests. And the Madelyn tub that comes standard with armrests. See the technical sheet for each bath for more information. The seat provides a convenient resting place when bathing or hand showering. The Andrea tubs can be specified with armrests at the time of tub ordering and the Madelyn comes with armrests as standard. Since the armrests are flat, they provide an ideal resting place for the teak sub seat, which is held in place using a suction cup that extends from the bottom of the seat and secures to the tub floor. The teak slats are 1-3/8" wide x ½" thick and are permanently joined to the ¾" x ¾" support boards with glue and countersunk marine-grade stainless steel screws.
More Information →

• Teak Tub Tray
The MTI teak tub tray is an ideal surface for holding a book or beverage or bath accessories. Available in two styles (slatted and smooth) for tubs up to 48" wide
More Information →

Smooth Teak Tray

Slotted Teak Tray
• Teak Bath Mat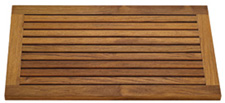 MTI's genuine teak bath mat combines beauty with practicality. Can be used outside the tub or shower to provide a slip-resistant surface when exiting. Slats are 1-1/2" wide x 1/2" thick and are permanently joined to 2" wide x 1" thick support frame with glue and countersunk marine-grade stainless steel screws. Can also be used in front of sink vanity as a functional accent piece. Coordinates beautifully with MTI's teak shower tray and other teak bathroom accessories.
More Information →
MTI Links
www.mtibaths.com

MTI Shower Base

Warranty

Helpful Bathtub Links

• Choosing a Bathtub - Features to Consider when Purchasing a Bathtub

• Spa Tubs - Bring the Spa Treatment Home | Which System is Best?

• Air Tub - Find out how Air Systems Vary

• Whirlpool Tubs - Explore Whirlpool Tub Features

• Bathtubs - Shop all Bathtubs by Size & Style

• Tubz.com - Contact us, we are here to help