Vessel Bathroom Sink Faucet
Faucets for Vessel Sinks
Vessel Sinks make a statement in your bathroom but require a special type of faucet that will clear the sink - tall counter installed faucets or wall mount faucets to rise above the vessel. A tall Single Handle faucet is the most popular style to give the height needed. We also carry Widespread Faucets designed for vessels. Check the height of the vessel sink compared to the spout height of the vessel faucet to make sure they will work together. A wall mount style is more flexible - install them at any height to accommodate your vessel sink.


Save with Factory Direct Sale Prices
Your faucets come to you directly from the manufacturer. Fully warranty, top of the line quality. Click on the faucets below for more information.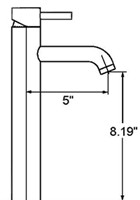 Our vessel faucets are listed according to size: Height from bottom of faucet to bottom of spout. See the faucet's technical for more information. The faucets are listed starting with shortest (7") to tallest. Click for Single Handle Faucets under 7" Tall→


7" Spout Height - Vessel Faucet
8" Vessel Faucet Spout Height
9" Spout Height - Vessel Faucet
10" Spout Height - Vessel Faucet
11 - 16" Spout Height - Vessel Faucet
Standard Height Single Hole Faucets
Some vessel sinks come with integrated single hole for faucet mounting. This style of sink needs a standard height:
Single Handle Faucet

Bathroom Faucet Links