Americh Soaking Tubs
Explore the Features that make Americh Soaking Tubs Exceptional
Soaking Bath - Tub Only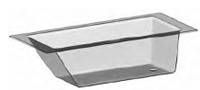 Submerge yourself in an environment of profound serenity and blissful healing. Extra deep Americh soaking bathtubs provide superior heat retention, along with sensitive ergonomic designs for refined comfort.
PVC Waste & Overflow
Heated Soaking Bath - Serenity Soak


Serenity Soak is designed for non-jetted bathtubs. Low voltage water circulation system that operates with minimal water movement. Maintains water temperature with in a few degrees of what the water was poured at for as long as it is on.
Americh Options & Features
Chromatherapy Lighting


(2 lights per set, 4 light maximum)
Chromatherapy's powers have long been revered in the healing traditions of India, China and Greece. Each color corresponds to a vibration with its own wavelength and rhythm, leading to increased physical, psychological, and emotional wellness. Americh new mini mood lights are available across the full color spectrum, with a round stainless steel flange.

Drains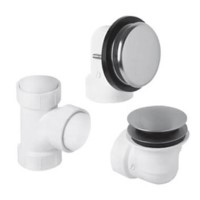 Toe Tap PVC Drain | WO
- Standard on Luxury Whirlpool
- Option on Soaking, Builder & Air Baths
- Step on the drain to open or close
- Polished Chrome, Polished Brass, White, Biscuit, Bone & Black



Cable Drain | WOU
- Standard on Platinum Whirlpool
- Option on Soaking, Builder, Luxury & Air Baths
- Turn the overflow to open or close the drain
- Standard Finishes: Polished Chrome, Polished Brass, White, Biscuit, Bone & Black
- Premium Finishes: Antique Brass, Oil Rubbed Bronze, Polished Nickel, Satin Chrome, Satin Nickel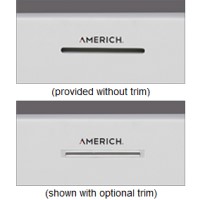 Linear Overflow Drain
Slotted drain which provides a more contemporary feel. Toe Touch Drain (at the bottom of the bath) offered in Chrome, Polished Nickel and Satin Nickel. You can also choose the option of having metal trim on the slotted overflow (extra charge).



Integral Drain
An integral drain is not an option, but a standard feature on most of the freestanding bathtubs. Standard in Polished Chrome, it can be changed to Polished Brass, Polished Nickel, Satin Nickel or Oil Rubbed Bronze at no additional charge if specified at the time of order. Round cover on the overflow, toe tap drain at the bottom of the tub.

Grab Bars


Offered in 9", 14" or 16". Some sizes not available on certain models.
Solid Brass - Factory installed.

iBath


Don't just listen to music whirl in the bath, feel it! Experience it! Speakers are integrated into the structure of the tub. Play music through personal devices such as MP# players, tablets...the entire tub becomes a speaker through bluetooth technology.
Lo-Profile Tub Edge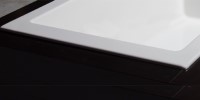 Trim the tub deck to 1/2 - 3/4" giving a sleek bathtub profile.

Ozone
Ozone uses natural UV light as a powerful oxidizer to eliminate impurities from the water. Ozone cleans the water naturally, even oxidizing soaps, deodorant, hair spray, cologne, make-up, perfume, body lotion and other various chemicals. Ozone is installed to the plumbing system through a clear air line from the ozone control box. The flow from the pump forms suction, drawing the ozone into the water where it dissolves and cleans your water without the need for chemicals. Available on whirlpool & Airbath systems. Uses a 110v GFCI

Pillows


Suction Pillow
Pillow is removable and adjustable for your comfort. 12" - Offered in Black only.


Angle Pillow
Pillow lays on the tub rim (removable). Offered in Black only.

Tile Flange
A tile flange is a barrier that goes around one, two, or three sides of the tub and is raised approximately 1" above the deck. It is highly recommended on bathtubs being used as a shower to prevent water from dripping off the deck between the tub and finished wall.

Molded Tile Flange - Factory installed

Metal Flange - Factory installed

Rubber Flange - Field installed

Front Skirt


Flat Panel (Not Removable)
(Available on select bath series)
Flat Apron (non-removable factory installed only).


Removable Panel
(Available on select bath series)
Apron with Removable Panel (Factory Installed Only).
Note: Not available on center drain tubs

Thermal Comfort System (TCS)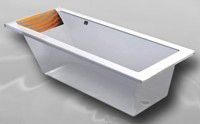 The Thermal Comfort System enhances your bathing experience with a special heating pad built into your neck and shoulder areas while you soak! Easier yet; you can simply sit in the bathtub without water and enjoy the feel of heat penetrating deeply to sooth your sore aching muscles.
• Two heat settings
• Heats acrylic to approximately 100 - 104°
• 18" x 15" pad
• Covers neck and shoulder area
• 30 minute auto-off function
• Uses less energy than a common 60 watt light bulb.

Remote Control


(Available on select bath series)
Completely waterproof remote control is ergonomically shaped, lightweight, and fully submergible. Strategically placed magnets for effortless access, eliminating the need for a static control pad.
Americh Links
www.americh.com

Americh Tubs (Main Page)

Warranty