What Other Hydrotherapies Do For Your Muscles …
JettaRiver Does For Your Mind
Introducing a smooth and flowing twist on hydrotherapy:
JettaRiver offers a steady, gentle stream designed to soothe and relax the body and mind. It's as if, in one blissful moment, the sounds and sensations of nature surround you – and all you have to do is sit and soak it in.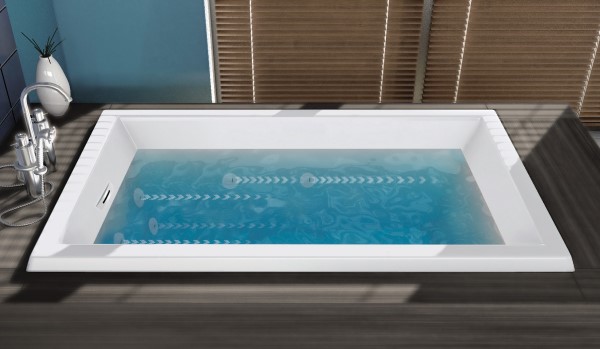 Innovative slotted jets in foot of tub fan water out and across, working together to gently push water toward bather.
Water currents flow lengthwise, moving from foot of tub to front.
Four directional side jets feed water into current, creating flow of water along length of tub.
Whisper-quiet pump keeps current moving gently without interrupting serenity.
Find the missing peace in your bathing experience today. JettaRiver is available as a stand-alone hydrotherapy or in combination with JettaAir. Unlike JettaRiver, JettaAir offers massage therapy. This system injects thousands of effervescent air bubbles into the water to massage your body and creates an invigorating bathing experience.
Jetta's Most "Current" Technology
The JettaPorter Tub Series offers the JettaRiver system. This tub series offers a modern rectangle tub with wide rim, end drain and slotted overflow. Find six sizes of tubs:
60″ x 32″
60″ x 36″
66″ x 36″
66″ x 42″
72″ x 32″
72″ x 42″
Porter baths offer spacious bathing and can be installed as a drop-in or undermount. To create an alcove tub, add a skirt or tile flange (or both). Clean lines and a flat lip highlight this contemporary style.
Whether your bathtub is a sanctuary of tranquility, a place for healing or simply part of your daily routine, you deserve the best. You deserve Jetta.