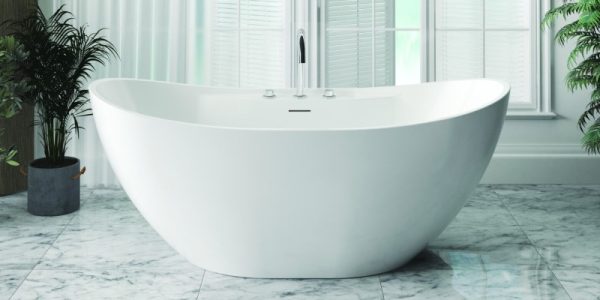 A true beauty, the Jetta Lyra freestanding bath offers a modern double slipper bath. With curving sides and two raised backrests, this bath is the focal point in any bathroom. But the Lyra is more than just another pretty freestanding tub. It is also practical.

The tapered shelf adds a beautiful touch of functionality, with its ample space for deck-mounting a tub faucet or providing convenient access to bath products. The slotted overflow allows for a deep 17.75″ water depth. A mid-size tub at 69″ x 34″ this bath stays narrow, taking up less width in the bathroom. Bathing area at the bottom of the tub allows a roomy 43″ x 21″ area of space to stretch out and relax. The raised back supports your head, neck, and shoulders.
Jetta Lyra Soaking or Air Bath
A therapeutic soak will leave your body and mind feeling refreshed and cleansed. This timeless hydrotherapy will renew and rejuvenate as you immerse yourself in the Jetta spa escape. The soothing experience of bathing in effervescent air bubbles calms the mind, relaxes nerves and quiets the entire body. Balanced air flow throughout maintains even pressure in all injectors, providing a supremely spa-like bathing experience with multiple modes to suit your every mood.

Either as a soaking tub or air bath, the Lyra offers many features:
– Etched logo is subtly elegant
– Trim free, sleek linear overflow
– Factory installed, white color matched toe-tap drain (tailpiece not included)
– Seamless one-piece design
– High-gloss, high-impact, UV -resistant acrylic will not dull or fade
– Angled backrest for comfort
– Contemporary design
– Adjustable Feet
– Integrated linear waste and overflow
– 10 Year limited warranty
When an air system is added to the Lyra, a floating remote control is included for easy operation.
The Jetta Lyra is just one of the tubs in the Cosmo freestanding tub collection from Jetta.
See All Jetta Freestanding Tubs →

For almost 40 years, the Jetta name has quietly built a reputation for quality and reliability. Every tub is manufactured with extra-tough, exceptionally attractive acrylic. Its non-porous surface means the gloss won't dull or fade, even after years of cleaning.