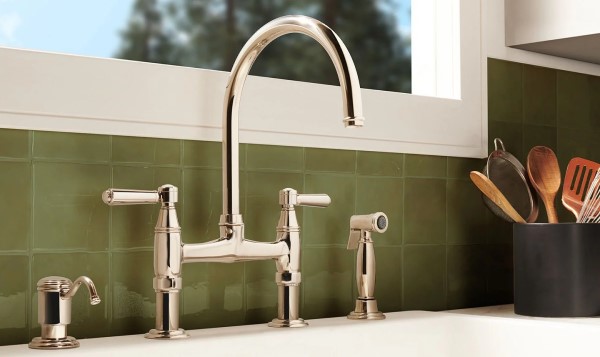 California Faucets Kitchen Bridge Faucet: One of the Great Bridges of the World
Artisan finished and assembled one-at-a-time because you're one-of-a-kind, each of California Faucet's bridge kitchen faucets feature the very best of craftsmanship. With a matching suite of accessories, you'll achieve your design vision.
Bridge Faucet Collection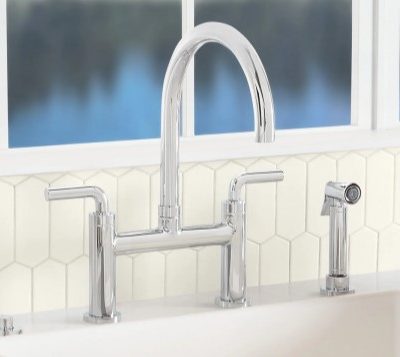 A Complete Collection
Thoughtfully designed to meet a range of styles including Traditional, Contemporary, Industrial, and Transitional, the collection offers two spout options, a myriad of handle choices and is available in over 25 artisan finishes.
Faucet Features
– Attention to detail
– High quality brass construction
– Available as part of the Davoli®, Descanso®, Corsano® and Descanso Works collection
– Optional side spray that is both ergonomic and insulated for comfort even at high temperatures
– Water goes to the side spray without a separate valve
– Fully coordinated accessories available for each series

Customize your kitchen faucet with multiple handle option and more than 28 decorative finishes, including 13 PVD finishes that carry a lifetime warranty against tarnishing. That's important since your kitchen faucet is used dozens of times a day, more than any other faucet in your home.

California Faucets offers a full range of kitchen sink faucets. All series are available with a full range of matching accessories, including prep/bar faucets, hot water dispensers, cold filtered water dispensers, soap dispensers, air gaps, and air activation switches for the garbage disposer. Unlike most kitchen faucets, California Faucets' ensembles allow you to create a fully coordinated look.

See All California Faucets Kitchen Faucets