Bathtubs with outlet below the drain
Direct drain allows the p-trap to be attached directly below the tub outlet. A standard tub drain has the outlet below the overflow pipe. Obstacles can make putting the p-trap near a wall difficult. With a direct drain tub, the drain pipe connects to the p-trap directly below the drain at the bottom of the tub.
Along with the popularity of freestanding tubs has come the availability of integral overflows. This is usually a long, thin style overflow. It allows the tub to have a direct drain.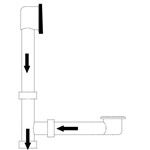 This is a drawing from MTI Boutique Collection Installation Manual. The majority of these tubs have an integral slotted overflow & direct drain.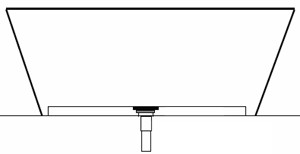 A direct drain freestanding tub is a great option when putting a p-trap against the wall or where needed is impossible. Look for a tub with a slotted overflow: See All Freestanding Tubs. Another option is a freestanding tub with an above floor rough-in. Either way, add a Quick Connect or Island Drain and your plumber's job just got much easier!