Drop-in, under mount, alcove and freestanding rectangle tubs, oh my!
5 beautiful rectangle tubs brought to you by the wonderful customers of Tubz.com


Freestanding
Stacy picked the Neptune Believe 3666 freestanding soaking tub. She paired that with a Huntington Brass freestanding tub faucet in satin nickel. The result is simply elegant. Love the chandelier above it!

The Neptune Believe is offered as a soaking or air tub. Two backrests allow for two bathers to lounge face-to-face. Curving armrests add to the tubs comfort.

The Huntington Brass faucet features a 10 gpm flow rate, two post design and has a swivel spout. Other finishes offered include matte black, chrome and polished nickel.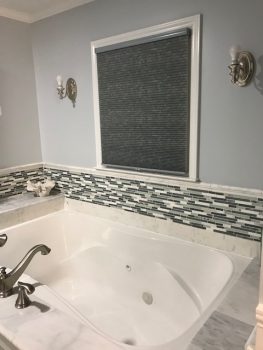 Undermount
Deborah created her dream bathroom starting with the Hydro Systems Monterey Bath. This is a rectangle bath with a figure 8 bathing well, and it is a deep tub that holds over 20″ of water. Center drain bath with armrests and two reclining backrests.

She chose to have 3 systems:
1) The Thermal Air will create a soft and bubbly massage.
2) Micro Bubbles add billions of bubbles to the tub for skin conditioning
3) A re-circulating pump and heater has its own controls, so it can be used as a heated soaking tub or with the other systems to keep the water as warm as it was poured at for as long as you are enjoying the bath.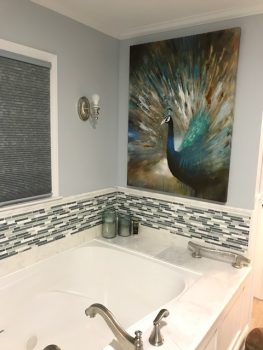 I love everything surrounding the tub. The cabinet front skirt to provide access to motors and the use of stone and tile to provide texture. A useful part of the design is the grab bar installed on the tub deck to provide a little help getting in and out of the tub and looks great. I am pretty fond of the peacock print too!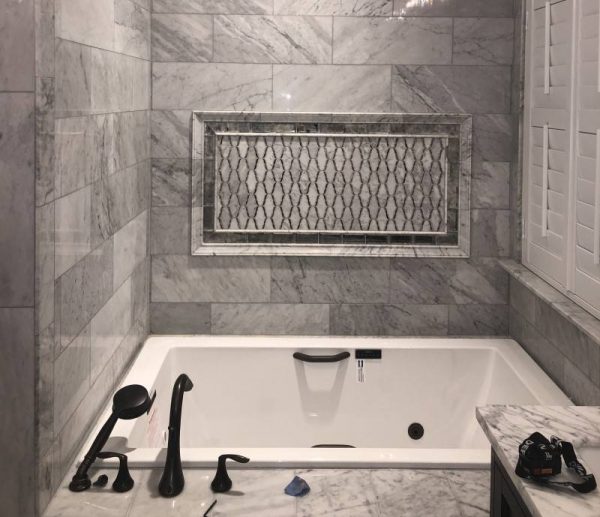 Drop-in
Tiffany's Americh Wright 6036 is packed with luxury. She chose the Platinum Whirlpool & Air III which gives her bottom air injectors, 6 whirlpool jets, chromatherapy, grab bars, metallic trim and more. A complete luxury spa.

To keep the looks of the tub sleek, a low profile rim and linear drain was added to the bath. The sleek bath with beautiful tile work and blinds to add plenty of interest make this a beautiful nook to relax and enjoy.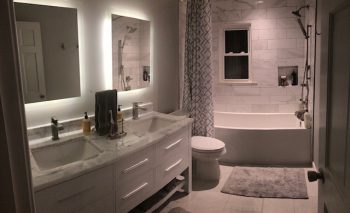 Alcove
The Americh Turo was the perfect choice for Jason. This two function bath is meant to provide shower area and a soak. It does these simple tasks wonderfully with its integral flat panel skirt and tile flange. The tub isn't too tall to step over on a daily basis for a shower, but provides almost 16″ of water depth for soaking.

Such beautiful styling with the stone, double vanity and backlit mirrors. Nice job Jason! I must mention the shower curtain. Glass shower doors are nice and considered fashionable, but I love the choice of a curtain. It adds color and can be easily changed. No glass to clean and it does its job well.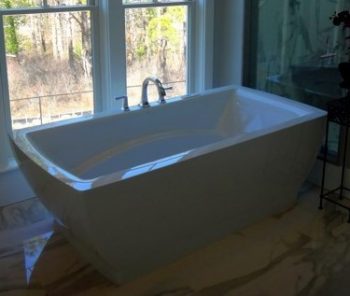 Freestanding
No you are not seeing double. Robert and Lisa also chose Believe. It is such a beautiful freestanding tub! This Neptune Believe 3672 is equipped with Activ-Air. A system that recreates the stimulating effect of bathing in the oxygenated water of rapids. The effervescent energy of white water. The Believe allows for the possibility of a deck mounted tub faucet which they chose to do.

The setting is lovely. I can imagine gazing out the windows while soaking away the stresses of the day. Sigh.
Thank you to each of you for sharing your wonderful bathrooms!