Bathtub Without an Overflow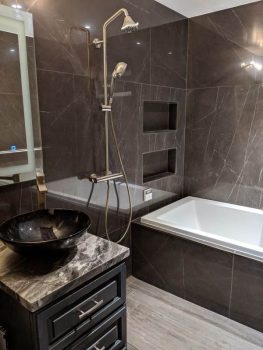 Rightly, most people are concerned that if their tub overflows it will cause damage in their bathroom. Not Satoshi. Her bathroom is designed as a wet room. Right next to her tub is a shower with a drain in the floor. Water that overflows the tub is washed down the drain.

She chose not to have an overflow, so she could have the deepest soak possible. Her Americh Wright 6634 normally holds 15 7/8″ of water with the overflow drilled. Without the overflow, a whopping 20″. Do note that there will be a small dimple in the acrylic that marks where the overflow usually gets drilled. A non-issue for those that want a deep soak. Another note, it is against code to have a tub without an overflow unless there is a drain in the floor.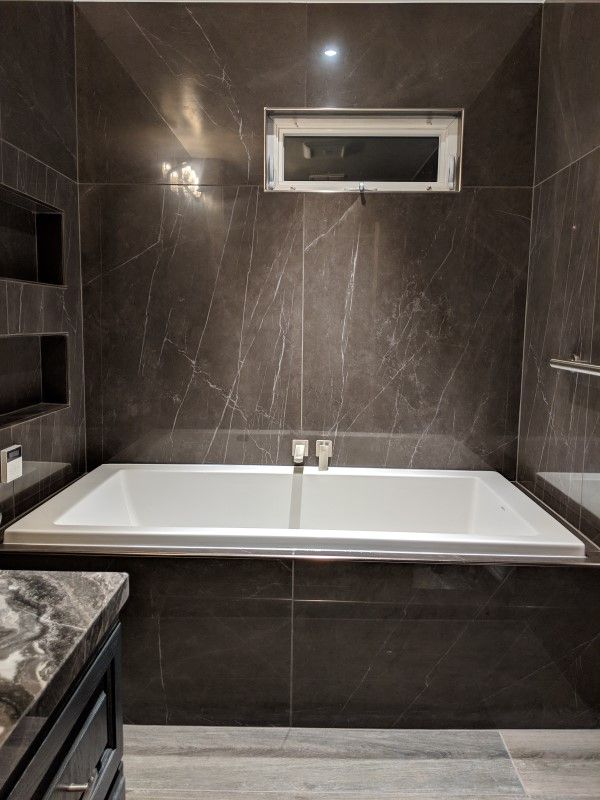 Satoshi's bath is equipped with the Americh Air Bath 3 system. The air jets are located in the bottom of the tub. These jets have a built-in check valve that lets air come into the tub but doesn't allow water to get into the system. The variable speed motor allows her to choose the best massage whether it be vigorous or gentle. There is also a pulse/wave feature.

A room that is has all the walls tiled can be overwhelming. But Satoshi has the perfect combination. Visual interests with the veining in the large marble tiles. Nice contrast with the floor tile and vanity top. Not only does the tile provide interest, the exposed shower column is a showstopper! Thank you so much for sharing Satoshi. Enjoy your bathroom!