Modern Style the Old-Fashioned Way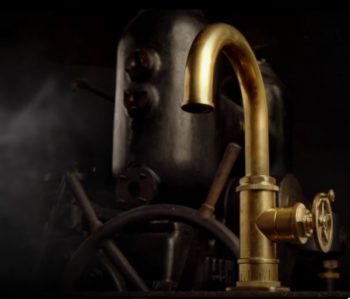 Industrial style takes a bit of the old and mixes it with a new sleekness. Wikipedia states "Industrial style or industrial chic refers to an aesthetic trend in interior design that takes clues from old factories and industrial spaces that in recent years have been converted to lofts and other living spaces." This doesn't mean just because you don't live in a trendy loft you can't put this style to use. I live in a ranch surrounded by woods. I don't have any plans of putting up a brick wall or exposing the ceiling vents. But I am hoping to use some of the features of this design trend.

1) Texture with a Neutral Color Pallet
Neutral colors produce a clean look. And, if they are on the warm side, they will create an inviting room. Texture is added by using a variety of materials. I have already ruled out brick, but I plan on using stone, metal, glass and wood. The curtains and towels will also add texture.


Texture is not the only way to add interest while keeping the color pallet muted. Matte finishes will add sophistication (and interest) without trying to take over the show. You can find bathtubs in a matte finish (more on this in a little bit). I love the look of matte black faucets. This soft warm finish has been trending big for some time.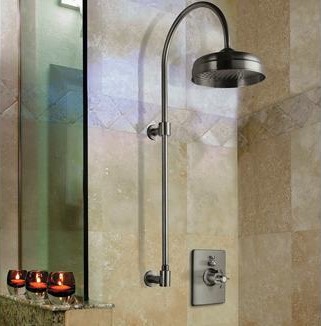 2) Exposed Mechanics
Speaking of faucets, industrial to me means showing how things work. You don't go into a factory and see fancy cabinetry covering the machinery. You can see all the gears, springs and pieces it takes to make a machine work. I think it is the same with the plumbing for the sink, shower or tub. I read a description of industrial bathroom design as "embracing unfinished elegance". Can we tweak that to "embracing the mechanics"?
I have always loved the looks of an exposed shower. I might need to keep doors on my vanity, but if not, supplies and traps look great in matte black. And who says toilet supplies & levers can't be cool? California Faucets has all the decorative plumbing needed, with a choice of over 30 finishes. Even brass. In fact, they have 5 shades of brass. Their Steampunk Bay single hole sink faucet is pictured above in burnished brass. It is mechanical in design and finish. See all of California Faucets selections.
3) Clean, Uncluttered
This is why I need to keep doors on my vanity. I am not one to have matching bottles of bathroom products, nor do I put them away neatly. But I can still minimize the bathroom with storage opportunities like baskets or boxes that close and a vanity with doors.  But this topic isn't only about storage, it is also about the room design. Industrial style calls for a more open concept, fewer walls. Removing the wall between my tub and shower area and replacing it with a glass panel would accomplish this. Also getting away from my old shower doors with the thick chrome trim and replacing it with a frameless door would also open the room. Tubs with large tile decks also close in the space. I know mine has got to go!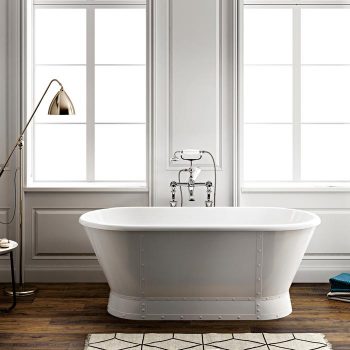 A freestanding tub may be the answer. It is simple. Here is the tub. Here is the faucet. Where is the bubble bath? (check in the basket!). And with the popularity or freestanding baths, there are so many styles to choose from. You can take industrial to a new level with the Barclay Corrigan, complete with banding and rivets. The Hydro Systems Jade also offers modern slipper with an exposed drain for that extra industrial vibe.
More and more companies are producing a solid surface bath. This makes the soft velvety feel of a matte tub easier to find. And fits in with the matte finish for texture idea discussed earlier. If you prefer an acrylic bath Hydro Systems offers their tubs with a matte finish option. If you want to break away from a white tub, you will find lots of options; matte black, grey and terra-cotta, to name a few.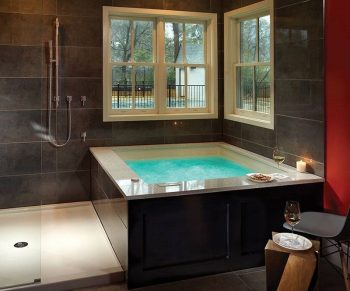 Drop-in and under mount tubs don't have to be ruled out. There are lots of systems that aren't available in a freestanding tub. I am not convinced I would want to give up the opportunity for a massage. Plus, most freestanding tub rims aren't wide enough to hold my martini!

The MTI Kalia 3 pictured above is part of a wet room keeping the space open. The under mount installation keeps the lines simple. Plenty of room for a glass of wine and even a snack!