Bathtubs with outlet below the drain
A bathtub with a direct drain allows the p-trap to be attached directly below the tub outlet. Water drains directly from the tub drain to the p-trap: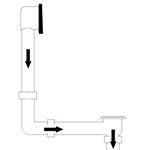 A standard tub drain has the outlet below the overflow pipe. Water drains from the tub to the overflow pipe, then into p-trap.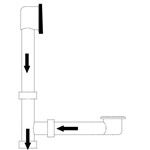 For Freestanding Bathtubs
The standard tub drain works well for the drop-in, undermount and alcove tub installations. But when installing a stand-alone bathtub (freestanding), obstacles can make putting the p-trap near a wall difficult or impossible. With a direct drain bathtub, the drain pipe connects to the p-trap directly below the drain at the bottom of the tub. Keeping in further from the bathroom wall.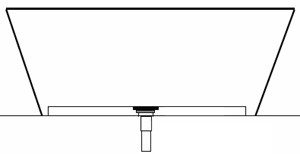 This is a drawing from MTI Boutique Collection Installation Manual. The majority of these tubs have an integral slotted overflow & direct drain. See All Freestanding Tubs. Another option is a freestanding tub with an above floor rough-in. Either way, add a Quick Connect or Island Drain and your plumber's job just got much easier!
Linear Overflow
Along with the popularity of freestanding tubs has come the availability of integral overflows. This is usually a long, thin style overflow. It allows the tub to have a direct drain whether it is a freestanding, drop-in, undermount or alcove tub. With this modern overflow (and higher water level) comes the necessity of a direct drain. There is a channel built into the tub so the water flows from the overflow to the drain.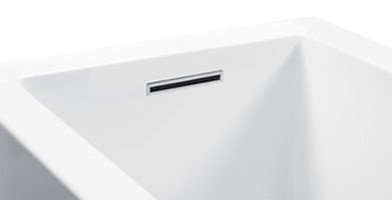 This is a popular option with many of our bathtubs.