Filling a Freestanding Tub – Options & Considerations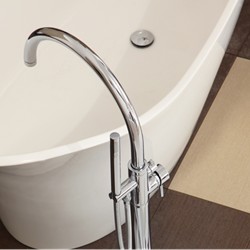 Floor Mount Tub Faucet
The most common faucet to pair with a freestanding bath is a freestanding tub filler.  There are three measurements that will determine if a particular faucet will work with your bath.
1. Spout height: Will the water stream clear the rim of the tub & not be so high that there is a problem with excessive splashing?
2. Spout Reach: How far will the faucet spout reach into the tub?
3. Water flow: How fast will the faucet fill the tub? See Quick Tub Fillers
The faucet's Technical Sheet will give you this information
The main reason to consider a floor mounted tub filler is design. Since it is more substantial than the other options it creates more of a focal point.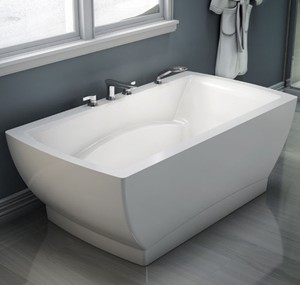 Roman Tub Faucet
A few bathtubs allow for deck mount faucets like the Neptune Believe pictured above. The water connections go from the floor through the bathtub (between the interior and exterior tub walls).   Some freestanding tubs have an optional stand designed to hold roman faucets (and house a blower if it is an air tub). Designers have also crafted a stand from tile or wood to provide the same function and to coordinate with the rest of the room.  Spout reach and water flow still important considerations. Two reasons to select a roman style tub filler: they are usually less expensive than their freestanding counterparts & they are offered in more styles and finishes.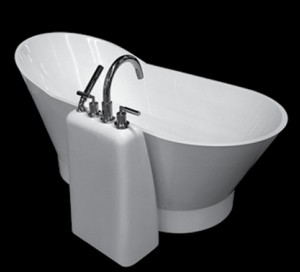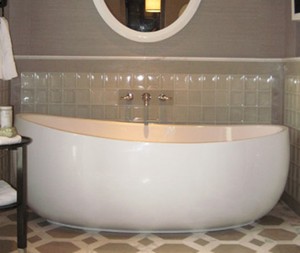 Wall Mount Faucets
Wall mount faucets are the third style to consider; and for the same reasons as the roman style above.   Since they are more streamline in design, they let the tub shine as the focal point.  The way diamond earrings accent that perfect little black dress. (sorry guys – don't have an analogy for you).  Pictured above is the Maestro Picasso. If the tub is not near a wall, why not create a wall?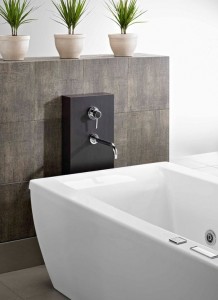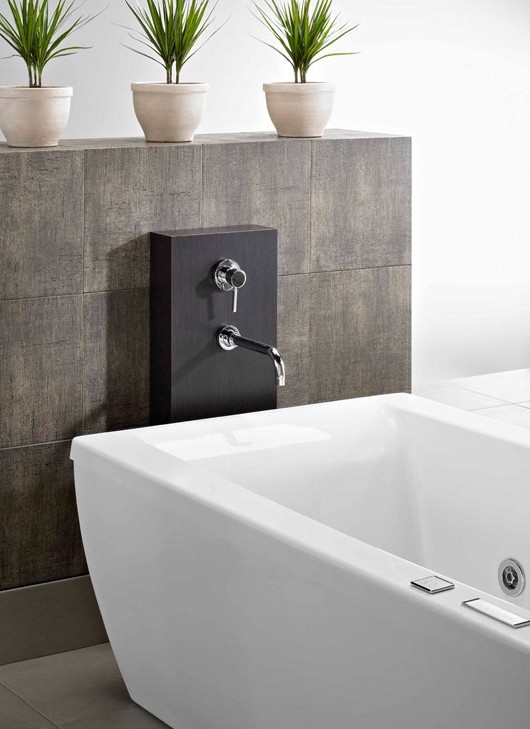 For this photo Neptune created a kick wall and a wood column.  The design does not have to be two tiered.  Just a kick wall or column would suffice. Pictured above is the Neptune Saphyr
See all of our Tub Fillers