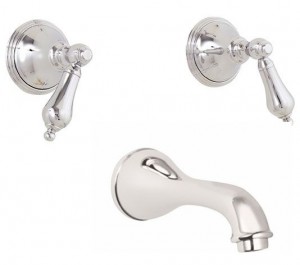 Not all tub fillers are created equally. What to look for when you need a quick tub filler. 
The larger the tub the more important a tub faucet's flow rate. Let's take a 60 gallon tub. At 16 gpm (gallons per minute) at 60 psi (pounds per square inch – water pressure) it will take 3.75 minutes.  Slow the faucet down to 7 gpm and you are almost 9 minutes.  If you have a larger tub, let's say 120 gallons, the difference between 16 & 7 gpm is 9 minutes.  At that point the tub water is already cooling down.
Bill wrote to us:
I received and installed the new tub faucet. Wow! Looks great and superb flow rate for our tub. I'm so glad to be rid of a "Water Saver" valve that took forever to fill the tub.  I spent a lot of time looking for high flow wall mount tub faucets. Glad I found you guys! You might want to market these tub faucets specifically as "guaranteed to fill the tub up fast."
Bill had ordered the California Faucets Coronado 2 Valve Tub Filler – 16 gpm aerated flow at 60 psi. All California Faucets wall mount tub fillers are quick tub fillers. Also see their freestanding and deck mount tub faucets.