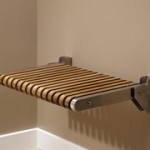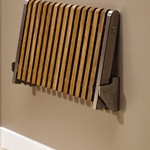 Awarded Best New Product Design & Best of Show
Teak Shower Seat from MTI Awarded Best New Product Design and Best of Show ATLANTA, GA – MTI Baths won two awards for its Teak Shower Seat at the Boutique Design New York show held at the Javits Center in New York City, November 11-12: Best New Product Design and Best of show. BDNY presents approximately 250 unique and innovative exhibitors of products ranging from furniture to bath and spa for the hospitality industry. BDNY attracts designers, architects, purchasing executives and developers, in addition to hotel owners and operators.
MTI's Teak Shower Seat features a clean, contemporary design and is constructed of durable genuine teak and stainless steel, both of which can easily withstand the wet environment of the shower. The seat can be raised when not in use and integrates beautifully with any décor. It is also ADA-compliant, when installed according to ADA guidelines. Teak Shower Seat
Editors from the leading hospitality trade publications made their decision from a selection of 150 entries in the competition. Their criteria included innovative product design, answering a particular industry need and creative use of material or construction. "At MTI, our top-tier designs are formed with purpose and unparalleled customization," MTI President Russell Adams said. "It is gratifying to receive recognition for the design, innovation and artisan quality of our products." Since 1988, MTI Baths has earned a reputation for award-winning design, personalized customization and artisan quality. MTI tubs, shower bases, sinks and hardwood bath furniture are handcrafted in the USA. MTI also offers water-resistant teak accessories and frameless glass tub and shower enclosures. For information on MTI's extensive selection of design and customization options call 800-783-8827 or visit mtibaths.com.