The Perfect Bathtub for a Small Space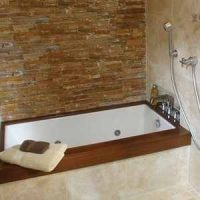 Measuring 54 x 30 x 17.75, the MTI Andrea 17 can be tucked into a small bathroom as a drop-in or under mount (as pictured). Add a tile flange and front skirt for an alcove installation. You can even add a skirt to 2, 3 or 4 sides. The picture below shows the Andrea 17 as a freestanding, with a skirt on all 4 sides.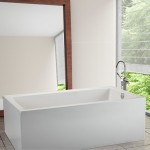 Not only are there a lot of installation choices, you can choose to have this small bathtub as a soaking, heated soaking, air, whirlpool or a combination tub.




At 17 ¾" tall the tub allows for easy step over when also used as a shower, yet it holds 15 ½" of soaking water. Add an overflow cover to get even more water depth. The bottom of the tub offers a 39″ of leg stretching room and 19 ½" of width.
MTI Andrea 17 offers a small bath that is large on styling and options to create the perfect bathtub for a small bathroom